All-Cash Offers: Risks, Rewards & How to Beat Them
Posted by Trey Van Tuyl on Tuesday, July 23, 2019 at 5:30 PM
By Trey Van Tuyl / July 23, 2019
Comment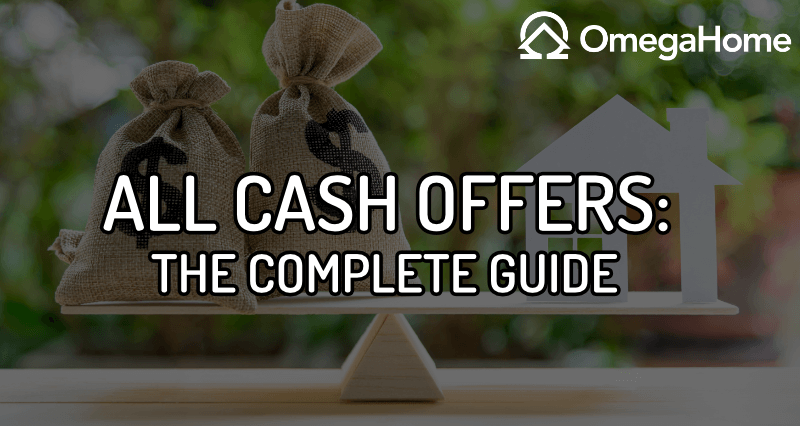 What is an all-cash offer?
An all-cash offer is an offer on a house that is not contingent on the buyer obtaining financing. This means that the buyer assumes full responsibility for financing the home and can't back out of the contract in the event they are unable to secure financing. An all-cash offer is attractive because there's less risk involved for the seller.
The term "all-cash" is somewhat misleading because an all-cash buyer can still finance a home with borrowed money, such as through a personal line of credit or a credit line on another property. Nonetheless, buyers attach a "proof of funds" document to their offer showing that they have access to the required funds to purchase the property outright.
How common are all-cash offers? More common than most people think. Around 20% of real estate sales are funded by a cash sale. They aren't exclusive to the rich either; they're often used by retirees and those who have accrued a lot of equity in their previous home.
Why are all-cash offers powerful?
All-cash offers show that a buyer is serious. The financing contingency can be used as an "escape hatch" in real estate transactions, as some buyers use it as an excuse to get out of a transaction for a reason aside from financing. If they've found another home they like more or are starting to get cold feet, they can try to claim that they were unable to secure financing for the home and cancel the contract. When a buyer forgoes the financing contingency, it indicates that they're serious about buying the home
All-cash offers show that a buyer can pay for the home. All-cash offers help avoid unnecessary delays or cancellations due to financing. Out of all real estate contracts, around 6% are delayed because of issues related to obtaining financing. With an all-cash offer, sellers are provided peace of mind that there won't be any issues related to financing. Some sellers stigmatize all-cash offers becay
All-cash offers can close quicker. Those who need a mortgage can't close as quickly as cash buyers can. Most lenders require an appraisal and need extra time to originate the loan and approve a buyer for a mortgage. This creates to a longer contract to close period when most sellers want to close as soon as possible. The average time from contract to close is 43 days with a conventional loan, whereas cash buyers can close in a matter of days.
All-Cash Offer Advantages
All-cash offers are more attractive. An all-cash offer can be useful in a sellers' market. In a hot market, inventory can be flying off the shelf with many homes receiving multiple offers soon after being listed. An all-cash offer considerably strengthens your offer and significantly increases the chances of it being accepted.
You might get a discount on the home. An all-cash offer that may be slightly below asking price is usually more attractive to sellers than a full-price offer with a financing contingency. Therefore, you may be able to pay less for the home because you have a more attractive offer. This strategy will be much more effective if you're working with a seller whose previous buyer fell through due to financing.
No mortgage payments. For some, living a debt-free lifestyle is very important. Avoiding a monthly payment to a bank is psychologically preferable for some. Plus, you'll never be a victim of foreclosure!
Save on expenses. You won't be paying any lender fees at closing. These include loan origination fees, pre-paid financing fees, and any document recording fees. Additionally, paying for title insurance and an appraisal is optional instead of required.
All-Cash Offer Disadvantages
It might not be the best investment. Even if you can afford to make an all-cash offer, there may be higher-return investments that are preferable. Even some billionaires will opt for mortgages on their homes because other investments yield a considerably higher rate of return. For example, even Beyoncé and Jay-Z chose to finance part of their $88 million mega-mansion with a mortgage. On the other hand, if you plan on your home appreciating quickly then it might be worthwhile paying in full.
You won't be able to deduct mortgage interest. The federal government encourages home ownership by allowing homeowners to deduct mortgage interest from their taxable income. Cash buyers miss out on this deduction.
How do I submit an All-Cash Offer?
First, get a proof of funds statement. This is vital and required because the seller doesn't know you can afford the house without it. Most people supply a recent statement from their bank or have a banker draft a letter indicating they have the funds required to purchase the home.
Next, decide on financing. Even though you're making an all-cash offer you can still finance the home through borrowed money. For example, some cash buyers will obtain a low-interest personal loan and use those funds to pay for the home. Some states also permit cash buyers
Decide on terms. If you're making an all-cash offer you can have a lot more flexibility on terms than someone obtaining a mortgage. For example, you don't have to include an appraisal contingency. You can also close much more quickly than someone with a mortgage. Use this flexibility to your advantage!
Determine a price. While an all-cash offer isn't powerful enough to justify a low ball offer, you can expect a somewhat reasonable discount. Market conditions will heavily influence both the terms and price you'll be able to get away with, so talk to your real estate agent about it.
Finally, have your agent pitch your offer. All-cash offers are somewhat rare, so make sure that your agent pitches your offer aggressively. Be sure to have them stress that you're a serious buyer who's ready to act now and has the cash ready. As the old adage goes: a bird in the hand is worth two in the bush!
How do I beat a cash buyer?
Let's be honest: competing against all-cash offers isn't fun. The phrase "cash is king" exists for a reason and trying to get your offer accepted instead is difficult. However, there are some strategies you can use to increase your chances of beating out an all-cash offer.
Write a better offer. The all-cash offer isn't always the best offer. You may still be able to beat out the cash buyer by offering more money or superior terms. For example, the seller may be in no rush to close but will accept the highest offer regardless of terms. Find out from the listing agent what terms matter to the seller and see if you can craft a superior offer.
Act quickly and have documents ready. Submitting an offer quickly with all required documents can show that you're serious and make a difference. Be sure to get alerts when new properties hit on the market and check them out quickly. Prepare a written offer immediately which includes an approval letter from a lender. There's a reason why real estate agents often tell sellers that the "first offer is the best offer" - those motivated enough to be first are usually the most committed and serious.
Get fully approved. Being fully approved is different from being pre-approved or pre-qualified. Work with a lender that is willing to underwrite your mortgage before your offer is even accepted. You'll be able to attach a letter to your offer notifying the seller that you've already been fully approved for a loan. This will provide the seller with some assurance that there won't be issues related to financing.
Close as soon as possible. Find a lender that is able to offer a fast closing. This will make your offer more competitive cash buyers who can close quickly. You should be able to draft an offer that puts closing within 30 days.
Consider a different type of home. Fixer-uppers commonly attract cash buyers, mainly flippers and real estate investors. Newly constructed or remodeled properties attract fewer cash buyers because the margins aren't suitable for an investor. Consider changing your home search to properties that attract fewer cash-buyers.
Write a heartfelt letter. Some homeowners care about who is buying their home and how they will impact the neighborhood. Attach a personalized letter to your offer that explains your motivations behind buying their home and why you like the home. Make it clear that you plan on living in the home yourself and that you won't be renting it out or flipping it for a profit. This letter may ultimately make a difference in getting your offer accepted.
If you can't beat them, join them. Even if you don't have the cash, you may be able to still make an all-cash offer. There are new services popping up (such as Homeward) that allow homeowners to make all-cash offers without having to sell your home back first. This concept is similar to a bridge loan, where money is loaned for a brief period of time. These services allow homeowners to submit competitive offers and ultimately save more money than the cost of the short-term loan.