Old Fourth Ward, Atlanta - Insider's Guide
Posted by Trey Van Tuyl on Saturday, November 17, 2018 at 3:05 PM
By Trey Van Tuyl / November 17, 2018
Comment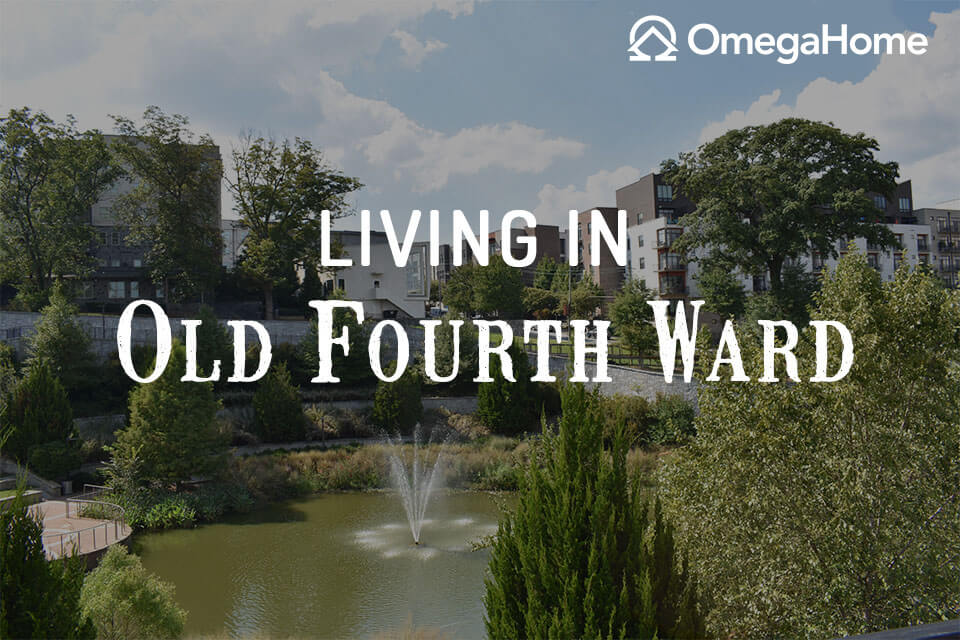 The Old Fourth Ward is one of the top areas in Atlanta. It's a wonderfully eclectic and tight-knit community located on the east side of Atlanta. A sustained revitalization effort over the past several decades has propelled the neighborhood into a prime example of high-quality urban redevelopment.
This incredible neighborhood has achieved national recognition in recent years:
#9 in Hotspot's "Hottest Neighborhoods in America"
Top 2% for "Best Places for Millennials in America" according to Niche
Old Fourth Ward History
After William T. Sherman's burning of Atlanta in 1864, a massive infrastructural rebuilding occurred. Atlanta was then divided into five distinct wards. The Old Fourth Ward is a smaller region of what used to be the "Fourth Ward". The neighborhood has switched back and forth between being a racially mixed neighborhood and an exclusively African American neighborhood multiple times.
After a long period of decline, Old Fourth Ward began seeing an economic revitalization occur in the 1980s. New investment brought many new businesses and apartment buildings into the area and vastly improved certain parts of the neighborhood. There has additionally been an explosion in growth after the Beltline's Eastside Trail opened in 2012.
Today, the streets of Old Fourth Ward are a hub of shopping, culinary, and cultural experiences unique to the area. It's a diverse reflection of earlier times with a variety of townhomes, condos, lofts, and apartments intermixed with single-family homes.
Things to Do in Old Fourth Ward
Recreation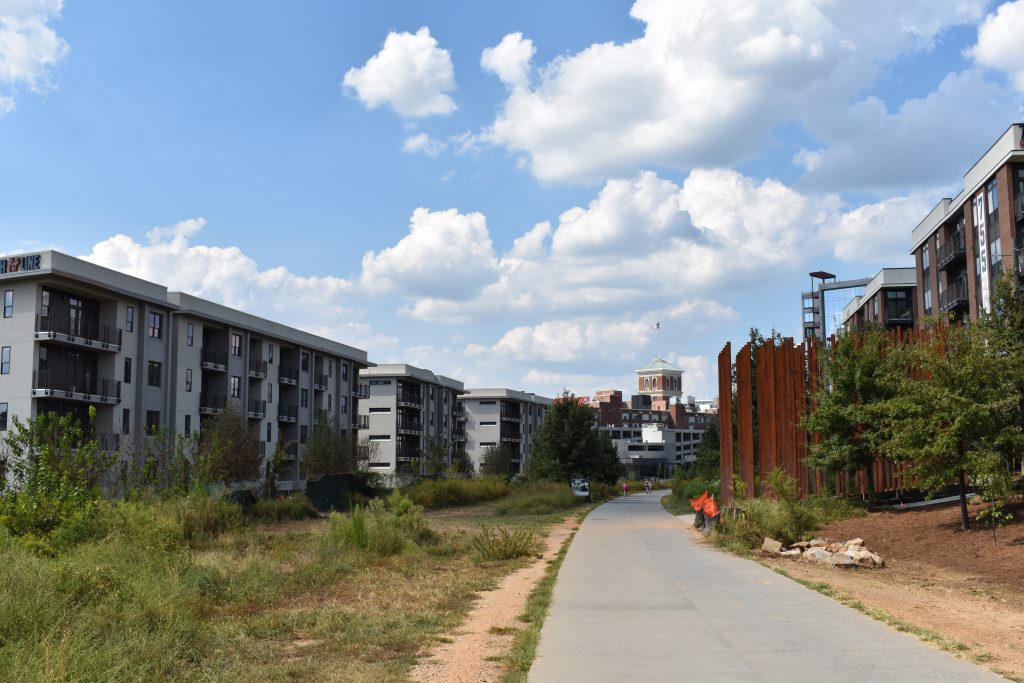 The Beltline
The Old Fourth Ward's most famous attraction is currently the Atlanta Beltline. The trail was built by paving over old railroad tracks that circled the city. The goal of the trail is to add value to nearby residents and to encourage economic development.
A significant stretch of the Eastside Trail runs through the Old Fourth Ward and provides residents with the ability to traverse through substantial stretches of Intown Atlanta with ease. Located along the Beltline are numerous restaurants, shopping venues, and new housing developments. The trail is bike friendly, and many residents have found it to be an excellent way to get in a stress-free bike ride or run.
The Eastside Trail created over $3.7 billion in economic development! A quick stroll around the areas adjacent to the Beltline will reveal the desirability of the neighborhood as of late as new developments are breaking ground every month. I am most excited for the upcoming $750 billion mixed-use development which is currently slated to be located along the Beltline!

Historic Fourth Ward Park
Historic Fourth Ward Park is arguably the most beautiful feature of the entire neighborhood. It provides one of the best outdoor experiences that one can get in Atlanta. Historic Fourth Ward Park is a well-maintained park and appropriate for all ages. There is ample space for picnics, exercise, dog walking, and even a splash pond for children! It currently spans around 30 acres making it one of the largest parks within Atlanta.
Given the parks' ample size and proximity to downtown, it attracts a diverse range of events. Just recently the MLS All-Star game was hosted here, bringing a live concert experience to the Old Fourth Ward!
The park's cleverly designed "stormwater retention pond" was beautifully transformed into an aesthetically pleasing oasis. Two giant water fountains combined with pristine landscaping create a spot that is a photoshoot favorite. The pond provides a great example of when urban planning is paired with useful form and function.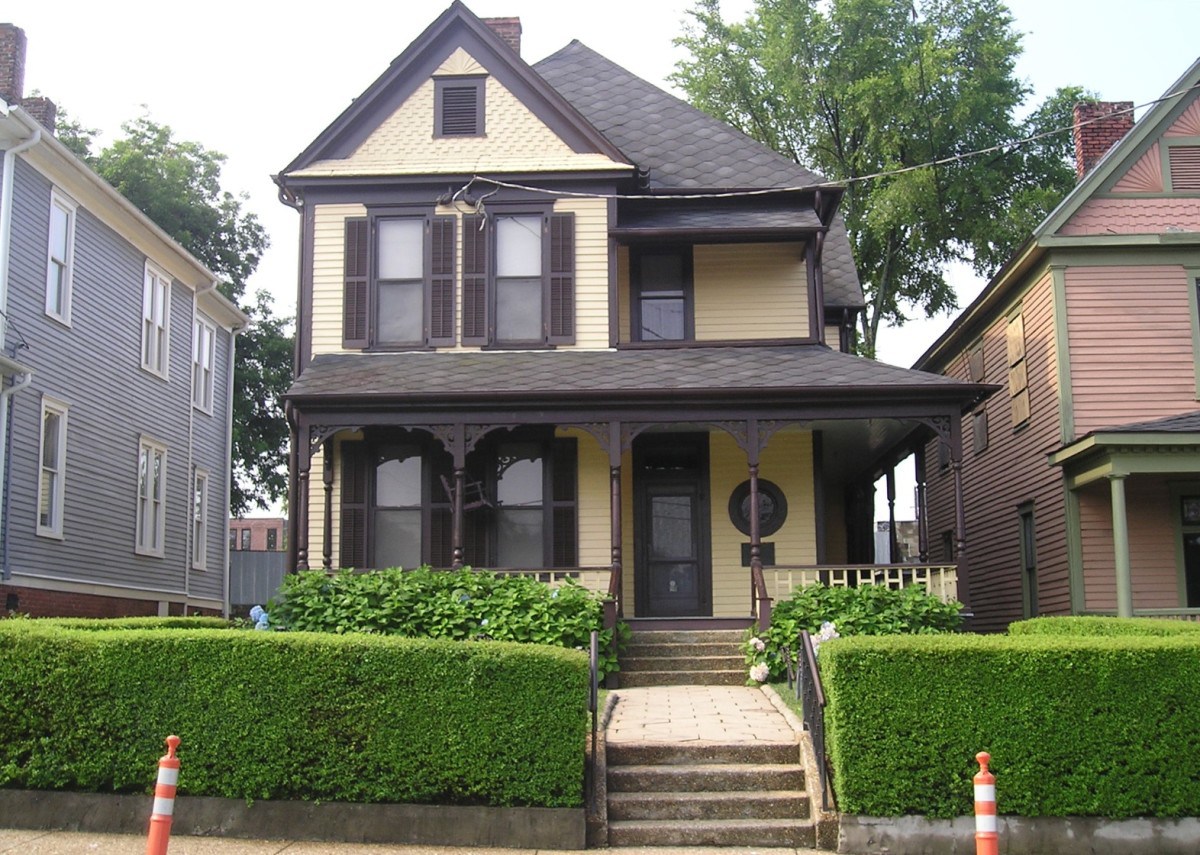 Martin Luther King Jr. Birth Home
Martin Luther King was born in the Old Fourth Ward. His childhood home remains a historic landmark that is a must-visit for any history buffs. The house remains in excellent condition. Daily tours of the home conducted by the National Park Service. Arrive early if you'd like a tour because they fill up fast!
There are plenty of other attractions in nearby neighborhoods related to that of Dr. King. Check out the Martin Luther King Jr Center which is located in the adjacent neighborhood of Sweet Auburn, here you can see King's grave.
Jackson Street Bridge Photo
Head by this favorite spot to capture a beautiful picture with the Atlanta skyline in the background. Fun fact: this is also the location of the intro title sequence for AMC's The Walking Dead.
Skyline Park
Skyline Park is a mini amusement park located on the roof of Ponce City Market. It's a modern take on a carnival-style theme park with a breathtaking 360-degree view of Old Fourth Ward and downtown Atlanta. Surprisingly, it's suitable for both kids and adults. There's a full bar and restaurant adjacent to where all the games are played.
They have games including skee ball, horse racing, basketball, and mini golf. The only downside is that the elevator ride up costs $10 per person. But you are given a very neat history lesson all about Ponce City Market on the way up by a tour guide.
Sacred Thread Yoga
Sacred Thread Yoga provides a welcoming, community-based studio for those interested in yoga classes. They provide classes that encourage mindfulness and incorporate philosophy. They have a gorgeous space too, with huge windows and ample natural sunlight.
Shopping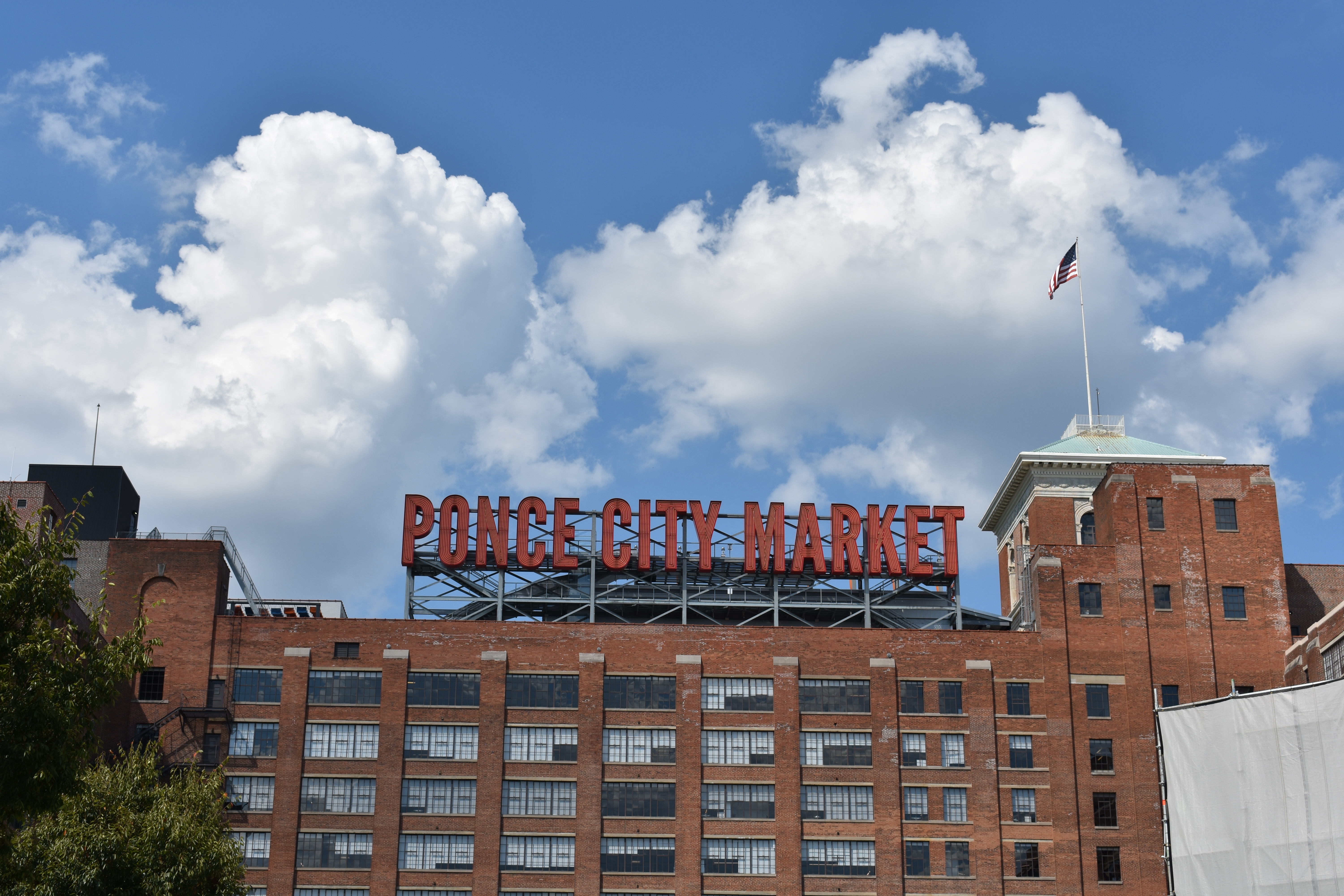 Ponce City Market
It's difficult to mention the Old Fourth Ward without mentioning Ponce City Market. Sears formerly owned this gorgeous 1920s-era brick building. The development company Jamestown has completely transformed the building into an innovative mixed-use development.
Ponce City Market's amenities are quite incredible. There are high-quality restaurants and stores, luxury lofts, office space, a theme park, and even Beltline access! It's a clean, modern, and fancy place with a wide variety of stores inside. One thing people love about Ponce City Market is that there are so many opportunities to take great photos.
Restaurants
Venkman's is a beautiful restaurant-bar hybrid with a great atmosphere. They also offer excellent live entertainment as well. It's an excellent choice for a date night or for Sunday brunch where you can enjoy bottomless mimosas. Remember to book a reservation in advance!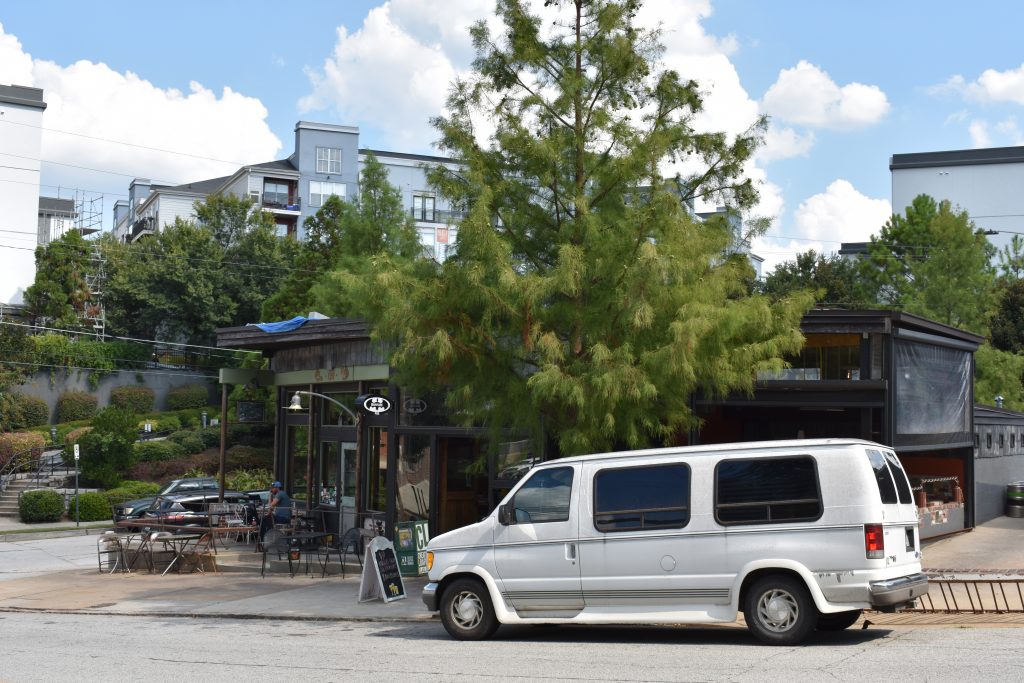 Bantam Pub is one of my personal favorites because of its laid-back atmosphere. They also serve surprisingly delicious bites to go with your drinks. Plenty of indoor and outdoor seating and it is located close to a Beltline access point. The owners are opening up a second restaurant across the street!
Taco Cantina O4W is a hidden gem. They prepare authentic Mexican dishes and are quickly becoming a local favorite. They can maintain an extensive menu without sacrificing quality. Great service, too!
Demographics of Old Fourth Ward
Old Fourth Ward has undergone rapid demographic change recently. Most of the residents currently living within the neighborhood have moved there in the past five years. Old Fourth Ward has seen a massive influx of young professionals entering with the median resident age being 33 years old and nearly 60% of residents having never been married.
These trends are not expected to slow down, especially considering all of the new economic development currently ongoing. The current population is around ten thousand, and the City of Atlanta expects that number to triple by 2035. The present ethnic composition is as follows:
46% Caucasian
45% African American
5% Asian
4% Other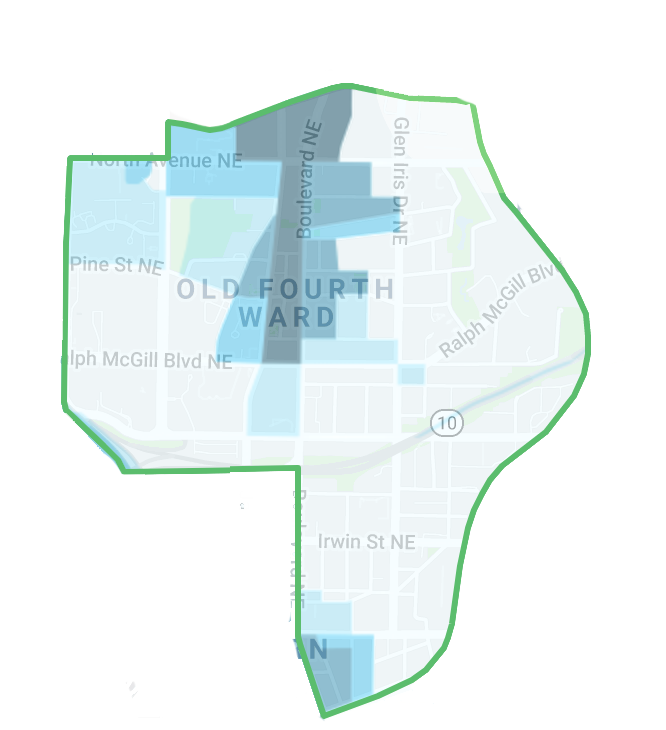 Old Fourth Ward Crime
While the area has seen overall crime rates drop significantly in recent years, certain areas have higher criminal activity than others. The highest crime areas in Old Fourth Ward tend to be located around the Section 8 housing on Boulevard NE. Old Fourth Ward does have a community patrol that helps to supplement police patrols. Also, many apartment buildings in the area (such as ALMI Parkside and Anthem on Ashley) have private security patrols occurring around their buildings.
A special division of the Atlanta Police Department (the "Path Force Unit) patrols the Beltline from 6 a.m. - 11 p.m. every day. The police have stated the following regarding crime around the Beltline: "The Beltline continues to remain a safe place for residents to enjoy but we always ask people to be vigilant and if they see something, say something."
Annual Events in Old Fourth Ward
June: O4W5K
O4w5K is a yearly 5K with all proceeds going to benefit Hope-Hill Elementary School. It is the only road race held exclusively within Old Fourth Ward, and the path is designed to show off all of our wonderful local attractions.
June: Atlanta Summer Beer Fest
Beer-lovers unite! Atlanta Summer Beer Fest features a day of over 200 beers from local and national breweries.
July: Fireworks in Fourth Ward
This event is held yearly thanks to the Old Fourth Ward Business Association! They hold a beautiful fireworks show every 4th of July in the Historic Fourth Ward Park. Always a great sight to see!
September: Old Fourth Ward Fall Fest
The Old Fourth Ward Fall Fest is an excellent event for the whole family. You make lanterns and then walk on the Beltline with thousands of others. The sea of colorful lanterns is a very cool sight to see. The event is also accompanied with live music and local artists! Be sure to catch this one every fall.
October: The Old Fourth Ward Arts Festival
The Old Fourth Ward Arts Festival is a two-day annual celebration of the arts held in Historic Fourth Ward Park. Their goal is to give back to the community by showcasing the work of the many great artists in Atlanta. The event includes live entertainment, artist demonstrations, and hands-on activities featuring artists from a variety of different fields!
October: Taste of Atlanta
If you're a foodie, you'll love this event. Taste of Atlanta is an annual three-day food, wine, beer and cocktail festival featuring restaurants from all over metro Atlanta. Enjoy delicious eats, live music, and even hands-on cooking classes!
Quick Facts
Estimated Population: 10,505
Land Area: 0.690 square miles
Population Density: 8,590 people per square mile
Zip Code(s): 30308, 30312
Elevation: 915 feet
Final Thoughts on Old Fourth Ward
Old Fourth Ward continues to provide a great example of what city living should look like. The lifestyle offered is incredible: fantastic restaurants, innovative businesses, and ample recreational space. It's a great place to live and I am excited to see where the neighborhood is headed.