14 Tips for Buying a New Construction Home from a Builder
Posted by Trey Van Tuyl on Wednesday, December 26, 2018 at 12:06 PM
By Trey Van Tuyl / December 26, 2018
Comment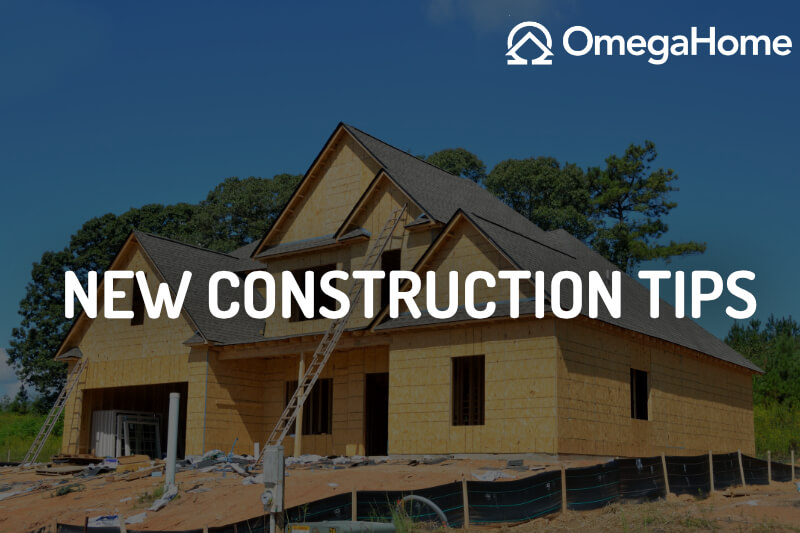 Purchasing a new construction home in a planned unit development can be an overwhelming task. There are many more factors to consider compared to an ordinary residential real estate transaction. I've developed a comprehensive list of tips ensuring that your home buying experience goes as smoothly as possible.

1. Understand the types of new construction
There are three major types of new construction. The best option for you largely depends on your budget, time frame, and preference.

First, you can purchase a spec home. A spec home is a new home that has already been built to the builder's specifications. They're built to the tastes of the average customer and are cost-effective. Unfortunately, you don't have much of a say about the floor plan or any of the amenities present. However, you can move into these homes much quicker than semi-custom or custom homes.

Next, we have a semi-custom home, the most popular option in new construction. You'll have the opportunity to select from different floor plan options and request alterations before the start of construction, such as adding additional rooms or upgrading finishes. These homes are typically built on lots that the developer owns but you choose which lot you want the home built on.

Lastly, you can opt for a fully custom home. An entirely custom home would be the most time-consuming and expensive option out of the three but provides the most customization. You can design a fully custom home from the ground up and have a choice in literally everything about the home, from the color of the doorknobs to the type of sink. Depending on the project, you may also need to hire an architect. This option is for those who have a very particular vision about their home and refuse to compromise.

2. Consider hiring an agent
It's a great idea to hire an experienced real estate agent. An agent will be obligated by law to represent your interests in the transaction and ensure that you secure the best deal with the most favorable terms. An experienced agent is a local expert that has an intimate understanding of the real estate market. They will analyze past comparable sales to determine if you're getting a good deal.

Also, buyers agents are paid out of the seller's side of the transaction, meaning their services are at no cost to you. It never hurts to have an experienced and professional advocate on your side!

Regardless of your choice, it is crucial that you decide if you're going to work with a buyer's agent before walking on the builder's premises for the first time.

Once you meet with the builder (or a representative of the builder) as an unrepresented buyer, they can claim that they were the "procuring cause" of the transaction. If you then decide afterward to hire an agent, they can refuse to pay your agent a commission. You could ultimately end up paying your agent out of pocket.

There are also certain circumstances where builders will flatly refuse to work with a buyer's agents. This can occur when there is strong demand or if the builder is adamant about protecting their profit margins. However, their tune may quickly change if you refuse to purchase the home without being represented!

3. Understand the agency dynamics
You will be working with a representative called a builder's agent. This is a salesperson hired by the builder to sell their homes.

While these individuals may be friendly, it's important to understand that they ultimately represent the builder's interests. Their primary goal is to attain the highest and best price for the builder in every transaction. This means that any personal information that you divulge could be used against you during contract negotiation. Keeping a tight lid on your situation is in your best interest!

Also, the salespeople will try to steer you towards upgrades that you don't need but yield the highest margins for the builder. They may additionally utilize somewhat misleading language by claiming that an upgrade is "only an extra $15 a month" on top of your mortgage payment. Keep in mind that you're also paying interest on the added cost of the upgrade, so the actual cost is significantly more.

4. Getting a good deal
There are a few steps you can take to maximize your chances of getting a good deal on a new construction home. However, it's important to note that a "good deal" usually doesn't mean a lower sticker price. Builders dislike lowering the price of their homes because it emboldens future buyers to negotiate a discounted price as well. Instead, builders cover closing costs or include free upgrades.

One step you can take to secure a get a deal on new construction is to consider purchasing a model home. Model homes are usually put on the market when the entire community is nearly sold. You obviously won't have too many customization choices, but the home is brand new and typically upgraded with the best features and amenities available. After all, the model home is designed to be the most gorgeous home in the neighborhood.

You can also get a great deal on any inventory that a builder has sitting on the market. Time is money for a developer, and the longer their properties sit on the market unsold, the more leverage you have as a buyer. A buyer's agent will be able to quickly compile a list of new development homes in the area that have been sitting on the market for 45 days or more. Consider putting in an aggressive offer on one of these homes, and you could get a steal!

Lastly, you can use the time of year to your advantage. Many of the national builders are publicly traded companies and face pressure from their shareholders to deliver quarterly profits. This means they are desperate to meet their goals near the end of the financial quarter and would be more likely to cut a deal. December can also be an advantageous time to buy since there aren't too many buyers looking at homes.

5. Research the builder and area
You want to make sure the builder you're considering delivers a high-quality product to satisfied customers. A great way to verify this is by making sure they're in good standing with your state's Construction Contractor's Board. Also, check to make sure there are no pending judgments or disciplinary actions taken against the company. Pouring through online reviews left by real people is also helpful.

Additional due diligence includes asking whether the builder uses independent subcontractors. If they do, it's prudent to check their license statuses, reputation, type of insurance they carry, and the amount of their bond.

Lastly, don't be afraid to check out the neighborhood on an intimate level. Visit the community at different times of day and talk to actual residents. Ask about how their construction process went and if they have any feedback on the homeowner's association. Many people find this to be an excellent opportunity to get some candid feedback about the community's location and nearby school districts.

6. Keep resale value in mind when selecting upgrades
It's a smart idea to keep the future value of your home in mind when selecting new construction upgrades. Certain upgrades will significantly improve the value of your home in the future. You should request a price list of all upgrades offered upfront to see how they fit into your budget. Here's what you should focus on:

It's hard to go wrong with upgrading your kitchen. Almost any Realtor will tell you that the kitchen remains one of the most cost-effective places to upgrade. It's viewed as the "heart" of the home and homebuyers give its appearance considerable weight. Don't worry about extras that you can upgrade yourself later, such as high-end appliances. Instead, go for upgrades that provide your kitchen with strong fundamentals, like taller cabinets, a kitchen island, and upgraded countertops.

Upgrading the ceiling height is also a no-brainer. It's an upgrade that will make your home feel much more massive and grandiose to potential homebuyers in the future. Also, it's a structural upgrade that will be very difficult to change after your home is constructed.

Upgrading the garage is also a great choice. Adding extra space never goes to waste, as people will use it for varying purposes such as storing bikes and gardening supplies. You will likely have to decide between a garage with more width or depth. More width permits more cars to fit in the garage, and more depth allows for more storage space.

Generally, you want to try to focus on structural improvements that would be expensive or impossible to add later on. I'd recommend diverting money away from upgrades that can be easily accomplished at a later point in time or are purely aesthetic.

Be careful about over-improving, too. There can be a negative impact on your home's future value if it's upgraded beyond any other house in the neighborhood. You'll end up pricing your own home out of the neighborhood and will ultimately need to significantly reduce the price in order to find a buyer.

7. Pick a great lot
The lot you choose for your home can impact your quality of life and the future resale value of your home. Below are some things to keep in mind when selecting your lot.
The most desirable lots are those with a wooded view and privacy. Expect to pay a considerable premium for these lots.
Consider the topography of the lot. If a lot is downward-sloping, you have the potential for a basement. Upward-sloping lots may necessitate front yard stairs.
Consider where the sunlight will be at different times of the day. Do you want a romantic sunset over your backyard? Or a sun-filled kitchen in the mornings?
What will the traffic be like? Corner lots may seem attractive but they're exposed to more traffic.
Power lines near the backyard are the ultimate "kiss of death". Even if you don't mind them, they are stigmatized by buyers.
Streams in the backyard are neat but could be a flood hazard. Make sure to check the floodplain to see if it could be an issue.
Think about your lot in the future. Will you still have the same view in 5 or 10 years? Will future home buyers find the positioning of the home as convenient?
8. Shop around for lenders
Builders want you to work with the lender that they have partnered with and will offer incentives if you do so. However, this may or may not be the best option for you. It's smart to shop around to see what other options are available. Your real estate agent should be able to refer different lenders so you can figure out what works best for you. Depending on the incentives offered by the builder, going with the builder's preferred lender may be the best choice.

9. Know your warranty
Warranties are an excellent way for builders to guarantee the quality and craftsmanship of their homes. State law often requires a certain level of warranties but many builders offer coverage beyond what's minimally required. Usually, comprehensive warranty coverage implies that the builder has high confidence in their product and practices. It's important to understand what the warranty covers and what the process of initiating claims is like before purchasing the home.

If you want to get the most out of your home warranty, it's recommended that you get another inspection around the 11th month after you move in. Coverage on certain items typically begins to expire around the one year mark, and some defects may only manifest after the house has had some wear.

10. Review the builder's contract thoroughly
In most states, builders can use contracts that are written specifically for their new construction projects. These contracts differ from state-issued real estate contracts and have been meticulously crafted by lawyers to protect the builder. They can be up to 100 pages in length and intimidating for a layperson to understand. It's recommended to have both a Realtor and lawyer review the contract before signing; either can add any appropriate addendums or language that will help to keep you protected.

Be sure to take note of any language within the contract that prohibits inspections or limits liability for mold or radon. Additionally, review what warranties are offered by the builder, so you understand what components of the home are covered. Make sure that any oral promises are reflected in the contract.

Keep in mind that the greatest leverage you have throughout the contract negotiation process is the willingness to walk away from a deal. You've probably conjured up an idea of your perfect home and are somewhat emotionally attached to it. Developers know this. It's important not to let this excitement compromise your ability to make a financial decision that is in your benefit. Always be willing to walk away before the contract is signed.

11. Prepare for changes
You should accept that the appearance of your home may be slightly different from what was expected. Suppliers can run out of special finishes or materials, and the builder typically has it within their rights to substitute them at will. Therefore, it's prudent to inquire about what materials could be substituted.

12. Be wary of rezoning
If you're purchasing a home in an early-stage development, there is a rare chance that the composition of homes in the neighborhood could end up radically changing. This occurs when the developer rezones unsold lots. Let me illustrate this phenomenon with an example.

Let's assume that a developer subdivided their land with the intention of selling 1 acre lots with homes of at least 2500 square foot in size. You're one of the first people in the neighborhood to purchase one of these lots, and your home is built. Suddenly, the real estate market shifts and the developer is unable to sell these larger lofts.

The developer then returns to the Zoning Commission to have their unsold lots rezoned to half-acre lots with an 1800 square foot minimum. These smaller homes will not only negatively impact the value of your own home but also significantly alter the aesthetic of the neighborhood that you envisioned when you purchased your home.

Unfortunately, this can happen and will almost always leave the buyer with no legal remedy. One of the ways to mitigate this risk would be to purchase land in a development that has already erected a significant number of homes.

13. Get inspections
There's a good chance you'll hear this gem:

"Why would you need an inspection? The house is brand new!"

Builders may try to discourage you from getting inspections. However, the new construction inspection process remains an essential and invaluable step. There are plenty of opportunities for defects to occur that can impact your home's future value. A professional home inspector provides an unbiased opinion about the quality of construction and helps protect your purchase.

Three inspections are recommended during the construction process:

First, there's a pre-pour inspection that takes place before the foundation being poured. This inspection ensures that your home's foundation complies with the engineered plans. Any defects in the foundation can have a severe impact on the structural integrity of the house. It's also an important step because once the concrete is poured, you lose the opportunity to inspect your foundation.

Next up we have the framing inspection, also called the pre-drywall inspection. This step occurs after the roofing material, exterior cladding, and windows have been installed but before the installation of sheetrock and insulation. During this inspection, the inspector will take a look at the electrical wiring and the framing components. It provides an excellent opportunity to uncover defects that lay dormant and ultimately only manifest after your warranty expires.

Lastly, there's the final inspection. The final inspection occurs when the home is completed and a few days before a final walk-through with the builder. This is the most exhaustive and lengthy inspection that takes place and similar to that of an ordinary inspection that takes place on a home that has already been built.

It's important to let the project manager know ahead of time that you plan on hiring an independent building inspector that will be performing phase inspections. This not only is helpful information for the project manager to know, but it also incentives them to pay closer attention to the quality of work.

It's a good idea to frequently visit the construction site between inspections. You probably aren't a construction expert, but you may be able to notice something that is flagrantly wrong before the inspector notifying you. An example of this could be mold or missing amenities. The earlier you can identify and report any potential issues, the easier it will be to fix them.

Videotaping your home at different stages of construction could also prove useful later on. You'll have documentation of where particular pipes and wires are located before they hidden and inaccessible. This could be very useful later on when you're mounting TVs or speakers!

14. Delays are possible
Keep in mind that building a semi-custom or custom new construction home isn't advisable if you're on a strict time frame. Builders will contractually give themselves a lengthy period (sometimes even up to two years) to build your home due to all of the complications that can arise. Having the builder commit to a quicker deadline could be impossible or very costly. Additionally, there's a higher risk of defects when builders are rushed.

Your builder will provide you with an estimated date of completion. This is, of course, merely an estimate. The actual date your home is finished could be a month out or more.

Conclusion
I hope that all of this information empowers your decision making rather than overwhelming you! Buying a new construction home can end up being a fantastic choice for those who want a home that is truly theirs; you merely need to ensure you're educated and prepared for the process. Feel free to reach out or ask any questions in the comments below!