What is a non-warrantable condo? Everything you need to know
Posted by Trey Van Tuyl on Friday, January 11, 2019 at 10:07 PM
By Trey Van Tuyl / January 11, 2019
Comment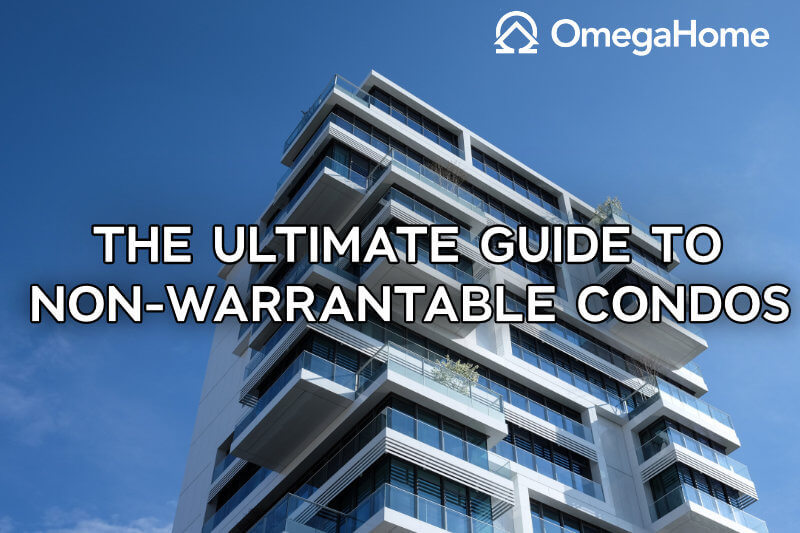 Non-warrantable condos are condominium units that cannot be sold to Fannie Mae and Freddie Mac on the secondary mortgage market due to their perceived risk. Many lenders will not create loans that cannot be sold on the secondary market, whereas others may charge the homebuyer a greater down payment or interest rate.
Fannie Mae and Freddie Mac consider a condo non-warrantable if one of the following conditions are met:
The condo development hasn't been completed
Less than half of the units are owner-occupied
An individual or company owns more than 10% of the units within the building (including the developer)
More than 25% of units are delinquent on HOA fees
If the homeowner's association isn't controlled by the building's residents
Commercial space is 35% or more of the building's total square footage
There are pending lawsuits against the homeowner's association
Properties that are inherently non-warrantable include the following:
Condotels
Timeshares
Fractional ownership properties
Projects which require residents to join an organization (like a golf club)
A full list of detailed list of requirements can be found on Freddie Mac's website.
Finding out the news that you are attempting to purchase a non-warrantable condo may come as a shock. Lenders often only send out a questionnaire to the homeowners association after the appraisal. This creates a scenario where mere days before closing your lender notifies you that they are unable to make a conventional loan due to the condo being non-warrantable.
How do I find out if a condo is warrantable?
An easy way for anyone to determine if a condo is warrantable is to check both the VA and FHA approved condos lists. If the condo building you're looking at is on the list, it should be fully warrantable.
Don't panic if your building is not on the list. There's a chance that the building is still warrantable but that merely nobody in the association has attempted to get it VA or FHA approved.
Ultimately, it's not your responsibility to determine if a condo is warrantable. Your lender and real estate agent will do the work on your behalf. This typically involves sending out a questionnaire to the homeowners association and then analyzing the results.
Finding a non-warrantable condo lender
Many buyers are discouraged from purchasing a non-warrantable condo because of the obstacles involved in securing financing. However, there are options available and savvy homebuyers can use the added difficulty in securing financing as justification for a lower purchase price.
Unfortunately, national lenders won't be interested in providing a loan for a non-warrantable condo. This includes lenders like Wells Fargo, Quicken Loans, and Bank of America. These larger lenders take on so many loans that they're only interested in loans that can be repackaged and sold on the secondary market.
Alternatively, smaller banks or credit unions are able to look at mortgages on a case-by-case basis. These institutions are less reliant on the secondary mortgage market and are more likely to provide an exception, especially if you're a strong applicant and the non-warrantable status is due to a minor defect.
There's additionally a group of lenders who operate entirely outside of the secondary mortgage market, meaning that they hold all of their mortgages in their portfolio. These are called "in-house" or "portfolio" lenders. They still consider the health of the condo building and HOA strength to assess risk but aren't bound by the strict rules of Fannie Mae and Freddie Mac.
If you do manage to get approved for a non-warrantable condo, you should expect less favorable terms, such as a higher down payment or interest rate. After all, the lender is taking on more risk by having to keep the mortgage on their books instead of repackaging and selling it on the secondary market. Your real estate agent should be able to direct you towards lenders that specialize in non-warrantable condos.
Lastly, the seller could agree to be your lender. This would be a form of seller financing called a land contract. While it may sound great to bypass institutional lenders entirely, be aware that few sellers agree to this arrangement. And those that do may request that the loan balance is paid over a period of time shorter than a typical mortgage.
Types of non-warrantable condos
Non-warrantable condos can be divided into two distinct categories: future warrantable and permanently non-warrantable.
A future warrantable condo will become warrantable in the future. Let's say you're purchasing a condo in a complex that satisfies all of the government's conditions except the complex still has additional phases planned. At the time of purchase, your condo would be considered non-warrantable under Fannie Mae and Freddie Mac's criteria since the entire complex is not complete. However, your condo becomes warrantable once these phases are complete.
Another example is if the ratio of owner-occupied homes changes. Consider that the building's HOA establishes a limit on the number of units that can be rented out. This would force certain owners to either live in the units themselves or sell. Either way, the building would conform to the owner-occupancy rules established by the government and become warrantable.
You can expect more favorable terms from your lender if there is a strong reason to believe that the condo is going to become warrantable in the future.
A permanently non-warrantable condo will never meet Frannie Mae and Freddie Mac's criteria. These could be projects where a large percentage of square footage is dedicated to commercial space or if there is a very large percentage of rentals within the building.
It's unlikely that these fundamental aspects would change in the future, meaning that the condo building is permanently non-warrantable.
Risks
If you're purchasing a non-warrantable condo, there's no guarantee that its warrantability status will change. You may encounter a situation where the condo is non-warrantable when you decide to sell it, and future homebuyers may have to undergo a similar process that you went through. This may negatively impact the final sale value of the home.
The reason(s) why a condo building is non-warrantable may be enough to discourage you from owning a unit in that building. For example, let's imagine that a single person or company owns more than 10% of the units within the building. This owner suddenly declares bankruptcy and your local real estate market is flooded with condos from within your building.
These condos will sell at a lower price due to the law of supply and demand, and this would sabotage the comparables for the entire building. Your unit could end up selling for less than it would have without that excess inventory being dumped.
Why are only condos non-warrantable?
You may wonder why only condos are non-warrantable and why this phenomenon isn't present in single family homes or townhomes.
Condominium units are seen as riskier investments by lenders compared to single-family homes. With a single family home, the owner is purchasing a plot of land and has complete control over the maintenance of the interior and exterior grounds.
This contrasts to a buying a condo, whereby the owner is only purchasing the right to a unit on land jointly owned by all of the homeowners and maintenance is controlled through the HOA.
Basically, lenders have to not only worry about your creditworthiness but also the physical and fiscal health of the entire building. You're not the one taking care of the entire building, so they need to make sure that the association is structurally sound. Lenders have to take additional steps to ensure that their collateral could be readily sold.
Conclusion
Purchasing a non-warrantable condo may or may not be the right thing for you. The biggest obstacle in your path will be securing financing with reasonable terms. If that cannot be accomplished, it is likely prudent to walk away and find a warrantable condo.
Alternatively, you may be able to achieve excellent terms and negotiate a lower price on the condo due to your troubles. Consult with your Realtor and lender to determine the best option for your situation!