Living in Vinings, GA - Here's What It's Like [Insider's Guide]
Posted by Trey Van Tuyl on Tuesday, December 3, 2019 at 10:10 PM
By Trey Van Tuyl / December 3, 2019
Comment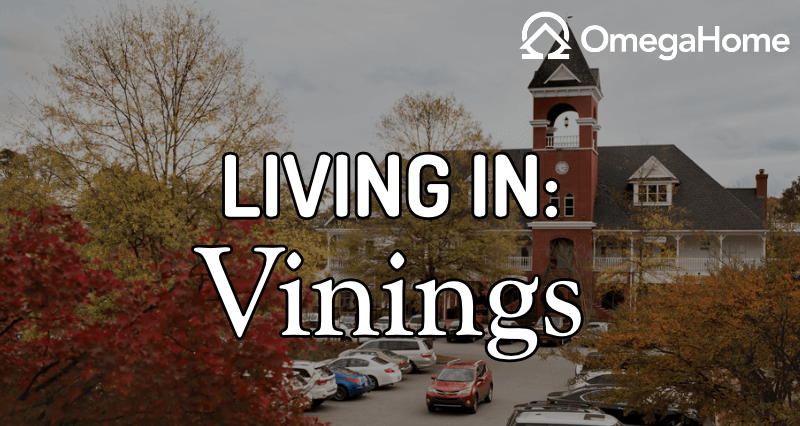 Vinings is a charming and tight-knit suburb of Atlanta known for its family-friendly amenities. It's often described as being "the best of both worlds" for those wanting the convenience of living near a big city while also enjoying the low-key vibes of the suburbs. In recent years, Vinings has attained national recognition, such as being rated the #14 "Best Suburb for Young Professionals in America" by Niche.
Vinings is sandwiched between the West Paces Ferry neighborhood of Buckhead and the suburban City of Smyrna. In many ways, Vinings is best understood as a mixture of both of these two regions. Vinings' property values resemble that of Buckhead, yet it has a distinctly suburban feel like Smyrna.
Many are attracted to Vinings because it's located within Cobb County, which offers high-quality schools and lower property taxes than the neighboring Fulton County. Additionally, it remains the only part of Cobb County that is located "inside the Perimeter". Vinings is located under 10 miles from Downtown Atlanta and provides easy access to the I-75 and I-285 freeways, meaning that neighborhoods like Buckhead and Midtown are just minutes away.
Overall, Vinings is an excellent blend of both urban and suburban amenities. Residents also benefit from lower crime rates than the City of Atlanta. In this article, we'll be diving into some of the top things to do in Vinings as well as some more facts about the community.
History
Vinings was formerly utilized as a railroad junction in the 1840s in an attempt to connect the industrial Midwest with Savannah. An assistant engineer named William H. Vining was tasked with constructing a challenging bridge that soon came to be known as Vining's Bridge due to the amount of time it took to complete. Over time, the name stuck and in 1904 the area's name was shortened to merely "Vinings".
Vinings also played a role in the Civil War. A nearby businessman named Hardy Pace settled in Vinings after recognizing the potential in owning land near a railroad junction. During General William Sherman's Atlanta Campaign, Pace's home was used as a hospital for Union troops and then destroyed thereafter. However, Vinings and the Atlanta area as a whole was able to recover.
In modern times, there has been substantial debate as to whether Vinings should become a recognized township. Becoming a township would grant Vinings the ability to have control over zoning and land use laws as well as property taxes. However, Vinings still remains an unincorporated "census-designated place" rather than an incorporated city.
Things to Do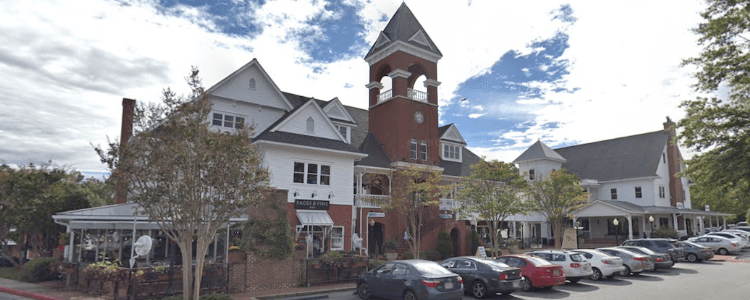 Vinings Jubilee
4300 Paces Ferry Rd SE, Atlanta, GA 30339
Vinings Jubilee is a boutique shopping center located in the historic Vinings Village. The Jubilee is known for its charm and architectural callbacks to the 19th century. It's an extremely walkable and stylistically unique shopping center that conjures up memories of a bygone era. Management places a lot of focus on the Jubilee's role within the community and hosts a variety of family-friendly events.
Vinings Jubilee features a variety of different shops and restaurants within the center, ranging from national chains to locally-owned businesses. Overall, the Jubilee is a fantastic place to spend a lazy Sunday or as a place to meet up with friends.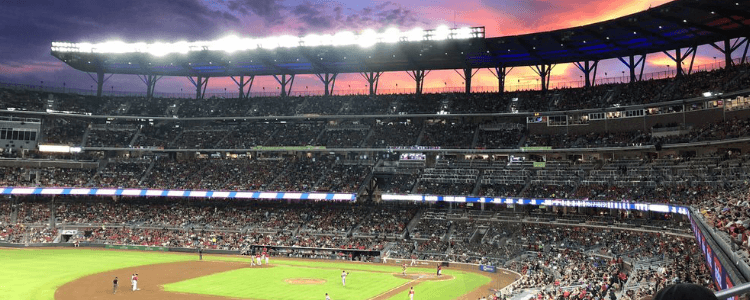 SunTrust Park & The Battery

755 Battery Ave SE, Atlanta, GA 30339
SunTrust Park is located within minutes of Vinings and is the home of the Atlanta Braves. Built in 2017, SunTrust Park is the successor to Turner Field, which was located near Downtown Atlanta. The stadium was designed as a clean, accessible, and family-friendly ballpark with plenty of nearby amenities. It's also an incredibly affordable experience, as tickets can be purchased for as low as $7.
The Battery is located adjacent to SunTrust Park, which hosts a variety of upscale restaurants and shops for residents to enjoy before or after games. The Battery has been heralded as a huge improvement over Turner Field, which was isolated and featured very few nearby amenities.
Pro tip: If you're considering visiting, it is usually prudent to take Uber or Lyft rather than pay for parking, which can be expensive!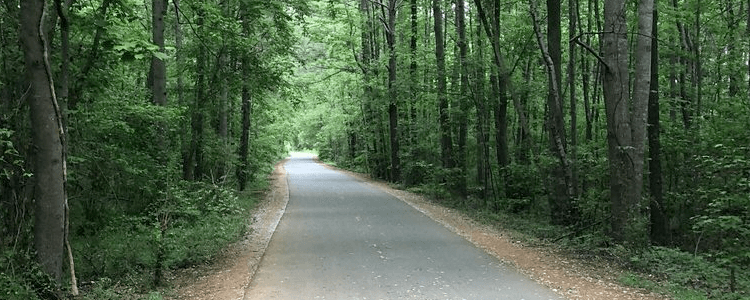 Silver Comet Trail
The Silver Comet Trail is a multi-use trail that runs through Vinings and is used for recreational biking, running, and walking. The trail is named after a streamline passenger train named Silver Comet whose tracks have since been paved over. The total trail length is over 100 miles and runs all the way to the Georgia-Alabama border!
The Silver Comet Trail is beloved by nature and outdoors enthusiasts in the area. The vast majority of the trail is flanked on both sides by trees which creates a very serene aesthetic. The tree coverage also helps cool down the trail in the summer.
In the future, the PATH Foundation will connect the Silver Comet Trail to the Atlanta Beltline, creating over 300 total miles of paved trail. Vinings residents will be able to bike to Midtown or Old Fourth Ward without even touching surface streets.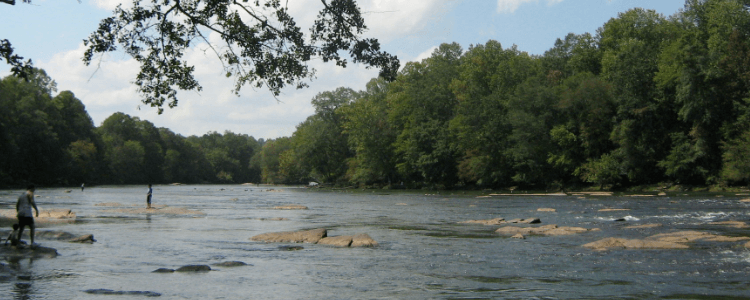 Chattahoochee River
The entire western border of Vinings is the Chattahoochee River, granting residents unparalleled access to outdoor activities. There is no shortage of hiking trails in the area or opportunities for fishing, kayaking, or rowing. And don't forget inner tubing!
Combined with the Silver Comet Trail, Vinings residents have access to a plethora of nature activities.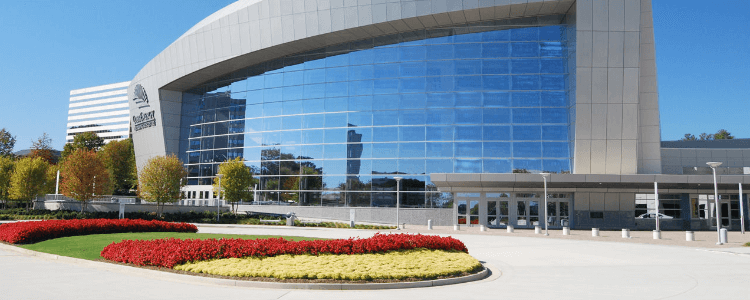 Cobb Energy Performing Arts Center
2800 Cobb Galleria Pkwy, Atlanta, GA 30339
The Cobb Energy Performing Arts Center is a state-of-the-art contemporary theatre located near Vinings. There is a wide variety of performances held at the theatre, such as opera, concerts, stand-up comedy. and even magic shows! Parking is reasonably priced and there aren't any "bad seats" at the venue. Overall, it's one of the top-rated performing arts venues in Georgia and the best place in Vinings to check out a show.
Fun fact: The Cobb Energy Center was featured in the first season of The Walking Dead as the CDC.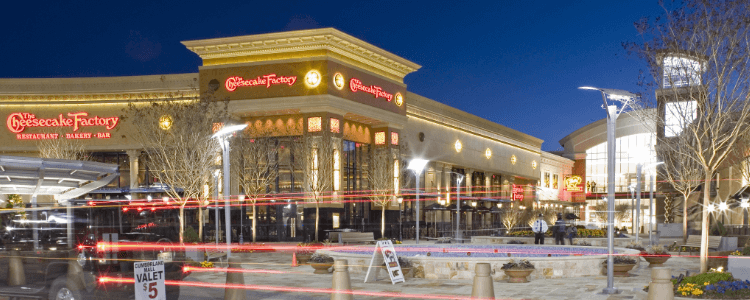 Cumberland Mall
2860 Cumberland Mall, Atlanta, GA 30339
Let's be honest: Cumberland Mall isn't the top-rated mall in Atlanta, mostly because it lacks in size and selection of stores when compared to Perimeter Mall and Lenox Square. While some much-needed renovations have been completed in the past decade, the mall still resembles that of a small-town suburban mall rather than a mall deserving of Metro Atlanta.
However, it's still worthy of inclusion on this list because of its proximity to Vinings. Additionally, they do have a solid selection of major anchors like Macy's, Costco, and Apple. Some of the other fashion chains include H&M and Forever 21. There's also a solid selection of upscale chain restaurants like the Cheesecake Factory, PF Chang's, and Ted's Montana Grill.
If you're moving to Vinings, chances are you'll use Cumberland Mall as a place to grab items you may immediately need. For example, I often shop at the Costco at Cumberland Mall because it's often more convenient for me than the Brookhaven location. It is unlikely that it will be your top mall choice, though.
Real Estate
Vinings offers a wide range of housing options that include condos, townhomes, single-family homes, urban flats, and much more. However, most of the housing stock is in attached dwellings (such as condos and townhomes) compared to single-family residences. As a result, the price of houses tends to be significantly more expensive. Currently, the average detached home closes at a price near the seven figures.
The opening of SunTrust Park and The Battery has created a dramatic rise in real estate prices. Here's a chart detailing the precipitous rise in the price of the average sold home over the past 10 years: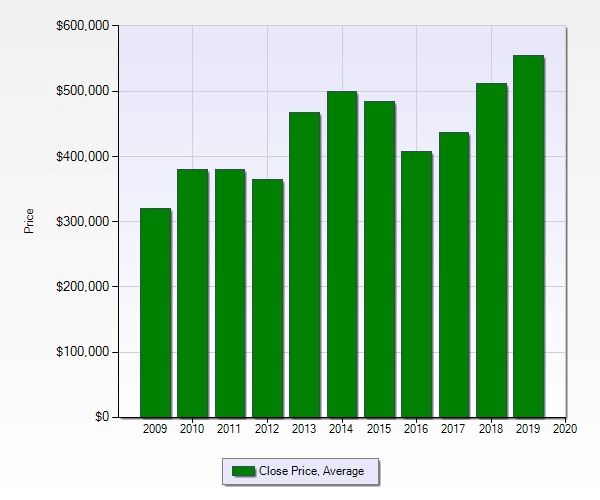 Are you considering purchasing a home in Vinings, GA? Search all of the Vinings houses for sale on our real estate website!
Schools
As mentioned previously, Vinings is located within the Cobb County School District. The following public schools are offered to Vinings residents:
Elementary: Teasley (rated 8/10 by GreatSchools)
Middle: Campbell (rated 6/10 by GreatSchools)
High: Campbell (rated 5/10 by GreatSchools)
There is also an abundant number of top-rated private schools located within a few miles, such as The Westminister School and Pace Academy.
Quick Facts
Population: 11,816
Median age: 34 years old
Median household income: $77,215
Zip code: 30339
The ethnic composition of Vinings is the following:
53% White
29% Black or African American
11% Asian
6% Other
Interesting Trivia
Cobb County residents over the age of 62 are eligible for a property tax cut of up to 80%.
Vinings has been referred to as many names over time, such as "Crossroads" and "Paces".
Several historic buildings still remain in Vinings, such as the Yarborough House and the Vinings Inn (circa 1890).
The Home Depot is headquartered in Vinings.