Living in Alpharetta, GA: 2021 Community Guide
Posted by Trey Van Tuyl on Wednesday, February 10, 2021 at 4:26 PM
By Trey Van Tuyl / February 10, 2021
Comment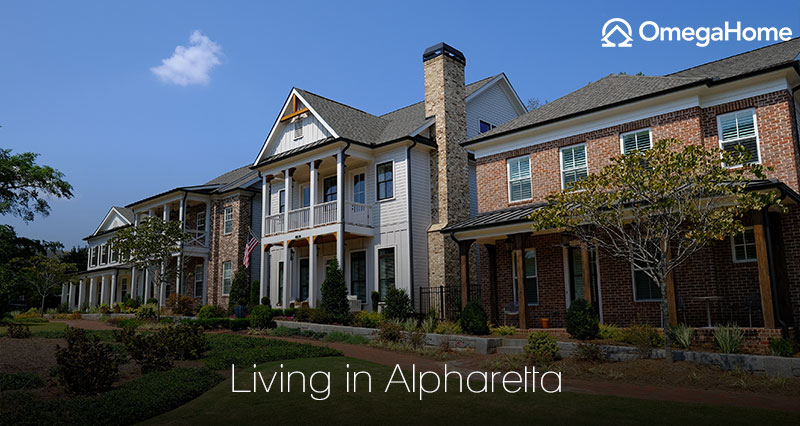 The city of Alpharetta is located in Fulton County, less than 30 miles from downtown Atlanta, and has become one of the most desirable places to live in the metro area. With a population of almost 70,000, Alpharetta has experienced an explosion in growth in recent years, and newer developments like Avalon, North Point Mall, and Ameris Bank Amphitheater have fostered a live/work/play environment in the heart of the city.
Far from just a bedroom suburb of Atlanta, Alpharetta is a vibrant, diverse city that promotes community and quality of life. The revitalized historic downtown is the hub of Alpharetta life. It features festivals, events, and additions such as Alpharetta City Center, an award-winning 26-acre mixed-use development that encompasses City Hall, a library, restaurants, shopping, offices, and luxury apartments.
Alpharetta's local economy is thriving, with the top local employers' healthcare IT and telecommunications industries. The city has also invested in robust technology infrastructure, and over 700 tech companies now call Alpharetta home.
Alpharetta is a quiet, safe place to live, with consistently highly-ranked schools, a plethora of shopping and dining options, and plenty of beautiful green spaces. Rated among Money Magazine's top places to live in the USA, it's no wonder Alpharetta has become such a popular choice for families moving from "inside the perimeter" to find a better quality of life.
Let's take an in-depth look at what makes living "outside the perimeter" in Alpharetta such an attractive proposition.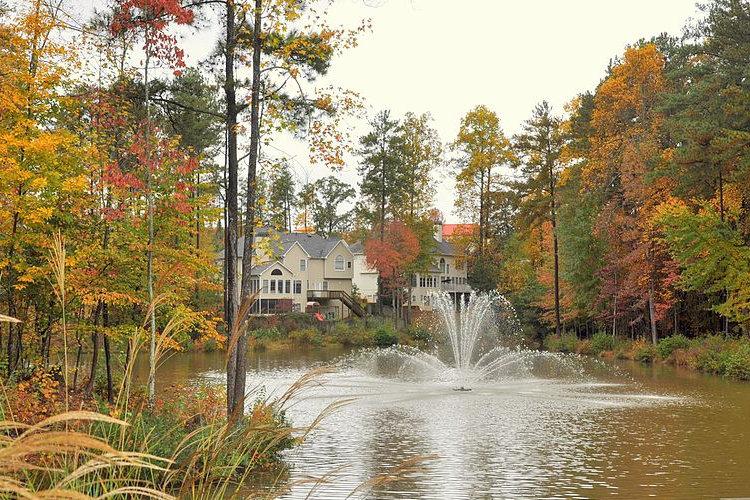 The Lexington Woods subdivision in Alpharetta, GA. Source: Chanilim714
Lifestyle and Culture in Alpharetta
Named "7th friendliest city in America" by Forbes Magazine, Alpharetta is a city full of Southern charm and hospitality. This is a place where smiles and friendly greetings come easily, and everyone is made to feel welcome.
Residents of Alpharetta love to spend time outdoors, and the city has several popular parks and greenspaces. Wills Park is a local favorite and is jam-packed with fun opportunities, including a pool, dog park, and even an equestrian arena. Big Creek Greenway is a fantastic trail that passes through shady woodland and is a popular place to run or ride bikes. The Chattahoochee River is nearby, offering residents the opportunity to hike, fish, and play in a beautiful natural environment.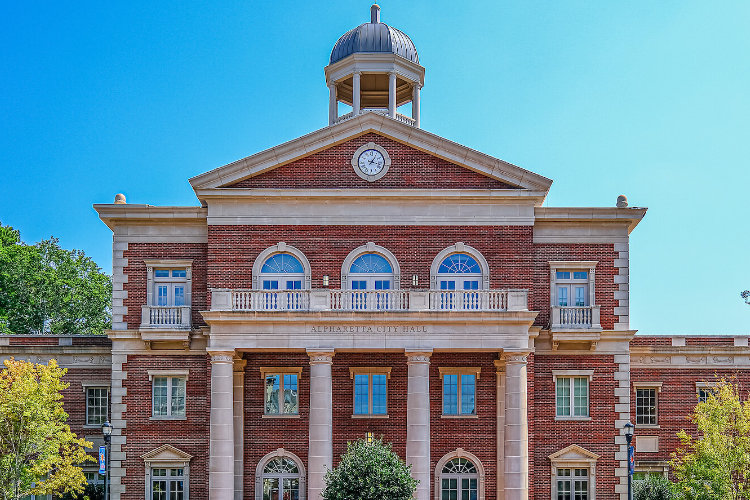 The Alpharetta Historic District. Credit: Darryl Brooks / Shutterstock.com
A warm summer evening is the best time to get out and enjoy Alpharetta's vibrant historic downtown district. It's a real pleasure to stroll these beautiful old brick streets, and parks like Town Green and Brooke Street Park are pleasant places to sit for a while and watch the world go by.
Alpharetta's historic downtown is also a shopping and dining destination, with dozens of unique stores and local, independent restaurants housed in beautifully-restored historic buildings. Widely regarded as the best in the Atlanta area, the award-winning Alpharetta Farmers Market is held on the Green each Saturday. This amazing market is the place to come for a wide range of locally produced fruit, vegetables, and artisanal products, and there's always live music. During the holiday season, the Christmas Market is a fun-filled extravaganza and is not to be missed!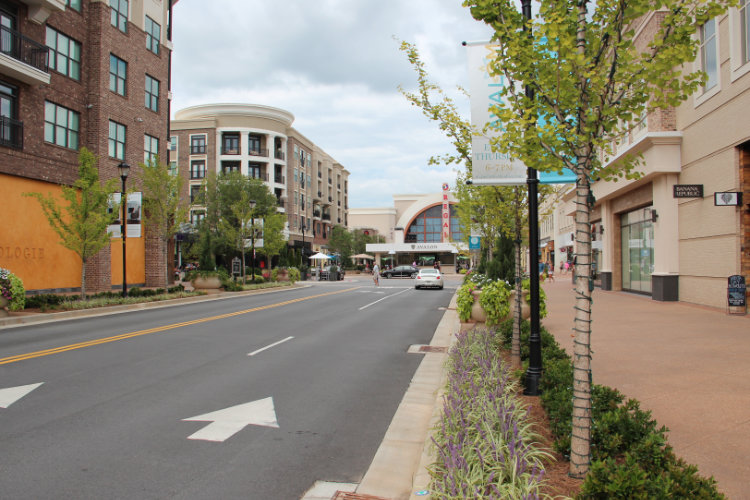 Avalon, the premier shopping center north of Atlanta
Avalon is one of the most popular shopping and dining destinations in the area and offers 500,000 sq ft of retail in a walkable outdoor setting. Avalon is a shining example of Alpharetta's focus on live/work/play developments and includes a hotel, conference center, 12-screen movie theater, and upscale single-family homes. Avalon has developed a real community feel, and regular events like Mardis Gras at Avalon are always a great success.
Alpharetta is home to a thriving arts scene, and there are plenty of opportunities to view local work. The Alpharetta Arts Center provides rotating exhibits, and Alpharetta Art in the Park is a fantastic market in Brooke Street Park that offers the chance to purchase art and watch local artists at work.
Alpharetta's dedication to supporting the arts is exemplified by the publicly-funded "Instruments of Inspiration" sculptures that dot the city. These art installations celebrate the local music scene and form the basis for the Arts Walking Tour.
Alpharetta residents need little excuse to come together as a community and celebrate their city, and the local calendar is packed with events and festivals.
Locals are passionate music lovers, and the city plays host to live shows throughout the year. The 12,000-seat Ameris Bank Amphitheater is the biggest venue in town, and the big-name shows here are always packed. The Brooke Street Park Summer Concert Series offers family-friendly shows. The supremely popular Wire and Wood festival occurs in multiple venues, offering intimate performances from favorite local musicians.
Alpharetta's diverse culinary scene is celebrated annually at the Taste of Alpharetta festival, which allows local chefs to show off their cooking to a regional audience. Meanwhile, Alpharetta Brew Moon Fest is a celebration of local beer and takes place in spring and fall.
Family-friendly events like the Fourth of July celebrations and the Christmas Lights celebrations are always highlights of the year, while the Scarecrow Harvest Festival - featuring streets lined with community-made scarecrows - is the biggest hit with the city's kids!
With GA 400 running through the city, Alpharetta's convenient location makes it easy to access surrounding areas like Sandy Springs and Buckhead. Residents can reach the I-285 perimeter in just a few minutes, and drive times to Atlanta range from 30 minutes to an hour, depending on traffic. Alpharetta is well-served by public transit, with a regular bus service to the North Springs MARTA station.
Walking and biking are both popular modes of transport in Alpharetta, and the pedestrian infrastructure is constantly being improved. Several bike trails crisscross the city, and plans involve linking to other regional bikeways.
Things to Do in Alpharetta
Downtown History Walk
Alpharetta's city center is full of historic buildings, some dating back to the 1800s. The Downtown History Walk is a great way to explore the city's historic past, and a brochure is available from the Alpharetta Welcome Center on South Main Street.
Highlights of the History Walk include the Dodd Hotel, which dates back to 1870 and was a boarding house for teachers and professionals. The 1856 Skelton-Teasley House, a beautiful Greek-Revival style mansion that was built for a local cotton trader. These elegant, southern-style buildings are surrounded by simpler, brick-built structures that typify the building booms of the 1900s and 1910s.
Topgolf
You don't have to be a seasoned golfer to have a great time at this awesome entertainment complex. Topgolf features bowling alley-style lanes that are ideal for swing practice and offer points-based games that everyone can have fun with.
Topgolf is a popular location for parties, and lanes have huge TVs, great music, and a fun atmosphere. There's a full-service bar and restaurant to keep everyone happy and refreshed, and there are a variety of lessons and classes on offer, too.
Jekyll Brewing
Beer is a big deal in Alpharetta, and Jekyll Brewing has become a local institution. Financing for the brewery was crowd-sourced by Alpharetta residents, and legions of fans pack both locations every evening.
Ground zero is the original location on Marconi Drive, and the 26 different taps feature a range of different beer styles from around the world. Jekyll Brewing's focus is on producing hand-crafted ales, using the finest raw ingredients, and Jekyll now draws beer enthusiasts from all over the region.
Alpharetta Arts Center
Alpharetta Arts Center is housed in a stylish contemporary building, and the bright, welcoming space is the epicenter of Alpharetta's burgeoning arts scene.
The Arts Center features a wonderful gallery that houses rotating exhibits from local and national artists. There are also multiple visual arts and clay studios, a digital media studio, and a black box theater space.
The Alpharetta Arts Center offers an incredible range of multidisciplinary classes, workshops, and lectures for kids and adults, ranging from drawing and painting to theater, cartooning, and animation.
Alpharetta and Old Milton County History Museum
Mansell House and Gardens is a beautiful 1912 Queen Anne-style building located in the heart of Alpharetta. Inside, the Alpharetta and Old Milton County History Museum is an extraordinary place that celebrates and preserves the city's fascinating past.
The museum features a collection of photographs, documents, and memorabilia, much of which was donated by residents. Best of all is the Stories Project Kiosk, which preserves interviews with many of the city's most interesting long-term citizens. Many interviewees have since passed away, and this ongoing project preserves local knowledge that might otherwise have been lost.
Parks and Recreation in Alpharetta
Wills Park
At a whopping 110 acres, Wills Park is the largest and most popular green space in Alpharetta. Located downtown at Old Milton Parkway and Wills Road, this amazing park literally has it all. There are lighted sports fields, a community center with gyms and activity rooms, playgrounds, walking trails, and a popular dog park.
During the hot summer months, the pool at Wills Park is the place to be, and a recent multi-million dollar renovation has elevated this pool to epic proportions. There's now a huge pool house, a leisure pool, a competitive pool, and a super fun water slide.
Wills Park is also home to a competitive equestrian center, located on 50 acres of rolling hills and woods. The Wills Park Equestrian Center hosts events throughout the year and has been an Alpharetta institution for many years.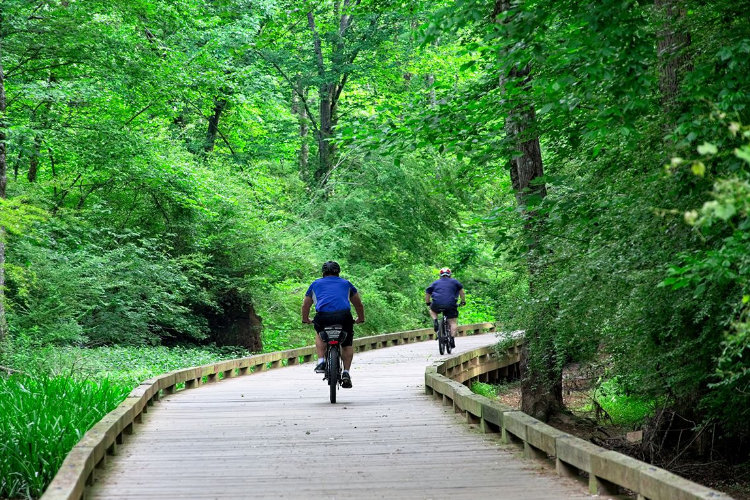 Big Creek Greenway in Alpharetta. Credit: Darryl Brooks / Shutterstock.com
Big Creek Greenway
This 12-foot wide concrete path meanders through gorgeous deciduous woods along Big Creek, between Windward Parkway and Mansell Road. At 8 miles in length, Big Creek Greenway is a popular destination for walkers, joggers, and cyclists, and there are even dirt mountain biking trails in places.
There are several access points along the way, and between Haynes Bridge Road and Mansell Road, separate trail circles a protected wetland that's home to blue herons, deer, and other wildlife. The city continues to expand its greenways, and eventually, Big Creek Greenway will connect with other regional trail systems.
Brooke Street Park
Located behind City Hall, this 5-acre passive park is a local favorite. The park features an arboretum with gorgeous specimen trees, a winding concrete path, and open lawns that make for the perfect picnic spot. A pretty stream runs through the park, and the covered bandstand hosts concerts during the summer.
Chattahoochee River National Recreation Area
Located in nearby Sandy Springs, The Island Ford Unit of the Chattahoochee River National Recreation Area comprises 319 acres of woodland and Copeland Island. The Chattahoochee River is a big part of life in this part of the metro area, and locals come here to get away from the hustle and bustle of city life.
The Island Ford Unit features more than 5 miles of wooded trails, bird-watching, and top-class fishing. On Hot summer days, floating down the river on innertubes is a favorite local pastime, and the birds and animals that call the riverbanks home can often be seen.
Webb Bridge Park
This hidden gem of a park is located at the edge of the city, on Kimball Bridge Road, and features a meadow, streams, forest, and a pond. There's a 1.5-mile walking trail that's popular with dog-walkers, as well as a fantastic Web Zone playground.
Webb Bridge Park's arboretum is home to over 20 specimens of trees, and this is a lovely place to come for some peace in a tranquil neighborhood setting.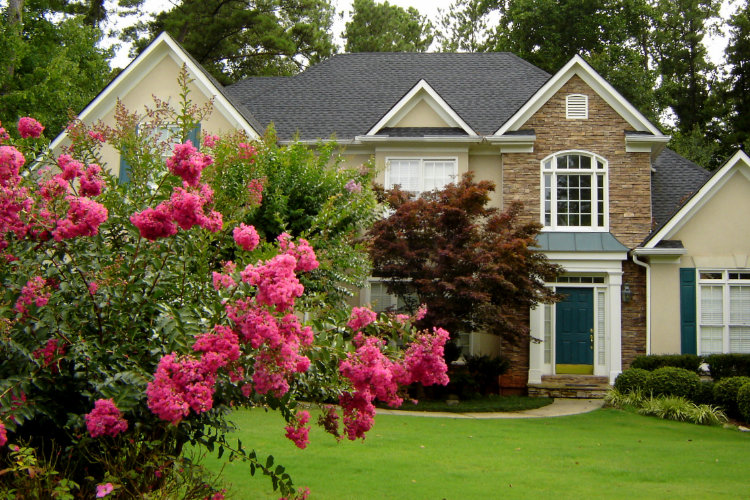 Example of a typical single-family home in Alpharetta.
Real Estate in Alpharetta
Alpharetta offers a wide variety of real estate options, with most construction having been built since the 1980s. You'll find everything from luxury townhomes to traditional, two-story brick homes in Alpharetta, as well as million-dollar estates in country club settings. Smaller, gated communities are scattered throughout the city, each with its own unique character.
Some of Alpharetta's most expensive and sought-after real estate is located in Avalon. This area draws those attracted by the neighborhoods' proximity to shopping, dining, and amenities. You'll find stunning townhomes here, with open floor plans, luxury features, and rooftop terraces.
Other popular neighborhoods include Glen Abbey and Kimball Farms, which feature large single-family homes within downtown and Avalon's reach.
Windward appeals to those who are looking for super-exclusive real estate in Alpharetta. This private, gated neighborhood features massive estates on acreage, many with pools, spas, and other luxury amenities.