Living in Johns Creek, GA: 2021 Community Guide
Posted by Trey Van Tuyl on Wednesday, February 10, 2021 at 3:36 PM
By Trey Van Tuyl / February 10, 2021
Comment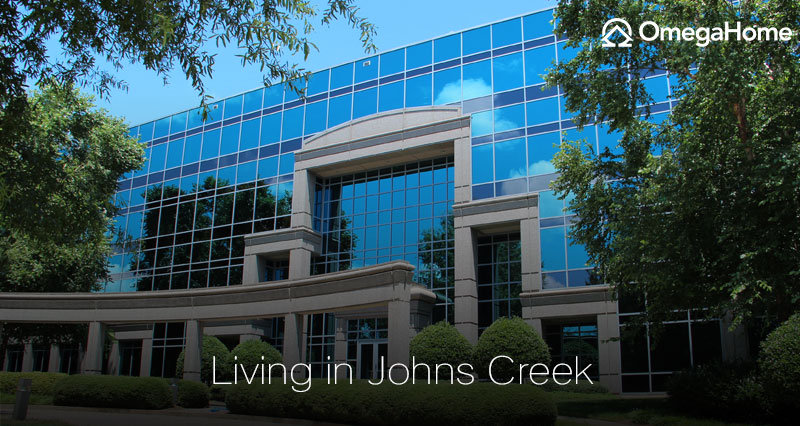 The city of Johns Creek is located in Fulton County, about 30 miles northeast of downtown Atlanta, and has a population of just over 85,000. Since incorporating in 2006, this affluent suburb has become increasingly popular among families, professionals, and others drawn to its top-ranking schools, employment opportunities, and excellent quality of life.
Johns Creek is home to one of the most ethnically diverse populations in the Atlanta metro area. This is reflected in the eclectic dining scene, which boasts an array of excellent restaurants serving up cuisines from all over the globe. There's also a vibrant shopping scene, with an emphasis on locally-owned, independent boutiques. Johns Creek is a place that promotes art, culture, and outdoor recreation, and there are plenty of opportunities for residents to come together as a community and celebrate their city.
With all that John Creek has on offer, it's no wonder the city has been recognized at both the local and national levels for its quality of life. In 2017, Johns Creek came in at number 3 on USA Today's "50 Best Cities to Live In" list, and the city has been awarded numerous times for its safety, diversity, and the high quality of its schools.
Let's take an in-depth look at what makes Johns Creek such a desirable place to live.
History of Johns Creek
The Johns Creek area was a sacred meeting place for the Creek and Cherokee Native Americans due to its location on the Chattahoochee River, which acted as a border between their lands. The tribes came here to trade, and by the 1800s, European settlers used this location in a similar way, trading goods and selling produce from their farms.
In 1981, Georgia Tech purchased 1,700 acres of land and built an office park. The park was named "Technology Park/Johns Creek," and the name Johns Creek stuck as the park brought rapid new growth to the community. By the early 2000s, Technology Park had attracted over 200 companies to Johns Creek, and restaurants, shops, and housing quickly followed. Residents began to push for their own government, and in 2006 Johns Creek was formally incorporated.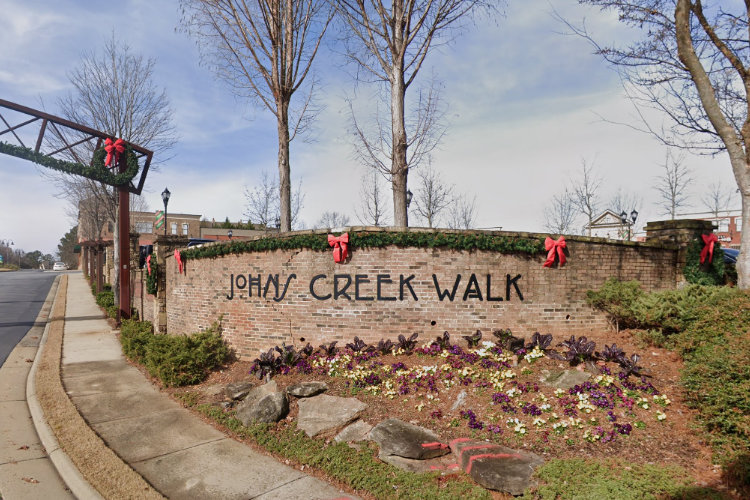 Johns Creek Walk, one of the top shopping centers in Johns Creek
Lifestyle and Culture in Johns Creek
Johns Creek's convenient location, close to both I-85 and the I-285 perimeter, makes it fairly quick and easy to reach downtown Atlanta, and many residents make the daily commute. The driving time can be as little as 30 minutes, but rush hour traffic can make the trip last much longer. SR120 and SR141 run through central Johns Creek, making it easy to access the nearby suburbs of Alpharetta and Sandy Springs, while GA400 provides a direct route to the gorgeous North Georgia Mountains.
Many Johns Creek residents prefer to use public transit, and there are MARTA stations a few miles away, in Sandy Springs and Doraville. Local Xpress Georgia buses provide frequent commuter service to the Doraville MARTA station, and the train journey to Atlanta takes about 20 minutes. Johns Creek is a great city to walk and bike in, and whether strolling along quiet streets lined with mature trees, or biking along one of the numerous multi-use trails, there are plenty of opportunities to get around.
There are numerous places to get some serious shopping done in Johns Creek, with Johns Creek Town Center in the north of the city providing many more mainstream options. Further south, the Medlock Corners development is home to some of the city's most beloved independent boutiques, as well as a host of the more popular restaurants. It's here that residents come to sample a diverse range of cuisines from all around the world.
A few minutes to the south, in Norcross, Forum on Peachtree Parkway is an upscale outdoor mall that offers a pleasant, walkable shopping experience, with plenty of cafes and restaurants. Johns Creek residents also take full advantage of the shopping and dining options in nearby Alpharetta, including North Point Mall, Avalon, and the charming streets of Alpharetta's historic downtown district.
The arts are an important part of everyday life in Johns Creek, and public art is well-funded. Hidden gems abound, including a wonderful 130-foot tunnel mural, inside a pedestrian underpass. This awesome public art has captured the local imagination and is illuminated by LED lights that change color with the season. Non-profit arts organizations, like the Johns Creek Arts Center and the Johns Creek Symphony Orchestra, are proudly supported by the city's citizens, who have long recognized the benefits that cultural enrichment brings their community.
Festivals and events fill the local calendar throughout the year and draw Johns Creek locals and visitors from all over the region. The Founders Day Parade is an important local tradition, while the Fall Family Festival is an all-out celebration of all things Autumnal, featuring games, arts and crafts, and a kids costume competition. The Johns Creek International Festival attracts thousands of visitors each year, and the food, music, and shopping all highlight the cultural diversity of the local population.
Johns Creek has a long history of promoting outdoor activity and preserving natural spaces, exemplified by the Technology Park, which features a pretty lake surrounded by walking trails. The Johns Creek landscape features rolling hills, woods, and the Chattahoochee River, and there are numerous parks and green spaces to explore. This part of the Atlanta metro area is also home to many exclusive golf clubs, and many Johns Creek residents enjoy teeing off at clubs like Country Club of The South, and Atlanta Athletic Club.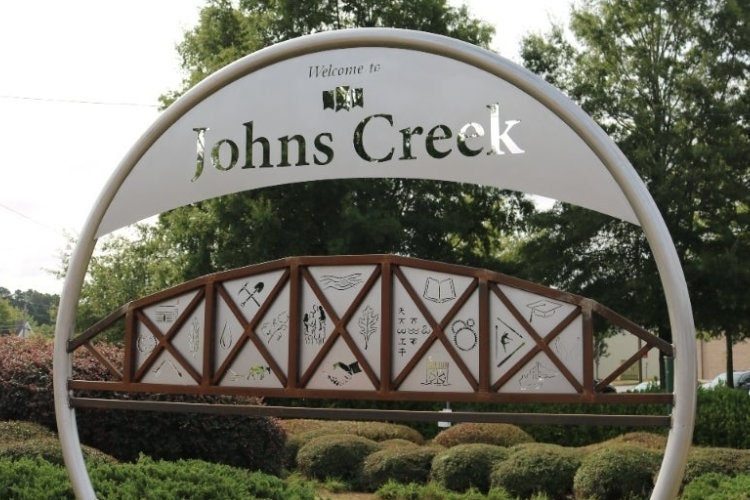 Things to Do in Johns Creek
Johns Creek Arts Center
Admission is free to this incredible non-profit arts center, and it's more than worth a visit. This is where you can come and admire work by local and regional artists, and there always seems to be an art opening or special community event on the calendar.
The Johns Creek Arts Center offers classes for students of all ages in various subjects, including pottery, watercolors, drawing, photography, and painting. There are also plenty of workshops and camps available for budding young artists, and the birthday party facilities are especially popular!
Before leaving, make sure to check out the gift shop, where you'll be able to purchase locally-made art of all kinds.
Johns Creek Symphony Orchestra
In April 2007, The Johns Creek Symphony Orchestra was officially incorporated as a Georgia non-profit performing arts organization. Maestro and founder, J. Wayne Baughman had worked for years to realize his dream of a symphony orchestra in Johns Creek, and his decades of experience in the Atlanta music scene helped him draw an impressive group of professional musicians.
The Johns Creek Symphony Orchestra is the only part-time professional orchestra in the area, and its productions are always enthusiastically received. Concerts take place throughout the year, and at different locations, including Concerts in the Park at Newton Park Amphitheater and a hugely popular Christmas Gala.
Johns Creek International Festival
The incredibly successful Johns Creek International Festival takes place at the Atlanta Athletic Club each April and draws tens of thousands of visitors from all over the region. The festival food is one of the main attractions here, and the cooking aromas of numerous different cuisines fill the air, creating an intoxicating atmosphere.
The Global Beer and Wine Garden is extremely popular with grown-ups, while the Kids Corner is the place to be for the young set. Here, kids learn about cultures worldwide while trying their hand at face painting and other artistic activities.
On the main stage, bands play music ranging from salsa to rock, and dance performances and martial arts displays help keep things multicultural. The Global Marketplace features many vendors selling arts, crafts, and clothes and is a great place to buy unique, hand-crafted merchandise.
Southeastern Railway Museum
A few miles away in Duluth, the Southeastern Railway Museum is an excellent place to visit, whether or not you're an avid train enthusiast.
This 35-acre museum has been in operation since 1970, and houses over 90 items of rolling stock, including historic Pullman cars and classic steam locomotives. There's so much to see here, and kids love riding in a restored caboose behind a diesel locomotive, as well as getting up-close and personal with historic trains of all shapes and sizes!
Given Atlanta's history as a railroad town, this museum is a really fascinating place to spend an afternoon, and the gift shop is a great place to buy train-related memorabilia.
River Pines Golf
Although Johns Creek is home to some really upmarket golf clubs, there's also River Pines, one of the best public golf courses in the Atlanta area.
River Pines features an 18-hole course with 5 sets of tees and caters to all skill levels. The course is set along the banks of the Chattahoochee River, and the surroundings are truly gorgeous. The course itself is immaculately maintained, and the greens are perfectly manicured.
For something different, the 9-hole, Par-3 course offers a demanding layout, and the 951-yard links-style course will appeal to any level of golfer. River Pines also features a driving range, putting green, chipping and pitching area, and offering lessons and clinics for adults and juniors.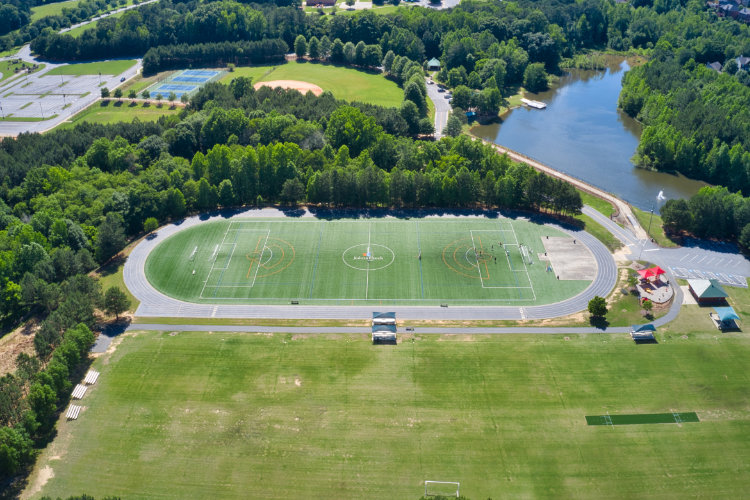 One of the soccer parks in Johns Creek
Parks and Recreation in Johns Creek
Autrey Mill Nature Preserve and Heritage Center
One of the best parks in the area, Autrey Mill Nature Preserve encompasses 46 acres of woodland, nature trails, historic buildings, and a beautiful creek. The area was inhabited by Native Americans before being farmed by European settlers and was the site of a mill operated by the Autrey family from 1877 until the early 1900s.
Today, the heritage center offers programs and events emphasizing science, nature, and cultural history. Heritage Village provides a recreation of late 19th Century rural life, while the nature trails pass through beautiful hardwood forest, providing opportunities to see wildlife, a gold mine, and the ruins of the old mill.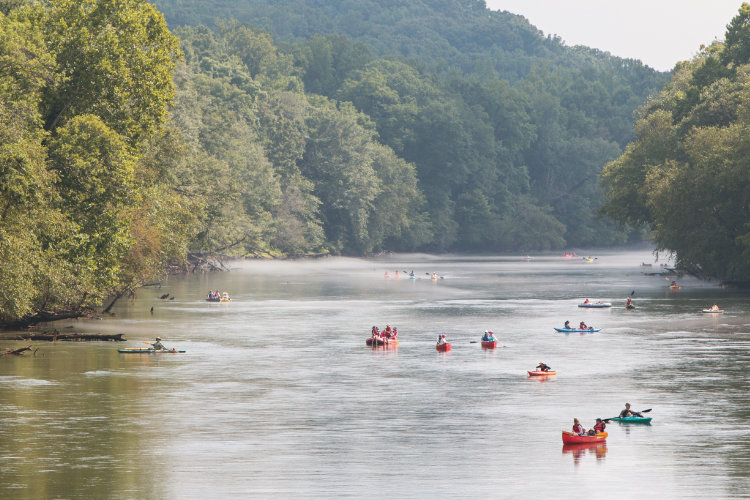 Chattahoochee River National Recreation Area
The Chattahoochee River National Recreation Area is spread over a 48-mile section of this beautiful waterway, with 16 different areas or units that provide recreation opportunities. Five of these units are accessible from Johns Creek, including Abbots Bridge.
The Chattahoochee River is an important part of life for Johns Creek residents and the surrounding areas, offering a peaceful interlude from city living. Hiking trails pass through wooded areas, and local wildlife can often be seen. During the hot summer months, Johns Creek residents enjoy nothing more than floating down the river, enjoying the sights and sounds of this special ecosystem.
Newton Park
This 52-acre city park is one of the most popular in Johns Creek and offers something for everyone. Newton Park features sports facilities, multi-use paths, and picnic pavilions and is also home to the Newton Park Amphitheater. This is a popular venue for summer concerts, and many warm evenings are spent here, enjoying good music and community spirit.
The Newton Dream Dog Park is a haven for the city's four-legged friends and is rated among the country's best dog parks. This fenced-off, 1-acre dog park features artificial turf, doggie sprinklers, and separate areas for shy and small pups. The park's shade trees and benches make for a great socializing spot for dogs and their owners.
Lake Lanier
Lake Lanier is one of the most popular lakes globally and lies an easy, 40-minute drive from Johns Creek. Lake Lanier has over 700 miles of shoreline and encompasses a whopping 38,000 acres. Created in 1956, when both the Chattahoochee and the Chestatee Rivers were dammed, Lake Lanier is fed by water running down from the Blue Ridge Mountains.
Over 45 parks and 10 campgrounds line Lake Lanier's shores, making this a boating, fishing, and swimming paradise. There's also world-class kayaking and water skiing here, and the miles of hiking trails make it easy to get away from the crowds and experience quiet solitude in beautiful surroundings.
Real Estate in Johns Creek
Johns Creek offers various real estate options, ranging from modest single-family homes in swim and tennis communities to larger, more established homes on large lots in country club communities.
Many neighborhoods feature gorgeous streets lined with mature trees, clubhouses, and gated communities. Deerlake is a popular Johns Creek neighborhood that features pleasant, pedestrian-friendly streets and a stocked fishing lake. One of the most sought-after areas in Johns Creek is Falls at Autrey Mill. This development features spacious, traditional-style houses built on large lots and provides access to swimming, tennis, and fitness facilities.