How to Become a Real Estate Developer: Career in Real Estate
Posted by Trey Van Tuyl on Sunday, July 7, 2019 at 7:49 PM
By Trey Van Tuyl / July 7, 2019
Comment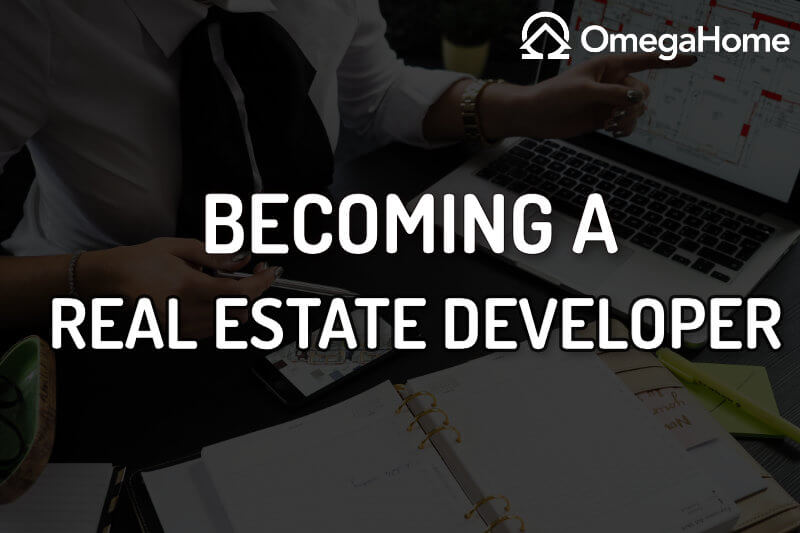 Real estate developers find and purchase land, assemble a team, and then oversee construction on that land. They're responsible for securing financing and ensuring the end product can be sold at a profit. Becoming a real estate developer isn't as easy or straightforward as other professionals; it has high barriers to entry and relies heavily on interpersonal relationships. It's quite different from wholesaling or flipping as it requires more skill and the stakes are considerably higher.
Let's be honest: real estate development is a tough industry to break into but can be an extremely rewarding and profitable professional. Below are some things you can do to maximize your chances of becoming a real estate developer.
Networking, networking, networking
If there's a singular task that will aid you the most in becoming a real estate developer it would be networking. You'll need to amass a breadth of knowledge, much of it specific to your local market and cannot be easily found in books or online. Most importantly, you'll need to forge relationships with people willing to bankroll your projects.
There are many different ways you can network. Many real estate developers accomplish a great deal of networking in college. Some even obtain a master's in Real Estate Development (MRED) in order to network even further and have a fallback in case they need employment at a firm.
However, there are plenty of successful real estate developers who never even went to college. Many schools with the best real estate development programs are rather expensive and taking out six-figure loans to fund your education may not be the most prudent decision. Those who attend real estate development programs in college are often financially privileged, meaning that opportunity costs associated with college are mitigated for them.
Here are a few different places you can check out in order to network:
Your local Home Builders Association
Real estate meetups
Real estate conferences
The bottom line is that you need access to a great deal of information and capital in order to be a successful real estate developer. It's practically impossible to acquire both without networking heavily with existing developers and wealthy individuals. Banks typically don't lend to new developers and even attaining hard money loans can be difficult; it's much better to be able to have wealthy partners willing to stake your first venture. Networking is one absolutely crucial skill in real estate that could make or break your success.
Become a Real Estate Agent
A great way to get started is by becoming a real estate agent and specialize in working with residential developers. You can start by finding off-market opportunities for developments and "pitching" them to developers. Finding property owners willing to sell can be done via door knocking, direct mail, or any other form of marketing.
Once you have properties that you can pitch to developers you'll need to accumulate the contact information of developers. Start by driving around your city and find permits displayed around development sites and then begin a dialogue with the develop. Ask for their criteria and figure out what type of properties they're looking for.
You can now begin to send developers off-market deals and cultivate a relationship with them. You'll quickly figure out how real estate developers make acquisition decisions and how they turn a profit You'll develop invaluable proximity to their line of work and they'll be more than willing to provide you guidance on becoming a real estate developer. Best of all, you'll make money via commission checks while representing the developer as a buyer's agent.
Another way you can work with developers is by being the listing agent for their new construction projects. This is considerably more difficult than representing the developer as a buyer because developers prefer to partner with established agents Some first work with a developer as their agent on the buy-side and are eventually given a shot at listing one of their finished projects.
The bottom line is that becoming a residential real estate agent provides a great launchpad for real estate development with little start-up costs. You'll learn a lot about what it takes to be successful and participate in real estate transactions with developers. The relationships that you'll forge with developers will prove to be invaluable.
Get an Industry Job
Try working for a company that already specializes in the type of projects you'd eventually like to develop yourself. You may be hired as an analyst or assistant project manager and have the opportunity to work on actual projects. Be sure to develop a close relationship with the project manager you're working alongside. They'll provide you an extremely valuable amount of information.
You could also get a job at a small and independently operated development company just for the experience. Smaller firms tend to be more sensitive about their costs so it might be difficult to secure a high paying job. However, you'll develop a closer relationship with the decisionmakers, and get a look of the challenges you'll face later on when growing your own company.
If you decide to get an industry-related job, make sure it's specifically related to real estate development. You don't want to be working in construction or design.
Other Ways to Break In
Consider flipping homes. While it's substantially different from bona fide development, you'll learn about the various costs involved with construction.
Become a property manager. You'll quickly learn about cashflows and meet with plenty of developers who operate rentals.
Work at a commercial real estate firm.
Learn about your market
It's important to stay abreast on what's going on in your market. You need to know where the lion's share of development is occuring as well as different Opportunity Zones. Learning about your market goes beyond mere geography, though. You should be learning about zoning in your City and how long or difficult it is to get projects approved.
The point is that you need to be on top of your game. You need to have a firm grasp on where the ideal areas are to develop as well as the inner workings of City Hall. In large metropolitan areas, it can often take many months for a project to be approved.
The Proper Mindset
Becoming a real estate developer will require a certain tenacity that few have. The sheer amount of sweat equity you have to establish in order to be successful is immense. This is not at all for the faint of heart of those looking for an easy 9-5 gig. You'll need an extreme level of persistence in order to make it to the top.
However, your dogged persistence will pay off. Imagine the unbelievable reward of seeing a property that you envisioned erected before your very eyes. Successful real estate developers tend to make quite a bit of money as well!
Conclusion
Nobody becomes a real estate developer overnight. Think of all of the different aspects of the job: acquiring land, zoning, managing an architect, underwriting, construction, leasing, property management, and sale or asset management. Developing a firm grasp on these aspects takes a long time. It takes most years (and some, decades) of experience before they're able to break off and begin developing
The good news is that there are various different ways you can approach breaking into the industry. People who have made it are eager to share their stories and help you along the way. It really does matter "who you know" and you should be motivated to meet new developers on a continuing basis. Best of luck to your future career in real estate development!