Living in Sandy Springs, GA: 2021 Neighborhood Guide
Posted by Trey Van Tuyl on Wednesday, January 20, 2021 at 1:28 PM
By Trey Van Tuyl / January 20, 2021
Comment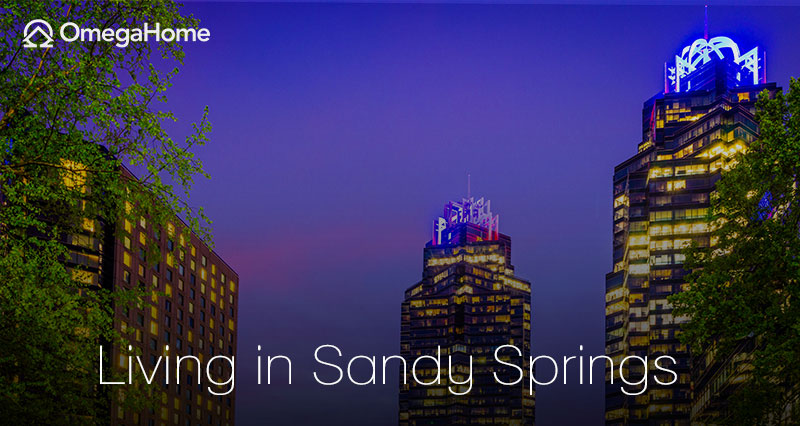 Sandy Springs is an affluent community located in Fulton County, approximately 14 miles north of downtown Atlanta. With a population of around 110,000, Sandy Springs is the second-largest city in the Atlanta Metro Area and the sixth-largest in Georgia.
Once a sleepy suburban enclave, Sandy Springs has seen a flurry of development in recent years and now has the feel of a 'mini-metropolis.' After over 40 years of campaigning, an overwhelming majority of residents voted to obtain autonomy, and in 2005 Sandy Springs was officially incorporated into its own city.
Since then, several international corporations have set up headquarters in the city, attracted by its convenient location and highly educated workforce. Today, Sandy Springs is an eclectic mix of exciting, bustling commercial stretches and laid-back residential pockets.
Although Sandy Springs has grown into a large, thriving city, its residents retain a shared vision with a solid community feel. There are events and festivals throughout the year that bring locals together, and City Springs, a revitalized downtown development that offers shopping, dining, and cultural activities in a pleasant, walkable environment.
Let's dive into what makes Sandy Springs such an exciting and popular place to live.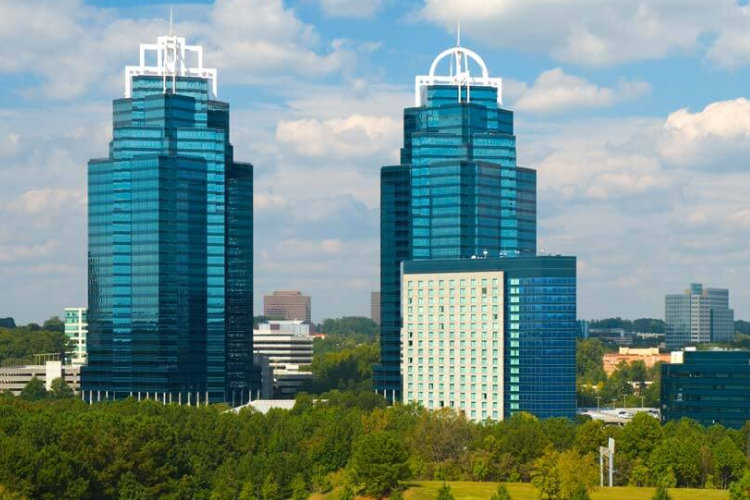 Concourse at Landmark Center, a famous landmark of Sandy Springs.
Lifestyle and Culture in Sandy Springs
Sandy Springs is located at the intersection of GA 400 and I-285 and has neighborhoods inside and outside of the I-285 Perimeter. Although most residents use a car for their day-to-day errands, congestion isn't as much of an issue here than in other areas of Atlanta. Many residents commute to Downtown Atlanta or Buckhead, and driving times range from 20 to 30 minutes, depending on which area of Sandy Springs they live in.
Those living in the City Springs area take full advantage of the area's walkability and can take care of errands and grocery shopping on foot. Sandy Springs is well-served by public transit, too. There are local buses that connect to nearby areas and a MARTA station that allows quick access to all of Atlanta.
One of the main reasons many people move here is to take advantage of the highly-rated schools in the area. Public schools such as Heards Ferry Elementary and Riverwood High receive consistently high marks, and there are also prestigious private schools, such as Brandon Hall.
Although winters are cool and cloudy, summers in Sandy Springs are long, warm, and humid. Locals take full advantage of this great climate by spending as much time outdoors as they can. The city has many great parks, 3 of which are run by the National Park Service. Best of all, the beautiful Chattahoochee River runs for 20 miles along the city's western border, and it's here that locals come to fish, swim, kayak, and relax in nature.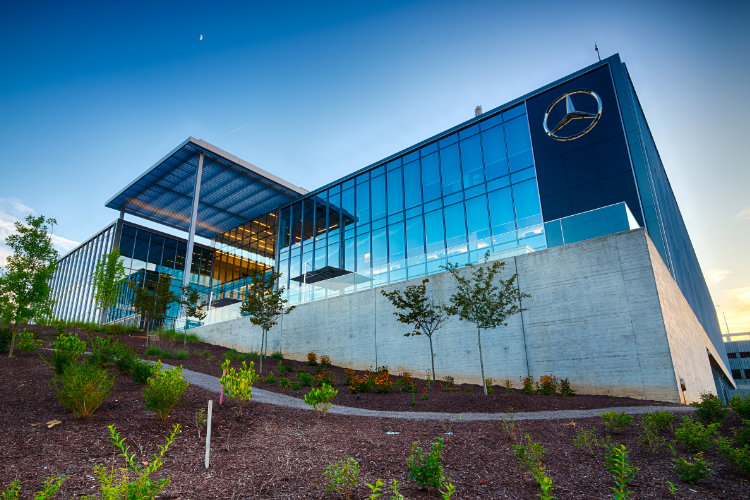 The Mercedes Benz North American Headquarters in Sandy Springs
Thanks to the presence of international corporations like IBM and Cox Communications, Sandy Springs residents are a diverse bunch, which is reflected by the abundance of international food on offer. Many restaurants serve cuisine from all over the world. During the summer, food trucks can be found at different locations, serving up affordable food to be enjoyed outdoors.
Sandy Springs is a shopping paradise, and there's a wide variety of local, independent stores, ranging from upscale boutiques to funky antique emporiums.
Residents love to support local farmers, and the fabulous Farmers' Market is held weekly from April to October. There are also plenty of shopping malls to choose from, including Hammond Springs Shopping Center and the hugely popular Perimeter Mall, just a few minutes' drive away.
The Sandy Springs calendar is packed with festivals and events that bring the community together. Each February, Sandy Springs participates in The Atlanta Jewish Film Festival, one of the largest and most popular of its kind in the world.
In spring, "Take it to the River" is an amazing lantern parade that shouldn't be missed, and in summer, food festivals like "Food that Rocks" give local restaurants a chance to showcase their best dishes. As you might imagine, there's a strong sense of community in Sandy Springs.
There's always plenty of nighttime entertainment in Sandy Springs, and the Sandy Springs Performing Arts Center is the hub of the theater and performance scene. Live music is well-supported, too, and there's usually a live band playing somewhere in town on any given night of the week. Locals have been enjoying jazz shows at Cafe290 for over 25 years, and this Sandy Springs institution hosts local artists and top jazz musicians from around the world.
Things to Do in Sandy Springs
Heritage Sandy Springs Museum
History buffs will love this awesome museum that, since the 1980s, has been dedicated to telling the history of Sandy Springs and how it has changed. Located in the historic Williams-Payne House, which dates back to the 1860s, the museum's permanent exhibits chronicle the history of the land and people that have lived here.
To keep things fresh, the museum also features rotating exhibits that display artifacts from the museum's extensive collection and information about the surrounding areas. There's also a fascinating exhibit describing how the Civil War affected Sandy Springs, with plenty of material to keep you engaged for hours.
Artsapalooza
Artsapalooza is a 2-day festival that takes over the streets of Sandy Springs every year. Just as the weather is warming up in spring, over 150 artists and craftspeople, both local and from the surrounding areas, set out their wares on display.
This fun-filled festival is always well-attended and features a children's play area, interactive art, and local musicians' performances.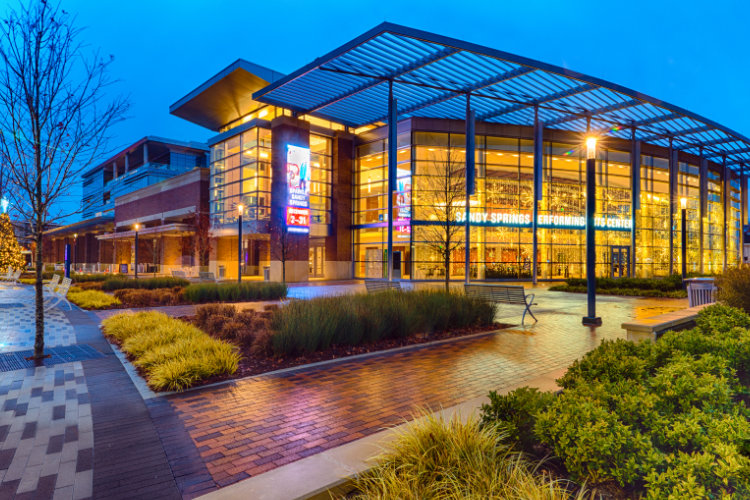 Sandy Springs Performing Arts Center. Image credit: Rob Hainer / Shutterstock.com
Sandy Springs Performing Arts Center
Located in the vibrant City Springs complex, The Performing Arts Center is the jewel in Sandy Springs' crown. The 1,070-seat Byers Theatre is a huge space that hosts a diverse range of plays and musical performances, while the Studio Theatre provides a smaller, more intimate space for local productions and comedy shows.
There's a great little bar in this fantastic venue, where you can enjoy a drink before the show, and the City View Terrace provides stunning views of Sandy Springs and the surrounding region.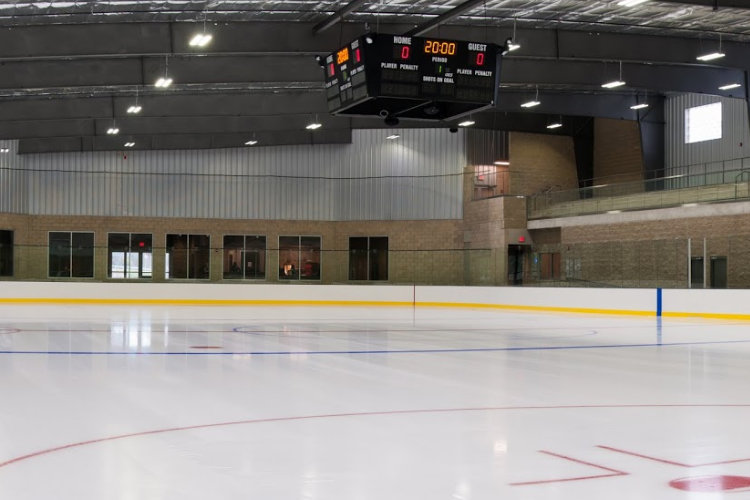 The Center Ice Arena
Center Ice Arena
A pastime in Sandy Springs is to wrap up warm and skate the afternoon away at Center Ice Arena.
This ice skating arena is loads of fun, and it can be a great way to get a workout! Aside from skating, there are also opportunities for playing ice hockey or curling. There are many programs offered here, and there are classes for all ages and skill levels, including skating basics and competitive hockey.
Anne Frank in the World Exhibit
For a more sober experience, this museum provides a worthwhile and meaningful way to reflect on morality and social responsibility issues.
Run by The Georgia Commission on the Holocaust, the museum provides a moving exhibition of 600 photographs and narrative pieces that tell Anne Frank's story, preserving her powerful and inspirational message.
The Anne Frank in the World Exhibit is located near the Sandy Springs Welcome Center and is recommended for 5th grade-age children and older.
Parks and Recreation in Sandy Springs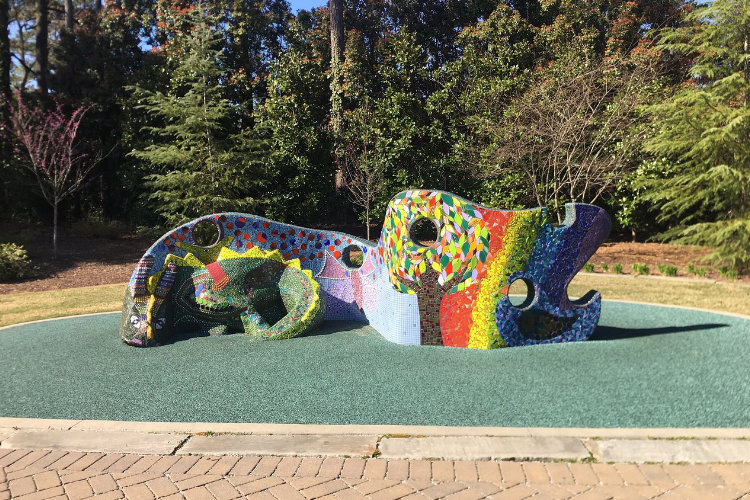 Abernathy Greenway Playable Art Park
Abernathy Greenway Playable Art Park
This award-winning park is hugely popular with adults and kids alike, but mainly with kids! Created in 2001, the park is meant to inspire budding young artists and features play structures that are actually huge art pieces.
The moveable structures invite imaginative play, and youngsters can climb, jump, and interact with all the art. The surrounding greenway is gorgeous and provides plenty of opportunity for strolling or biking, once the kids have been convinced to leave the park!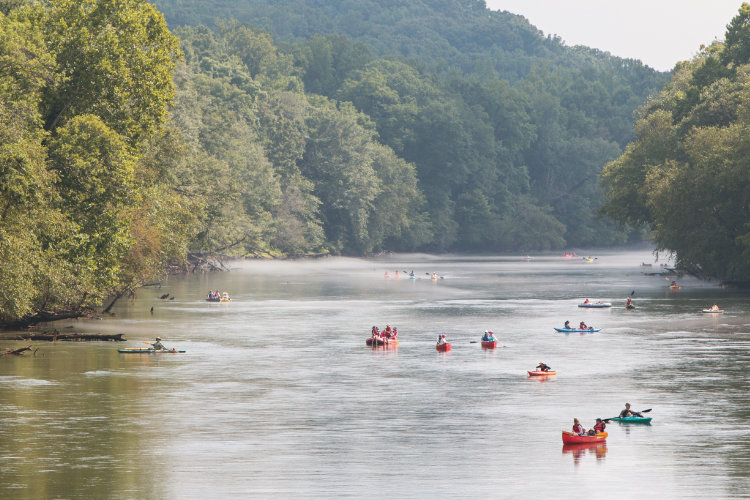 Chattahoochee River National Recreation Area
Chattahoochee River National Recreation Area
The beautiful Chattahoochee River is part of the fabric of life in Sandy Springs, and this amazing recreation area stretches for 48 miles, offering wonderful views and so much to do, including kayaking, fishing, boating, and hiking.
The Chattahoochee River National Recreation Area opened in the 1970s and has been super-popular with locals ever since. This is the place to come for a quiet picnic on a warm afternoon, surrounded by stunning scenery and seemingly far from the city's hustle and bustle.
Nantahala Outdoor Center
Nantahala Outdoor Center serves the entire southeast region and has 2 outposts on the Chattahoochee River, one at Powers Island in Sandy Springs.
There are activities for the whole family on offer, including tubing down the rapids, or rafting down the river, taking in the sights, and listening to the birds that call this place home.
Adrenalin junkies can take things to the next level and try out paddle boarding, but that isn't for everyone. Tubes, rafts, kayaks, and canoes can all be rented in nearby Roswell.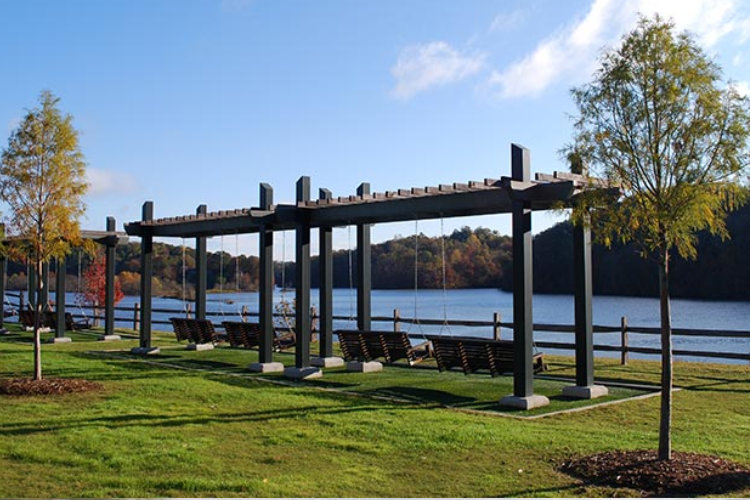 Morgan Falls Overlook Park
Morgan Falls Overlook Park is a local classic, and many Sandy Springs residents have been coming here for years to enjoy the famous sunsets over the river, cookout in one of the park's barbeque pits, and take time to relax.
The park encompasses 30 acres of land along The Chattahoochee River and has hiking trails and a boat dock. Boating and fishing are popular activities here, as lazy picnics, quiet evening strolls, and, for the kids, hitting the playground!
Ridgeview Park
At over 20 acres, Ridgeview Park is a popular destination for those who want to take advantage of the hiking trails, Fit Trail Course, and well-appointed playground.
It's the cute, quaint pavilions that are the park's real draw, though. These ornate green structures dot Ridgeview Park and are popular for picnics and special events. The pavilions are available on a first-come-first-served basis but can be reserved in advance for that special birthday party.
Lost Corner Preserve
For an outdoor experience that's a little more hidden and off the beaten path, Lost Corner Preserve really delivers. Set on 24 acres of gorgeous forested land, there used to be a working farm here, and the original 1800s farmhouse has been painstakingly restored.
There are nature trails here that pass through the shady trees, and also a wonderful community garden. The 60 plots are only available to Sandy Springs residents, and the waitlist is long. Classes are available here, running from master gardener classes to photography workshops and historical lectures.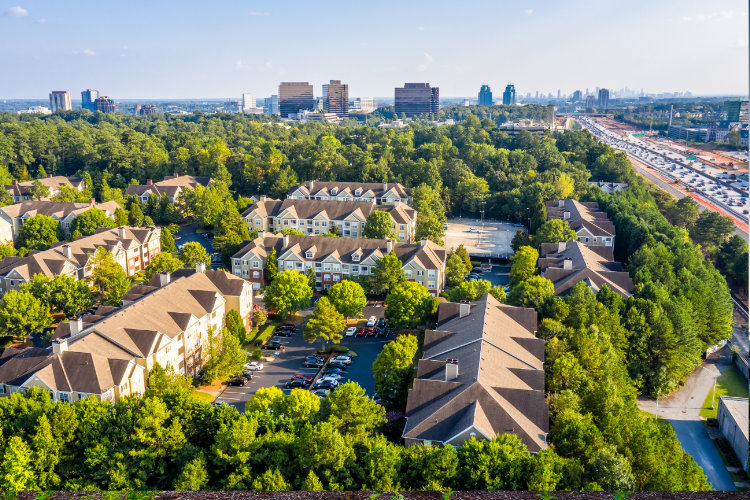 Condos in Sandy Springs, with GA-400 on the right
Real Estate in Sandy Springs
Although Sandy Springs doesn't have well-defined neighborhoods like other cities, it does have somewhat distinct areas. There's the downtown area, the southern area inside the perimeter, the northern area outside the perimeter, and the northwest area.
In Sandy Springs, real estate runs the gamut, from older Craftsman-style homes and ranch-style houses to luxury townhomes and huge mansions in gated communities.
Downtown, near the City Springs area, you'll find wonderful luxury townhomes that are often 3 or 4 story buildings. These townhomes usually feature gorgeous wood floors, high-end appliances, and access to amenities like pools and gyms.
Downtown also has plenty of condos, especially inside the perimeter. The condos there are usually in newer luxury buildings, but some are in older, renovated buildings. This area is trendy due to its walkability and access to restaurants and shopping.
In the southwestern area, both inside and outside the perimeter, many older, single-family homes start to show up. There are bungalows, ranch-style, and Craftsman-style homes here, often in need of renovation.
To the north of Sandy Springs, away from the downtown area, large brick mansions dominate. These homes are usually set on huge lots with elegant landscaping and often feature luxury amenities such as pools and tennis courts.
Sandy Springs Information
Population: 110,000
Median household income: $74,093
Size: 38.52 sq mi
Demographics: 68% White, 18.5% Black, 7.5% Asian, 2.75% Two or more races, 1.85% Other, 1.5% Native American