Living in Smyrna, GA: 2021 Neighborhood Guide
Posted by Trey Van Tuyl on Sunday, January 24, 2021 at 8:36 AM
By Trey Van Tuyl / January 24, 2021
Comment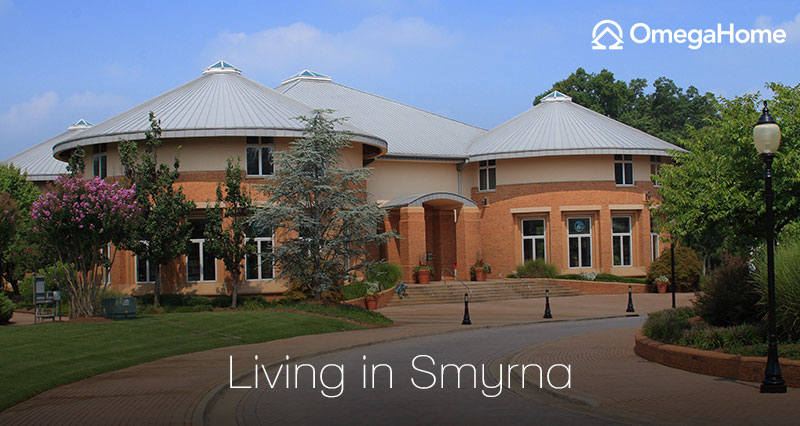 Located in Cobb County, just 10 miles northwest of central Atlanta, Smyrna is a suburban city with a population of almost 57,000. Known as the "Jonquil City" due to the thousands of flowers that flourish in its gardens and streets in Spring, Smyrna is a pleasant, laid-back place full of parks, historic buildings, and charming, walkable neighborhoods.
There's a strong sense of community in Smyrna. Thanks to a progressive city government that has prioritized the city center's ongoing social and economic development, there's a flourishing downtown area that features shopping, dining, housing, and an award-winning green space.
Although Smyrna lies just outside the I-285 Perimeter, there's easy access to downtown Atlanta. People of all ages are drawn to Smyrna for its quiet, suburban feel, lower crime rates than other areas of Atlanta, and relatively affordable real estate. People are also attracted by Cobb County's high-quality schools and property taxes that are lower than those in neighboring Fulton County.
Let's take an in-depth look at what makes Smyrna such an attractive place to live.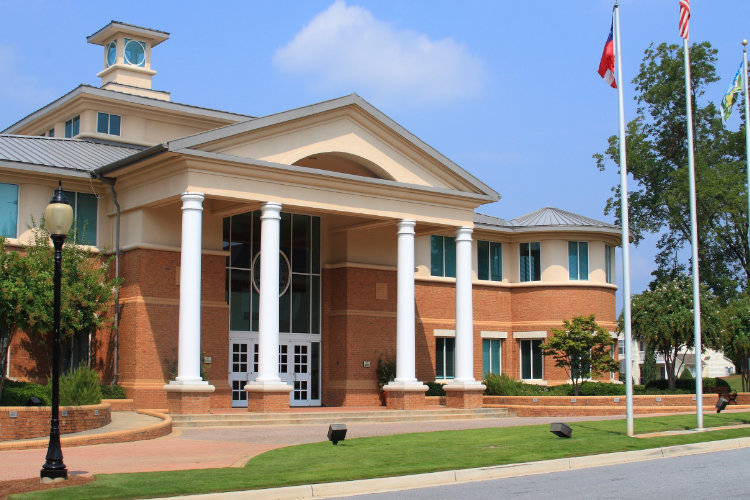 Smyrna City Hall
Lifestyle and Culture in Smyrna
Smyrna's location is one of its greatest assets, and driving to downtown Atlanta can take as little as 15 minutes, depending on the time of day. Upscale Sandy Springs and historic Marietta are both minutes away by car, and the Vinings neighborhood is so close that you'll often hear residents referring to Smyrna as "Smyrnings."
Many Smyrna residents commute to central Atlanta for work. For those who don't want to sit in rush hour traffic, the Cobb County Transit bus system provides regular links to MARTA, Atlanta's rapid rail network. Smyrna prides itself on its walkability, and getting around on foot or by bike is easy, especially in the downtown and surrounding neighborhoods.
The social hub of Smyrna life is the Market Village and Village Green area of downtown. As part of the city's project to revitalize the center in the 1980s and 1990s, these developments have become a great success story. Designed as a mixed-use area, with shops, restaurants, and condos, Market Village has become a favorite gathering spot for locals, who come to eat, peruse the boutiques, and stroll the streets and surrounding greenspaces.
Village Green is home to some of Smyrna's most popular community resources. The huge, 25,000 square foot library offers a wide variety of cultural and educational services in a well-designed, warm, and inviting space. The adjacent community center features 2 gyms, a game room, racquetball courts, a walking track, dance classes, and sports leagues.
Besides the shopping and dining on offer at Market Village, there's also West Village, which offers boutique shopping and multicultural dining, surrounded by pleasant, pedestrian walkways. Nearby options include upscale Vinings Jubilee, which offers an elegant collection of independent stores and restaurants in a charming setting, and newly-renovated Cumberland Mall, which provides a more mainstream shopping experience.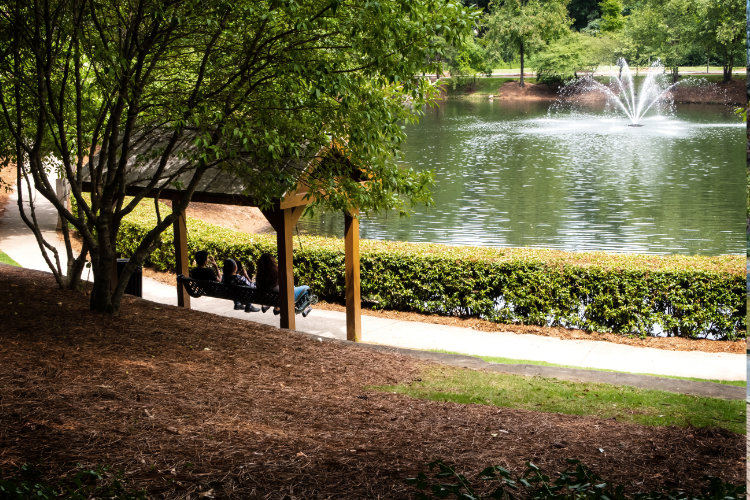 People enjoying a park in Smyrna. Source: William Hunton / Shutterstock.com
Smyrna's weather is characterized by hot, muggy summers and cool winters. The long spring and fall seasons are when residents can take full advantage of the hundreds of green space acres within the city limits. The 10-acre Taylor-Brawner park is home to beautiful historic buildings and is the perfect place to enjoy the spring jonquils, while fall is the time to walk or bike along the tree-lined Silver Comet Trail and marvel at the changing colors of the leaves.
Residents love celebrating Smyrna's rich culture and community, and the city's calendar is jam-packed with events and festivals held throughout the year. The famous Jonquil Festival is held twice a year, in spring and fall, when locals come together to enjoy each other's company with food, games, and music.
The Taste of Smyrna festival draws crowds from across the Atlanta region, who come to sample food from dozens of local restaurants. The downtown area plays host to a popular series of summer concerts. Neighborhoods hold their own mini-festivals, too, and the Williams Park neighborhood's annual garage sale is not to be missed!
As part of the Cobb County School District, Smyrna offers several top-rated schools, with multiple education options available for each age range. Public schools include King Springs Elementary, Griffin Middle School, and Campbell High, while private education is available at Covenant Christian School and the Center Academy of Smyrna. Higher education is available at Fortis College, which offers technical degrees in nursing and IT certificates.
Things to Do in Smyrna
Smyrna History Museum
Well worth a visit, the Smyrna History Museum provides visitors with a fascinating way to connect with the rich history of Smyrna, going back over 200 years.
Located in an old train depot from 1910, Smyrna History Museum features thousands of photographs, objects, and documents. The exhibits range from those that illustrate the lives of the Native Americans who originally inhabited the area, through Smyrna's role in the turbulent Civil War era and all the way to the present day.
You can easily spend an afternoon traveling through time here, and best of all, admission is free!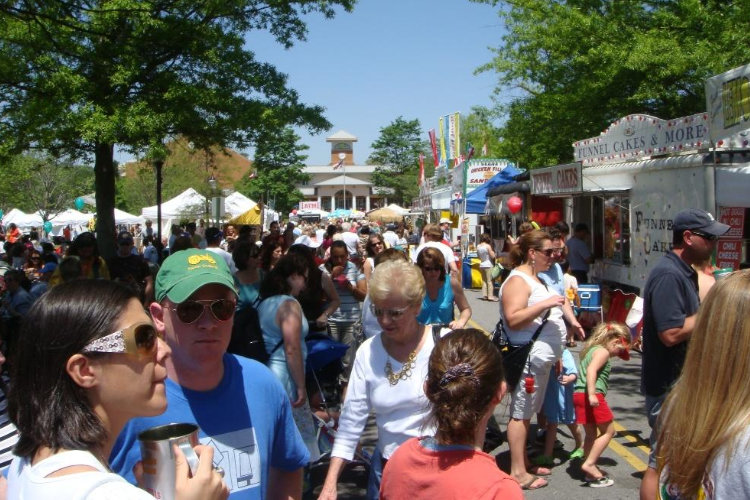 Jonquil Festival
Jonquils are fragrant yellow flowers originally planted by one Smyrna family in the 1880s and quickly became popular throughout the city.
Each spring and fall, Smyrna residents gather to celebrate their "Jonquil City," which has become easily the most popular of Smyrna's festivals. The Jonquil Festival features over 150 arts and crafts booths and draws vendors from all over the region who offer clothing, jewelry, furniture, art, and more.
This festival isn't just about shopping, though. There's live music, food booths, and plenty of activities to keep the kids occupied while parents enjoy a beer or a glass of wine. In the fall, there's a costume contest, and the highlight is a kids parade.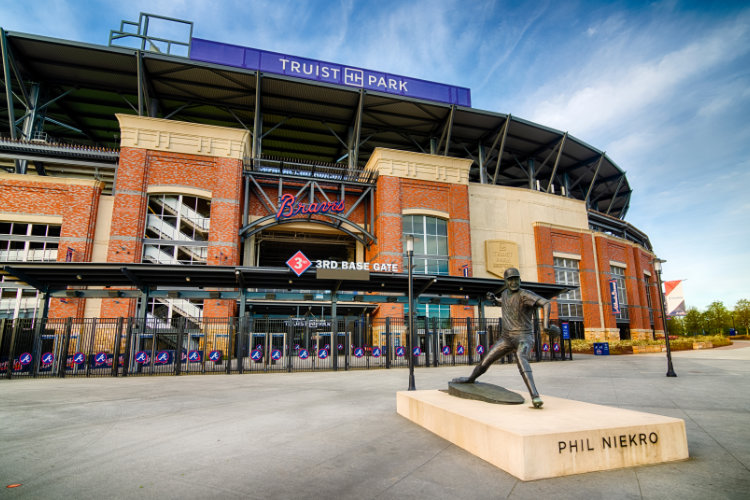 Source: Rob Hainer / Shutterstock.com
Truist Park and The Battery
Just a few minutes from downtown Smyrna, Truist Park (formerly Sun-Trust Park) is home to the Atlanta Braves. The 41,000 capacity stadium was built in 2017 and really delivers on its mission to provide a safe, accessible, and family-friendly atmosphere that creates an intimate "ballpark experience."
The Battery, right next door to Truist Park, is an upscale development full of shops and restaurants and is a great place to grab a drink and a bite before or after the game. One thing that any local will tell you when visiting, though, is to book parking in advance, or hop in a Lyft/Uber!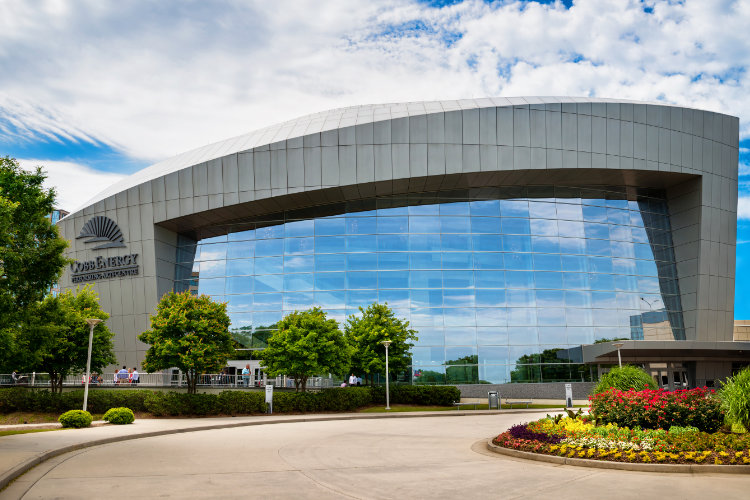 Source: Rob Hainer / Shutterstock.com
Cobb Energy Performing Arts Center
Located just to the east of Smyrna, near the Cumberland Mall, Cobb Energy Performing Arts Center is a multi-million dollar facility that opened in 2007.
The beautiful building has an ultra-modern design, and the 2,750-seat main theater features world-class acoustics designed to enhance both natural and amplified sound.
This highly-rated performing arts center also houses a huge ballroom and features various performances, including opera, ballet, and live music from some of the biggest names around.
Six Flags White Water
A few miles north in Marietta, Six Flags White Water is one of the area's most popular destinations and attracts huge numbers of visitors each year.
If it's thrills, spills, and generally getting soaked that you're looking for, then this giant theme park will most certainly deliver. There are 20 different attractions, spread across 69 acres, and so many slides and pools that it's easy to lose a day here. There's definitely a family-friendly vibe here, but adult adrenalin junkies will get their fix on the huge Dive Bomber slide and the Wachoo Racer.
Although Six Flags White Water draws visitors from all over the southeast, it's a popular local destination, and Smyrna residents take advantage of the cost-effective season pass.
Parks and Recreation in Smyrna

Source: The Friends of the Concord Covered Bridge Historic District
Ruff's Mill and Concord Covered Bridge
History buffs will love visiting this site, just a few minutes from downtown Smyrna. The area along Nickajack Creek is beautiful, and ruined buildings sit among the trees. This was the site of the Battle of Ruff's Mill, and although the mill house was saved, the grist mill was destroyed by Sherman's troops.
One of only 16 surviving bridges of its kind in the state, Concord covered bridge was built in the 1890s and had a 132-foot span across the creek. Still used by cars, the bridge gets quite busy, so care should be taken when visiting.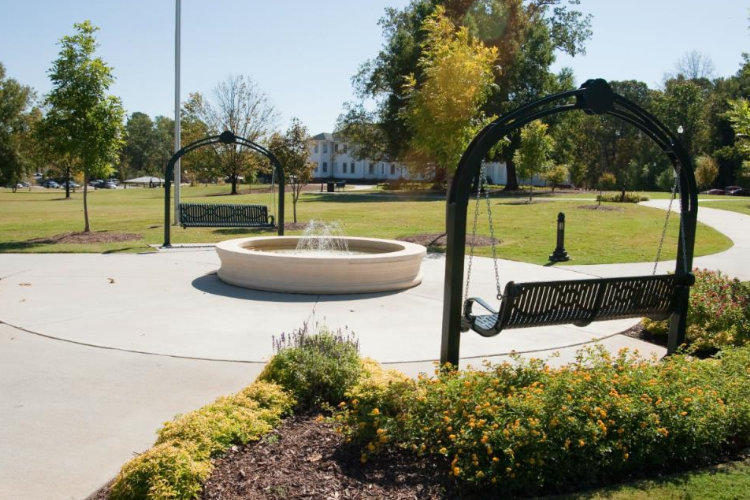 Taylor-Brawner Park
Located on Atlanta Road, this 10-acre park is on the Brawner Hospital complex's former site and has become a trendy local hangout. The park surrounds impressive historic buildings and is always a pleasant place to relax.
The park features walking trails, a gazebo, picnic shelters, an epic kids playground, and a gorgeous lawn that's a great place for a little summertime sun worship. Taylor-Brawner Park often hosts small concerts and events, and the gorgeous 1890 Taylor-Brawner house has been renovated by the city and provides rental space.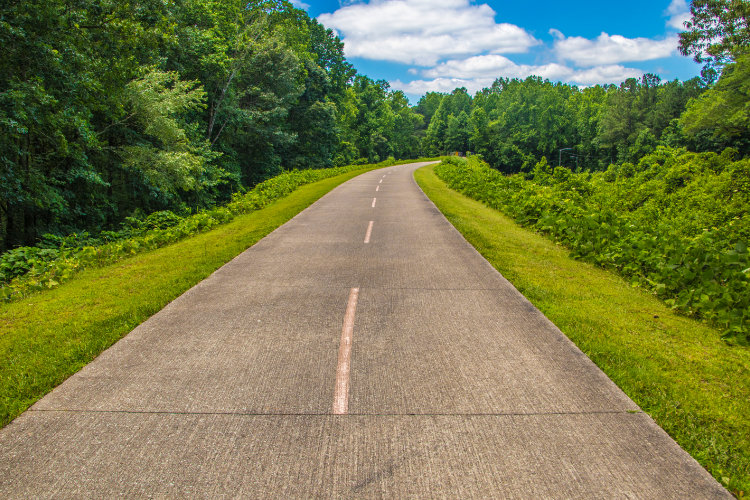 Heritage Park and Silver Comet Trail
The old Concord Woolen Mills ruins are the backdrop for this beautiful County park that sits on Smyrna's northern border. The 105-acre nature preserve features walking trails and a raised boardwalk that passes through serene wetlands.
There's also access to the zero-mile marker of the wonderful Silver Comet trail, a 61-mile paved pathway that runs all the way to the Alabama border. This rail-trail follows the Silver Comet passenger train route that operated from 1947 to 1969 and is popular with walkers, bikers, and horse riders.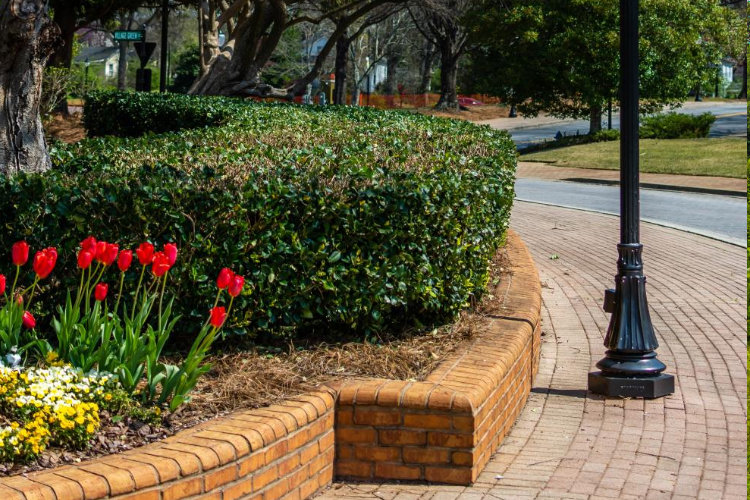 Centennial Park
Centennial Park, not to be confused with Downtown Atlanta's Centennial Olympic Park, is a beautiful addition to downtown Smyrna and is part of the city's Village Green development that began in the 1980s. This urban greenspace provides Smyrna residents a relaxing place to gather and is especially pleasant during the spring when flowers and blossoming trees abound.
Centennial Park features a walking trail, fountain, covered playground, arboretum, and a koi pond, and it's not unusual to see locals getting married here from time to time!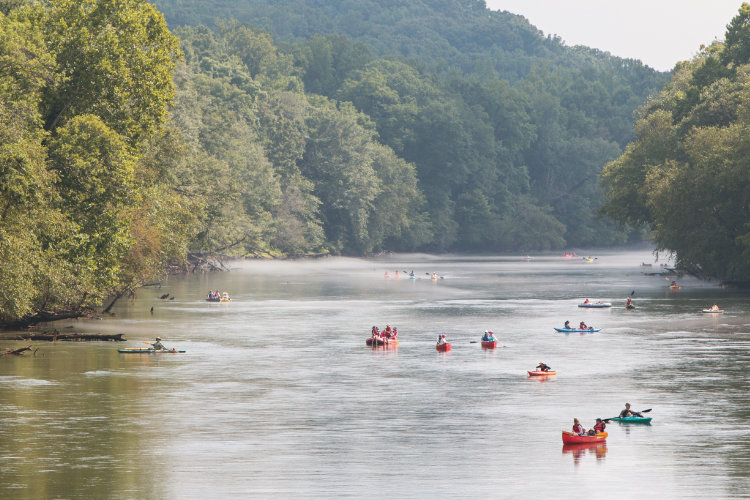 Source: BluIz60 / Shutterstock.com
Chattahoochee River
The scenic Chattahoochee River is within easy reach of Smyrna, and the headquarters of the Chattahoochee River National Recreation Area is located in nearby Sandy Springs.
The Chattahoochee River is part of the fabric of life in this part of the Atlanta area. Many living here enjoys easy access to hiking trails, fishing, and swimming in a vibrant natural environment. One of the best ways to enjoy a summer afternoon is to grab an inner tube and float down the Chattahoochee!
Real Estate in Smyrna
Smyrna offers a wide range of real estate options, ranging from older, historic properties to townhomes. Although prices are generally lower than those in central Atlanta, it's worth noting that real estate prices increase with proximity to the I-285 Perimeter.
Williams Park is Smyrna's oldest neighborhood, and it's here that you'll find beautiful Victorian and Craftsman-Style homes, as well as lofts and mixed-use properties. This popular neighborhood is close to shopping and dining and hosts an annual fall festival.
Forest Hills is a tranquil neighborhood that's close to downtown but feels quiet and secluded. Homes range in style, and lot sizes vary in this extremely desirable neighborhood.
Market Village is the heart of downtown Smyrna, and real estate consists of townhomes within walking distance of shops, restaurants, and local amenities. This neighborhood is popular with those who want to live a suburban life while still having access to city amenities.
The friendly, welcoming neighborhood of Smyrna Heights is another area within walking distance of downtown and consists of single-family homes in a mid-century style. This neighborhood is perfect for an active lifestyle and provides easy access to many parks and trails.
Another extremely desirable Smyrna neighborhood is Vinings Estates, which features large homesites nestled in among wooded, rolling hills. Vikings Estates also has access to swimming pools, tennis courts, and clubhouses.
Additional Resources