The Top 10 Country Clubs Of Atlanta, GA
Posted by Trey Van Tuyl on Wednesday, April 19, 2017 at 1:27 PM
By Trey Van Tuyl / April 19, 2017
Comment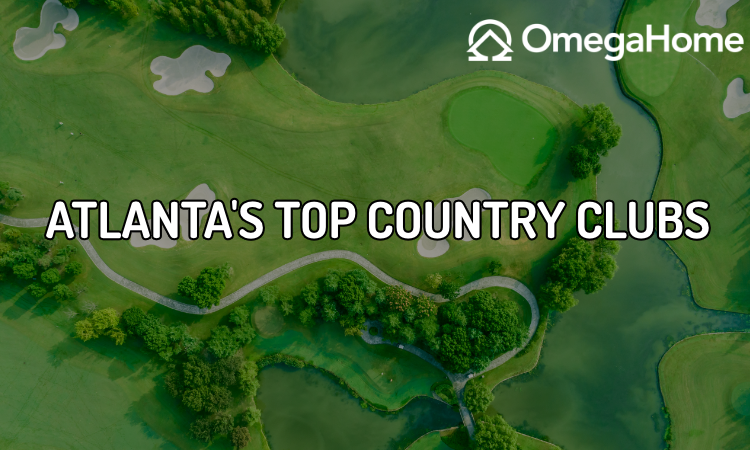 There's plenty of country clubs to choose from in the metro Atlanta area and lots of competition for your hard-earned dollars. Today, our focus is on the top 10 country clubs in Atlanta where you can actually live and own real estate.
This list is based on recent sales in the country club, along with Amenities and appreciation.
Atlanta Country Club - Atlanta |Located in Marietta but still considered Atlanta, Atlanta Country Club offers swimming and tennis and a fitness center to go along with its world-class Golf Course. Atlanta Country Club is often used as an ACC Tournament location. They also have a great website but it doesn't feature pricing.
Chateau Elan - Braselton - One of the most famous Country Clubs in the Metro area. Just on the outskirts of truly metro Atlanta, Chateau Elan features a full winery, equestrian center, multiple tennis and swim locations, clubhouse privileges, AND 3 golf courses including a par 3.
Country Club of the South - Alpharetta - CC of the South is easily one of the most well known of all country clubs in the metro Atlanta area. It's a fan favorite in Alpharetta. With Swim, Tennis, and Fitness along with the amazing Golf experience.
Indian Hills - Marietta - Indian Hill Country Club has some of the most affordable residences with home prices under $500K but climbing up to $2 Million. It's also one of the more diverse from an architectural standpoint. With 27 holes of Golf and access to swim and tennis, this is a great Cobb County option. There's even some new construction.
The Manor - Milton - Several years ago some Alpharettians got together and decided to create the pinnacle of the clubhouse experience while keeping prices under $2 Million. The Manor is that. You'll have a hard time finding a nicer fitness center with tennis (indoor and multiple surfaces), swimming (indoor and outdoor), and of course some of the most well-manicured greens you'll see this side of Augusta. It's worth noting that the lot size is a bit smaller than some of the older country clubs.
River Club - Suwanee - Following the Manor's lead, The River Club has become the end-all-be-all Country Club living in Suwanee. There's no higher-priced, more elite real estate outside of Buckhead. Some Country Clubs like Chateau Elan for example feature "estates" while the River Club feels like a neighborhood.
St Marlo - Duluth - A fan favorite of home buyers that are relocating, like the others, St Marlo features great swimming, tennis, and of course Golf. St Marlo's golf course has some of the most fun holes in the area.
St Ives - Suwanee | Johns Creek - If Classic is what you're looking for, then St Ives is that. Featuring older homes than many of the ones on this list St Ives is a classic country club neighborhood with an outstandingly convenient location.
White Columns - Milton - In real estate, when there's not much turnover in a subdivision it can be maddening because it means that it's a great neighborhood but hard to determine market value. White Columns is that neighborhood. There's never more than a handful of homes for sale and relative to the Country clubs mentioned here it's far more affordable than the rest.
Governors Towne Club - Acworth - If you're looking for a country club on the west side just on the outside of metro Atlanta, Governor's Town Club is for you. With newer homes and plenty to choose from you'll find all the trapping the country club lifestyle that you want.
Honorable Mention
Sugarloaf Country Club - Made popular by the PGA TPC that makes it way here every few years as well as by some popular reality tv shows. Sugarloaf CC features the former home of the Atlanta Falcons QB Michael Vick. During that time the neighborhood had a lot of publicity and became a bit more infamous. Sugarloaf brings it with drama and prestige all in one. You'll get all the normal things you want in a Country Club along with an ongoing soap opera storyline.