Poncey-Highland: 2019 Intown Atlanta Neighborhood Guide
Posted by Trey Van Tuyl on Monday, July 29, 2019 at 7:39 PM
By Trey Van Tuyl / July 29, 2019
Comment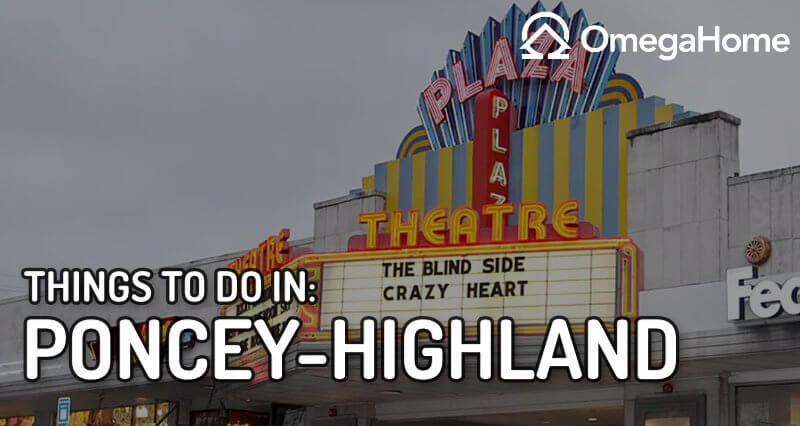 Poncey-Highland is a small but tight-knit Intown Atlanta neighborhood sandwiched between Inman Park and Virginia-Highland. While only containing a few thousand residents, Poncey-Highland attracts a sizeable audience due to its eclectic bars and shops. Also, a part of the Eastside Beltline Trail runs across Poncey-Highland's western border. Perhaps the most notable feature of Poncey-Highland is the presence of the Jimmy Carter Presidential Library.
Things to Do in Poncey-Highland, Atlanta
Recreation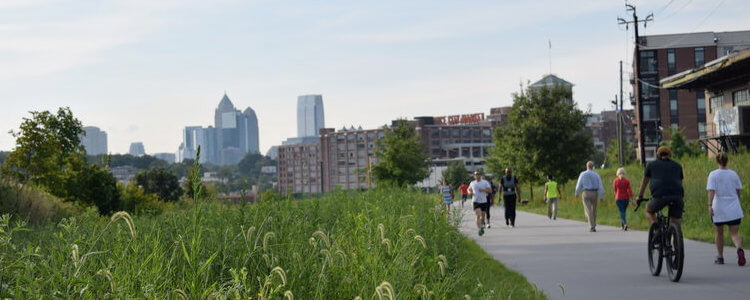 The Beltline
Poncey-Highland's western border contains part of the Atlanta Beltline's Eastside Trail. This innovative and multi-use trail connects Poncey-Highland to Old Fourth Ward, Inman Park, and Virginia-Highland. There are a variety of shops and restaurants located along the Beltline. It's an excellent trail for exercise as well.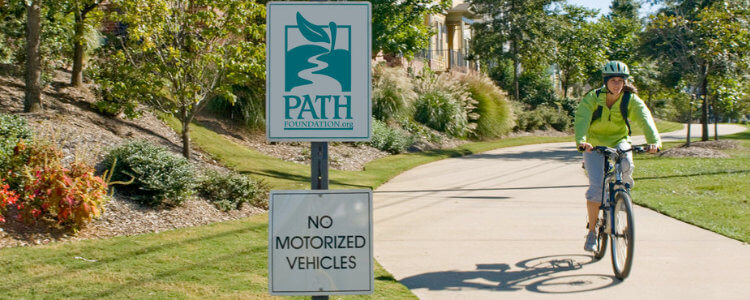 Freedom Park Trail
Freedom Park Trail is a great trail that is located adjacent to Freedom Parkway NE and runs all the way into Candler Park. There's lush greenery along this trail and also a playground and community garden. While Poncey-Highland doesn't have an official park, this walking trail serves as a pretty good substitute.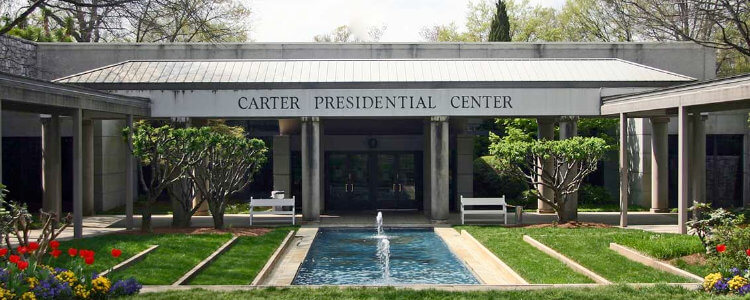 Jimmy Carter Presidential Library and Museum
Jimmy Carter was the 39th President of the United States and he elected to have his presidential library located in Poncey-Highland! Here you can learn about his early life, military service, and accomplishments as a politician. One of my favorite aspects of the museum is the Oval Office replica that you can walk into. Admission is cheap ($8 for adults) and there are so many different exhibits and memorabilia that your time here could easily last several hours.
Jimmy Carter is known to frequent the museum, so chances are you just may just see a former president!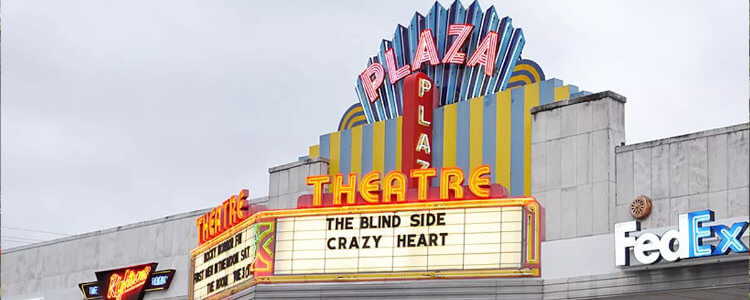 Plaza Theatre
The Plaza Theatre is an independent movie that only shows classic and iconic films. It is also Atlanta's oldest operating movie theatre. They hold special events on a near-daily basis and several local film festivals are held here. The ticket prices are reasonable and the seats are comfortable. This theatre provides a great chance to see your favorite films as they were meant to be viewed.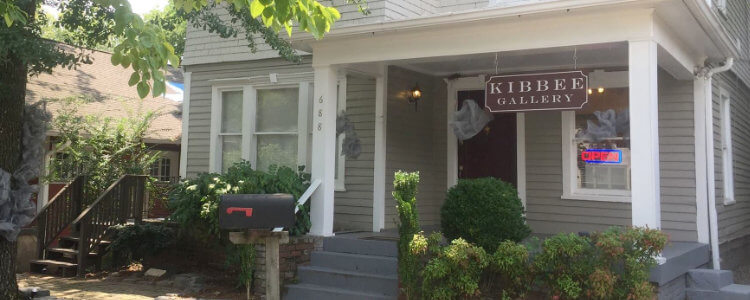 Kibbee Gallery
Are you into art? The Kibbee Gallery features edgy and provocative artwork from emerging local artists, plus it's located in a neat historic home.
Shopping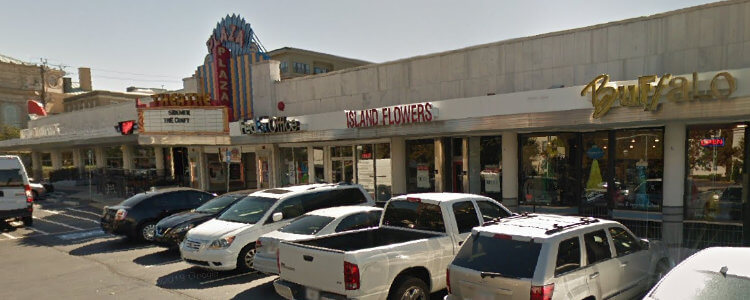 Briarcliff Plaza
The Briarcliff Plaza is the main shopping strip within Poncey-Highland. It's a very walkable area with a variety of businesses including bars and restaurants. The history of this shopping center dates back to the 1940s and there are also really cool neon signs for both Plaza Theatre and Majestic Diner. Some of the businesses include:
Plaza Theatre
Majestic Diner
Buffalo Exchange
Urban Outfitters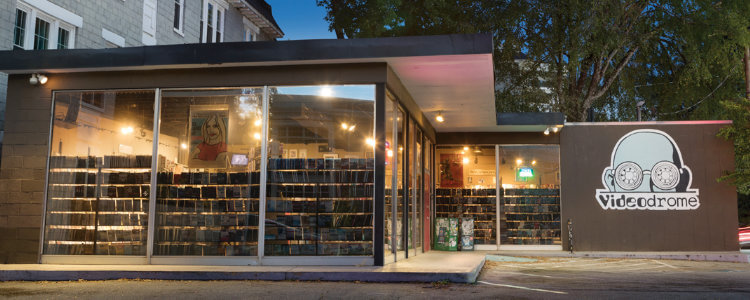 Videodrome
Videodrome is an independent video rental company. In the age of instant streaming, there's something fun and retro about visiting a video rental store. Videodrome has such an extensive collection of titles that you're unlikely to find most of their films on streaming, anyways. The staff is well informed and can help you find any title you're looking for.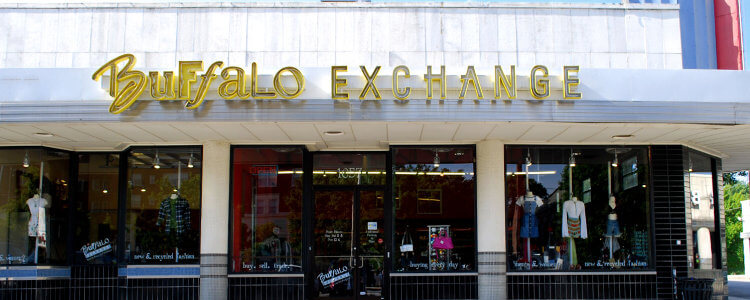 Buffalo Exchange
Buffalo Exchange is a thrift store for hipster and vintage clothing. They have a vast assortment and variety of clothes for both men and women. All clothing is bought and traded with local customers. You won't find high-end brands here, but you will find clothes with a lot of character.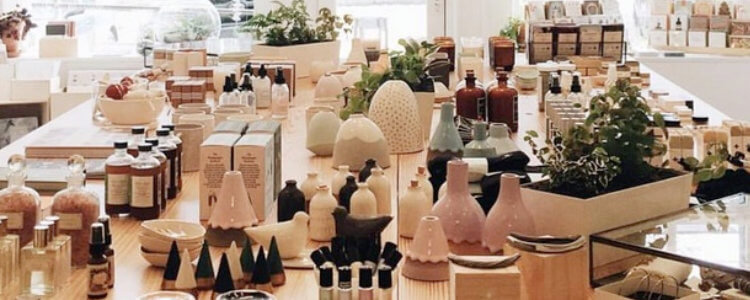 YOUNG BLOOD
YOUNG BLOOD is a woman's gift shop unlike any other in Atlanta. It's a charming and quiet spot filled with fantastic finds. They carry classy curated items that are sure to put a smile on your face. Aside from offering such amazing treasures, the staff is very friendly and passionate about promoting the creativity and skills amongst local Atlanta artists. This is a space that really cares about their community and actively gives back.
Restaurants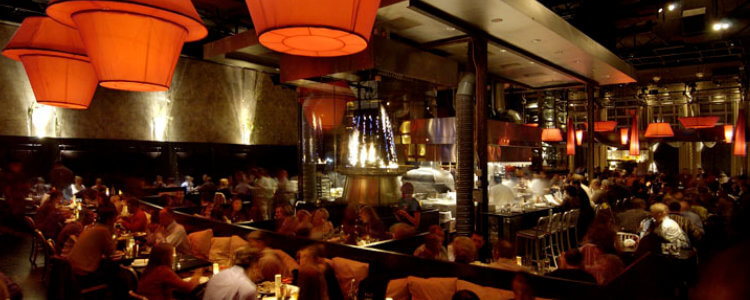 TWO urban licks
TWO urban licks is one of the best restaurants in Atlanta. They've spent nearly 15 years in Poncey-Highland and are located directly on the Beltline. I love their unique upscale ambiance and consistently excellent service. My advice would be to try the salmon chips; they're excellent!

Sweet Auburn BBQ
Sweet Auburn BBQ is a quality Southern barbeque joint. They have creative (and strong!) cocktails and delicious sandwiches with huge portions. It's a very quaint and swanky spot and the servers are attentive and quite friendly.

Majestic Diner
Majestic Diner is a no-thrills authentic diner open 24/7. The ambiance is quite casual and the place has a real diner feel to it, with eclectic background music and friendly music. This is an Atlanta landmark that is perfect for a late-night snack.
Bars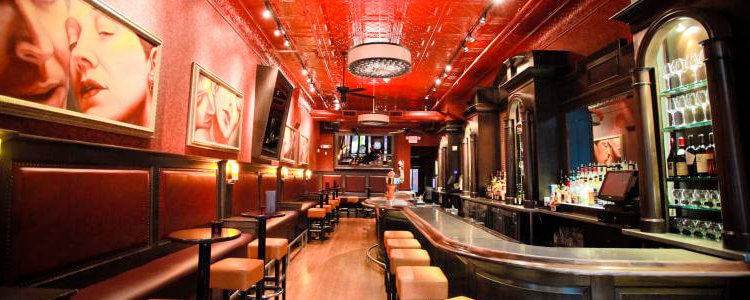 Righteous Room
The Righteous Room is a quintessential old-school dive bar. There aren't any fancy cocktails on the menu, just stiff drinks and cold beers. One of the unique aspects of this bar is that smoking is permitted indoors. They also serve tasty bites of food.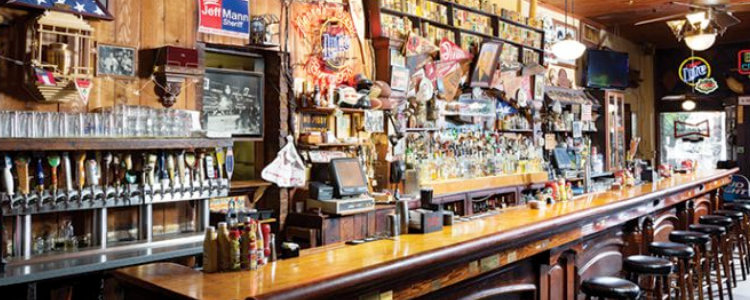 Manuel's Tavern
Manuel's Tavern has been in Poncey-Highland for over six decades. The place is rich in history and has deep roots within the Democratic Party; even President Obama ate here when he was touring the South! The walls are covered with all sorts of political lore and artifacts. They also serve comfort food and some great drinks.
Demographics of Poncey-Highland
Poncey-Highland has a population of around 5,000 people. It's a well-educated area, with around 65% of people having at least a college degree. The area also skews younger, with around 43% of residents being within 25-34 years old. The racial demographics of the neighborhood are as follows:
76% Caucasian
15% African-American
3% Asian
3% Hispanic
3% Other
The median household income is around $67,000. This is above the national average of $55,000.
Poncey-Highland Crime

There isn't any particular area within Poncey-Highland that has significantly higher rates of crime. However, Little Five Points is located to the southwest of Poncey-Highland and area is known to have higher rates of crime.
Final Thoughts on Poncey-Highland, Atlanta
Poncey-Highland is a great neighborhood that has stellar amenities. It's located nearby other high-quality Intown Atlanta neighborhoods, such as Old Fourth Ward and Virginia-Highland. There's also plenty of historic buildings and touristy things to do with the whole family.