12 Best Neighborhoods in Atlanta: Where to Live in ATL
Posted by Trey Van Tuyl on Tuesday, July 2, 2019 at 9:21 PM
By Trey Van Tuyl / July 2, 2019
Comment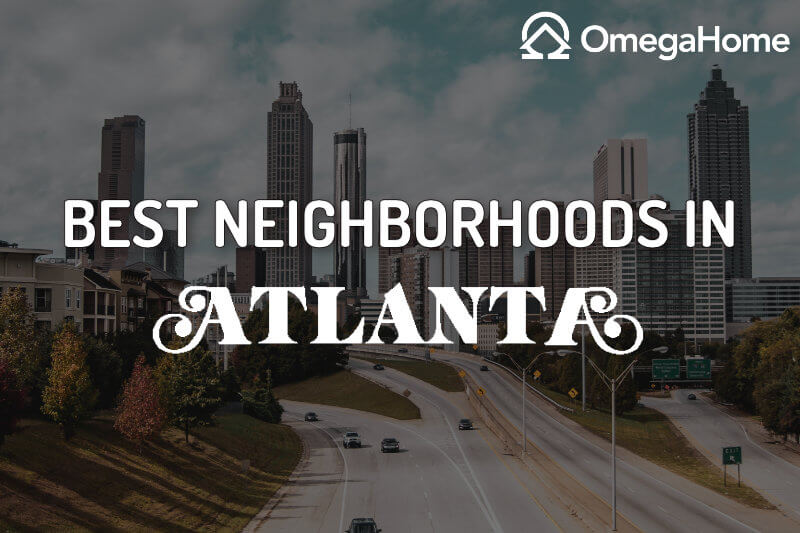 Atlanta has no shortage of diverse and exciting neighborhoods - but which one is right for you? Whether you're moving to Atlanta or looking for a new hood to call your own, we've listed all of the best neighborhoods within the City of Atlanta.
Typically, the most influential factor in where someone decides to live is cost. That's why we've also included data on the average price of a home. Now, let's take a look at some of the best neighborhoods in Atlanta!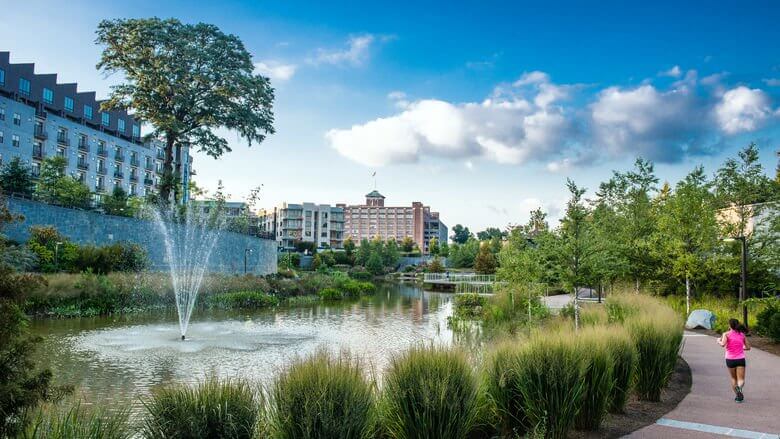 Old Fourth Ward
Average home price: $384,500 (homes for sale)
Old Fourth Ward is an intown Atlanta neighborhood that has seen a surge of development over the past few years. The neighborhood's proximity to a variety of retail, dining, and recreational destinations make the neighborhood desirable for many, including young professionals.
Perhaps the most noteworthy amenity within Old Fourth Ward is the Beltline. Significant stretches of the Beltline Eastside Trail also run through Old Fourth Ward, connecting residents to different intown neighborhoods like Midtown and Inman Park. There's also plenty of shopping and dining options along the Beltline.
Ponce City Market is located within Old Fourth Ward, a massive mixed-used shopping center that used to house a Sears factory. Ponce City Market draws a large crowd from all over Atlanta due to its unique architecture and trendy shops.
One of the advantages and disadvantages of living in Old Fourth Ward is its location. While it's located near Downtown and Midtown, commuting farther north can become very challenging due to Atlanta's traffic problem. As a result, most Old Fourth Ward residents don't travel too far from the neighborhood.
Old Fourth Ward is also becoming more apartment-centric as developers seek to cash in on the neighborhood's amenities and walkability. The neighborhood's skyline is being increasingly dominated by mid-rise apartment buildings, but there still remains a decent supply of single-family homes.
You'll like Old Fourth ward if you...
Enjoy urban and welcoming communities
Value a high degree of walkability and
Appreciate outdoor activities and greenspace
Have a dog
Inman Park / Little Five Points
Average home price: $502,000 (homes for sale)
Inman Park is considered by many to be the "best of both worlds" for those looking for a residential neighborhood that still boasts an upscale retail district. Those seeking an edgier experience will instead enjoy the Little Five Points district located within Inman Park.
Let's start with the version of Inman Park that most people know: its bustling main strip centered on Highland Avenue at Elizabeth. Here is where you'll find Inman Park's top restaurants, bars, and shops. This highly walkable area includes spacious sidewalks and plenty of bike paths. The Beltline and Piedmont Park are also only a very short walk from the main strip.
There's also a historic district within Inman Park that contains homes of many different architectural styles, including Victorian, craftsman, and bungalow. Many of these homes are well over a century old and were restored by urban pioneers starting in the 1980s. These are some of the most beautiful homes in all of Atlanta; the tree-lined manicured streets make you feel as if you're in a different era.
Inman Park is also home to the famous Inman Park Festival in addition to the Tour of Homes. Over a thousand locals congregate in the neighborhood to check out the various vendors and gawk at gorgeous homes.
Little Five Points (commonly abbreviated as L5P) is in many ways the polar opposite of Inman Park. Little Five Points is a commercial district located along Inman Park's eastern border and serves as a hub for alternative culture. Favorited by young people, Little Five Points offers an eclectic assortment of shops, dive bars, and murals.
You'll like Inman Park if you…
Appreciate historic and architecturally noteworthy homes
Prefer locally owned and operated shops and restaurants
Are looking to raise a family while avoiding the suburbs
Midtown
Average home price: $369,000 (homes for sale)
Midtown is best described as a "slice of New York City". Midtown is densely populated and its skyline is filled with high rise condo and apartment buildings. It's a financial, shopping, and entertainment hub within Atlanta; there can easily be dozens of businesses located within a few square blocks.
As the name would suggest, Midtown is in the center of everything. It's only four miles from Downtown and you can easily travel to all of Atlanta's top intown neighborhoods like Inman Park and Old Fourth Ward. There's additionally a MARTA station in Midtown, ensuring residents fast and easy travel throughout Atlanta.
Midtown is undoubtedly the most gay-friendly area in Georgia and perhaps even the Southeast United States. It hosts the majority of the city's gay bars and you'll find rainbow-painted sidewalks all over Midtown.
Midtown is additionally known as a cultural hub within Atlanta. This is especially true with the arts, as Midtown hosts The High Museum of Art, The Center for Puppetry Arts, and the Fox Theatre. Festivals include Music Midtown and the Atlanta Food & Wine Festival.
Midtown is also the home of Piedmont Park, Atlanta's largest park. This park features lush, rolling hills and green space that is perfect for families and those with pets. It's also an extremely popular destination for joggers and tennis players. The Atlanta Botanical Gardens are also located within the park.
There's also a sizeable population of students in Midtown due to the various schools in the area. Schools located around Midtown include Georgia Tech, John Marshall Law School, and Savanna College of Art and Design (SCAD). Georgia State University is also only a few miles away in Downtown.
Midtown's biggest downside is parking and traffic. Streets are often congested and parking can be difficult to find - even for residents! Events held by venues like the Fox Theatre draw people from all over Metro Atlanta and can create heavy traffic in Midtown. Cost of living is also another downside to living in Midtown, all of these amenities ultimately come at a steep cost.
You'll like Midtown if you…
Enjoy high-density urban living
Like living in an apartment or condo
Are a member of the LGBT community
Want to live very close to hip bars and restaurants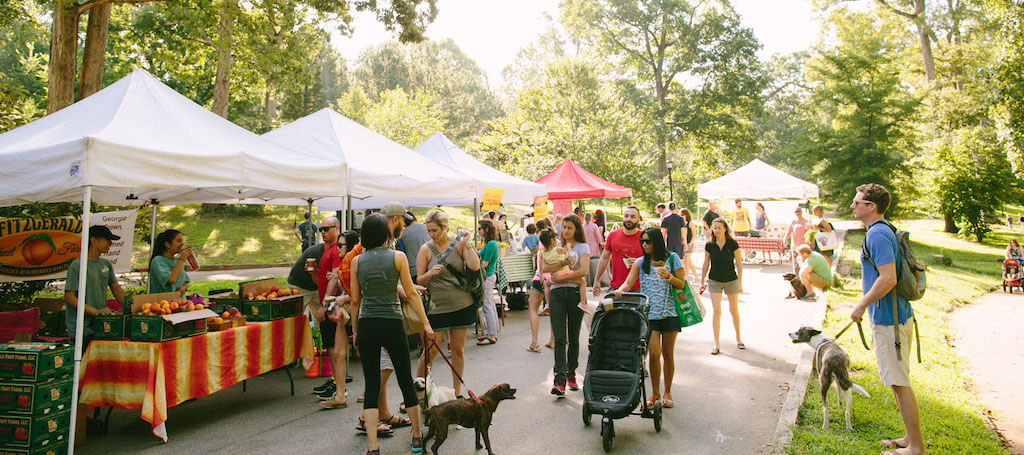 Grant Park
Average home price: $487,600 (homes for sale)
Grant Park is a family-friendly and largely residential neighborhood. There are plenty of older and historic homes within the neighborhood and streets lined with rows of picturesque trees. Grant Park contains the highest concentration of Victorian homes within all of Atlanta. This sleepy neighborhood of Atlanta is a great spot to call home
Grant Park experienced an influx of residents starting in the 1980s when young professionals with families saw value in the neighborhood and sought to restore many of its architecturally significant homes. Since then, the neighborhood has improved significantly and it's now considered one of the best residential neighborhoods within Atlanta.
Once the Southside Beltline Trail is complete, the trail will be walkable along Grant Park's southern border. The Southeast Beltline trail will connect with the Eastside Trail, meaning that residents will be able to bike all the way to Midtown on the Beltline! The trail will also be adjacent to a new retail development called The Beacon.
The two most notable attractions within Grant Park are Grant Park (the neighborhood is named after the park) and Zoo Atlanta. Grant Park measures over 131 acres in size and attracts over a million annual visitors, with the Atlanta Zoo located within it. The Atlanta Zoo is known for its kid-centric programs and exhibits.
The downside to Grant Park is that it's still a transitional neighborhood, meaning that a residual amount of crime still remains. This also means that one block can be aesthetically nicer and safer than the next block over. However, the rapid gentrification of the area ensures that things will only be improving as time goes on.
You'll like Grant Park if you…
Want to live intown with a family
Like a quiet, suburban feel in a big city
Appreciate the outdoors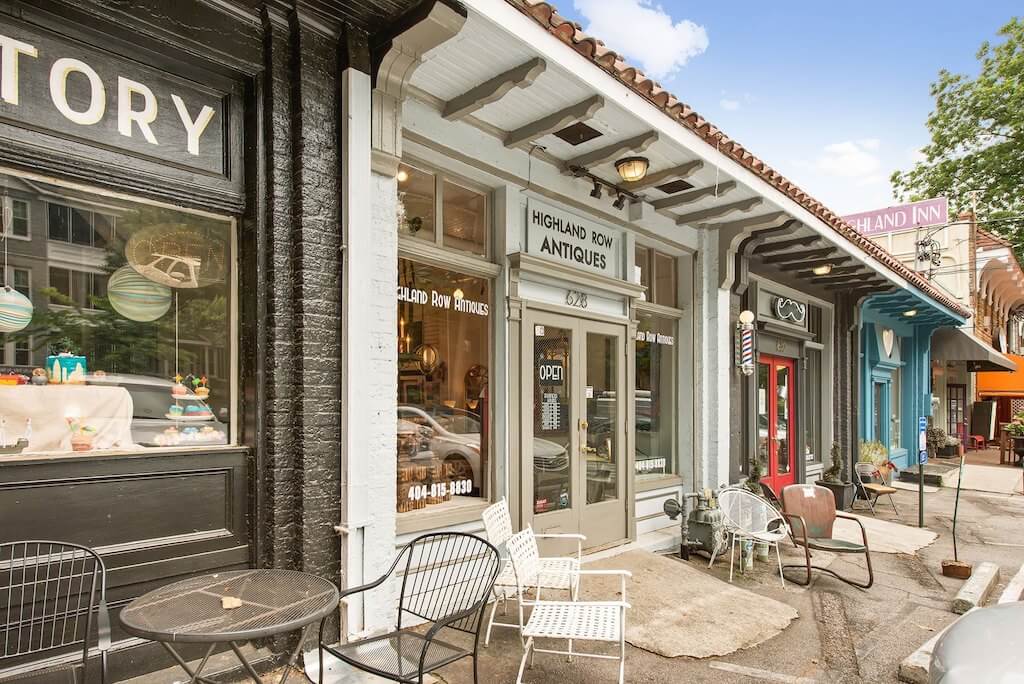 Virginia Highland
Average home price: $629,000 (homes for sale)
Virginia-Highland is an intown Atlanta neighborhood whose name derives from it being located at the intersection of Virginia and Highland Ave. The Virginia-Highland neighborhood can be considered a microcosm of the best qualities of Atlanta. There's plenty of opportunities for dining, nightlife, and shopping as well as impressive historic homes.
In terms of nightlife, Virginia-Highland tends to attract a more dressed-down and casual crowd which attracts plenty of young professionals and college students. Nightlife not your thing? No worries, Virginia-Highland has plenty of quaint coffee shops and friendly locals. You also won't see too many of those monolithic big-box stores.
The food in Virginia-Highland is also top-notch, with several eateries being considered some of the best in Atlanta. There's an assortment of cuisines available like Thai, Mexican, and American to name a few. Overall, Virginia-Highland is seen as a more laid-back alternative to the ritzy Buckhead.
Virginia-Highland is an example of another well-established neighborhood that has seen an influx of young professionals over the past couple of decades. This influx of young blood has created an energetic and bohemian atmosphere. The neighborhood is highly walkable and can be easily traversed on a bike as well. Politically, Virginia-Highland is undoubtedly liberal.
The two largest festivals in Virginia-Highland include Virginia-Highland Summerfest and the Virginia Highlands Festival.
A downside to living in Virginia-Highland can be finding parking. The area brings in a lot of non-residents, meaning that it is unsurprising to see residential streets lined with parked cars. Additionally, home prices have skyrocketed in the past few years as the area as real estate has become more expensive, as developers have been purchasing tear-down lots for over $650K!
You'll like Virginia-Highland if you…
Enjoy historic homes
Like having young people in your neighborhood
Prefer shopping at locally owned businesses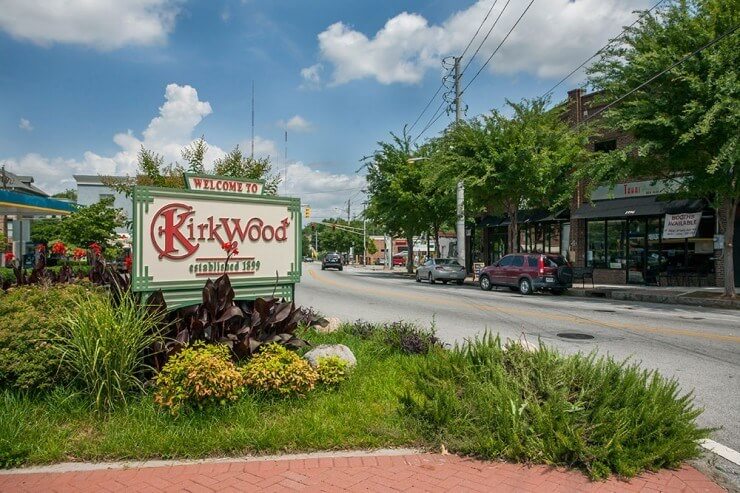 Kirkwood
Average home price: $461,000 (homes for sale)
Kirkwood is a historic Atlanta neighborhood best described as a "small town in a big city". Founded in 1899, this residential neighborhood that is favorited by families due to its laid-back and somewhat sleepy vibe. The community itself is very tight-knit with a diverse set of residents who deeply care about their neighborhood.
Kirkwood has gentrified considerably over the past few decades and this is most apparent from the newly improved downtown strip. Featuring plenty of quaint shops and eateries, Downtown Kirkwood draws a lot of people from the surrounding intown neighborhoods. The downtown strip includes locally owned eateries, bookstores, and coffee shops.
There's ample green space at either the Kirkwood Urban Forest, Coan Park, or Branham Park. There are community events on a quarterly basis including the Kirkwood Wine Stroll, Kirkwood Spring Fling, and many more.
An exciting new addition to Kirkwood will be the $200 million Pratt-Pullman Yard redevelopment project. This is a planned mixed-use space which will feature plenty of different upscale shops and restaurants resembling that of Ponce CIty Market. Coined as a "creative city" this development will feature sound stages for film production, offices, residences, a boutique hotel, and plenty of green space.
Overall, Kirkwood is a great place for those who are looking for a more docile and family-friendly environment. Best of all, Kirkwood is a melting pot of various cultures that will only continue to improve as more development moves to the area.
You'll like Kirkwood if you…
Are raising a family but want access to big-city amenities
Enjoy a quaint, small-town feel
Are looking to make a smart real estate investment

East Atlanta
Average home price: $379,400 (homes for sale)
In this case, East Atlanta refers to the actual neighborhood named East Atlanta rather than just the eastern side of the city. East Atlanta is a neighborhood often described as the "little brother" to Little Five Points due to its hometown vibe and eclectic residents. The neighborhood is also known for its impressive collection of murals.
East Atlanta is a grungy town that is made for those young, or those young at heart! It is not uncommon to see tattooed hipsters roaming the streets in East Atlanta or bar hoppers roaming the streets until early in the morning. East Atlanta has a very active alternative music scene which attracts audiences from vastly different cultures.
Perhaps the most notable aspect of East Atlanta is its unique shops and murals. You'll find shops that you won't find anywhere else in Atlanta, such as shops offering curated retro styles or locally made furniture. Those who are artistically inclined will find themselves at home, as East Atlanta contains the highest concentration of art murals in Atlanta.
Don't forget about East Atlanta Village, the neighborhood's marquee shopping destination. East Atlanta Village is a collection of bars and restaurants known for its quirky and unpretentious offerings. There's something for everyone here, from late night bars, a farmers market, live music, clothing shops, and bike stores.
You'll like East Atlanta if you…
Love all things grunge
Like diverse and eclectic neighborhoods
Enjoy alternative music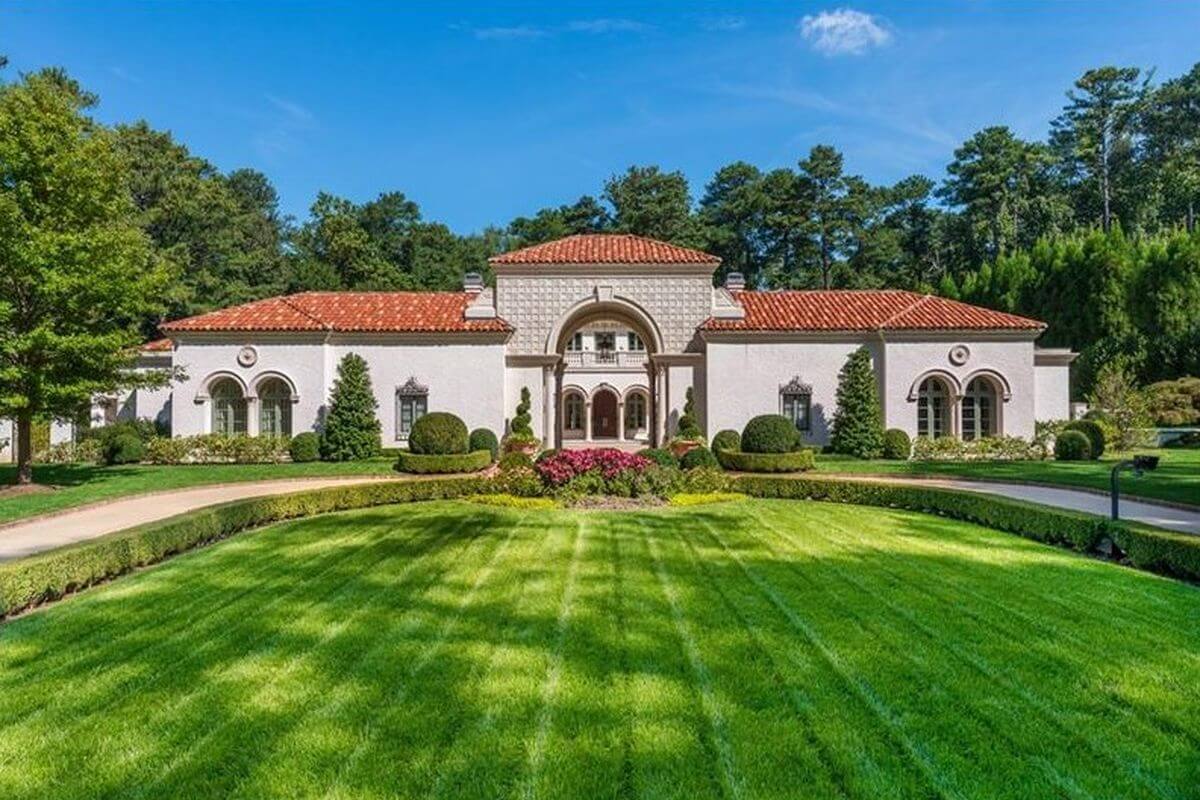 Tuxedo Park
Average home price: $1,645,000 (homes for sale)
Put simply, Tuxedo Park is synonymous with unparalleled luxury and prestige. Located in the Buckhead district, Tuxedo Park is situated in one of the most desirable zip codes in the Southern United States. Magnificent estates line Tuxedo Park's windy and hilly roads, providing the neighborhood a distinct and unforgettable aesthetic.
Despite Tuxedo Park being a solely residential neighborhood, Buckhead's top restaurants and shops are not far away. Buckhead Village, Lenox Square, and Phipps Plaza are accessible within a five-minute drive. There's also plenty of activity along Tuxedo Park's western border, Roswell Road.
The Governor's Mansion is located in Tuxedo Park, providing visitors a year-round opportunity to check out our governor's abode. If you're interested in green space, Chastain Park is merely a few blocks north of Tuxedo Park.
Tuxedo Park is an incredibly tight-knit community with a strong Civic Association and plenty of private security patrols which keep the streets safe. If you are fortunate enough to live in Tuxedo Park, you will not regret living in such an oasis of luxury.
You'll like Tuxedo Park if you...
Want to live in a safe and pristine residential neighborhood
Like gawking at insanely expensive homes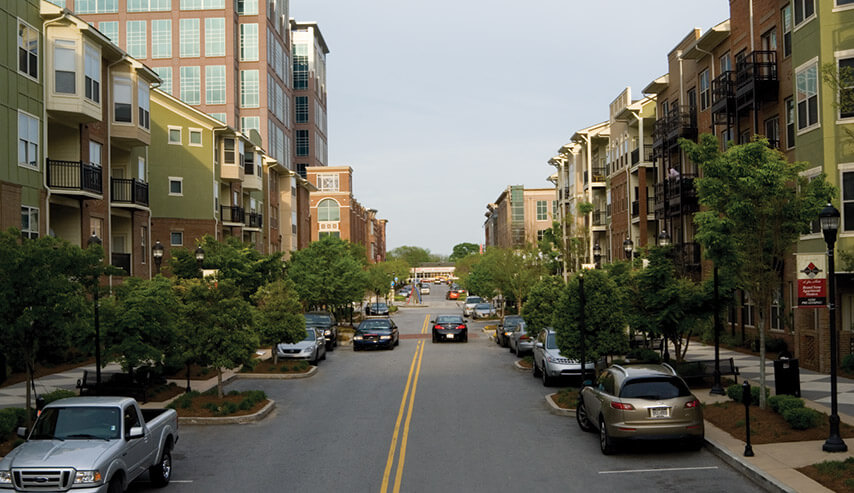 Lindbergh / Morosgo
Average home price: $276,900 (homes for sale)
The Lindbergh neighborhood of Buckhead is a popular neighborhood of the Buckhead district due to its assortment of shopping and recreational destinations. The neighborhood has improved significantly over the past decade and has seen a swarm of new apartments and townhomes. Lindbergh is on track to become one of Atlanta's premier live-work-play destinations.
While measuring only half a square mile in size, there are many big-box stores within its borders. The Lindbergh Plaza contains Target, The Home Depot, and Best Buy while Marshalls and Ross are across the street at Buckhead Crossing Shopping Center. Many of the culinary options follow a similar trend of being large chains.
One massive benefit to living in Lindbergh is the transportation and recreation amenities available. There's a MARTA Station located in Lindbergh and the neighborhood is nearby the I-85 and GA-400 freeways, ensuring speedy access throughout Atlanta. In terms of recreation, there are several different PATH 400 trails that residents find useful for jogging and biking.
Something that makes Lindbergh unattractive to some is that the area is heavily commercialized. It's a high-density neighborhood that features a ton of big-box retailers and national chains. While this allows for convenient shopping, some feel that this neighborhood lacks a distinct character.
You'll like Lindbergh if you…
Want to live close to many different retailers
Are a fan of the outdoors
Enjoy up-and-coming areas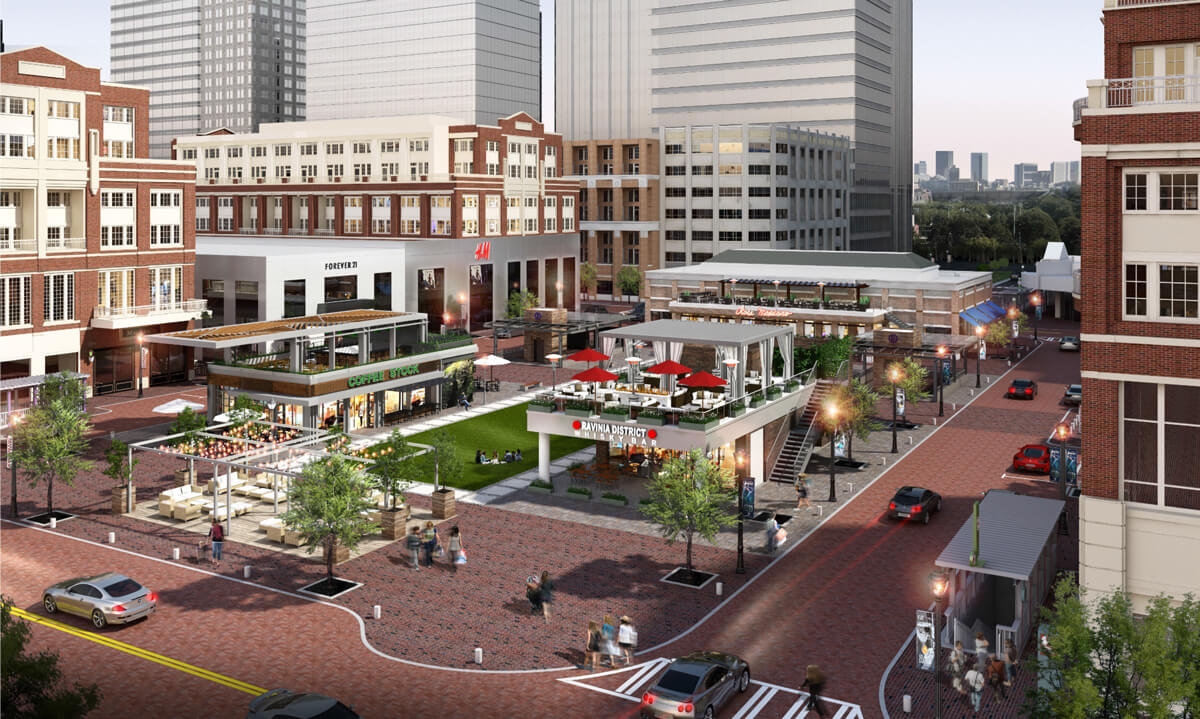 Atlantic Station
Average home price: $308,500 (homes for sale)
The Atlantic Station neighborhood encompasses the upscale outdoor mall named Atlantic Station and the area around it. Developed in the early 2000s, this sprawling upscale neighborhood is perfect for the consumer looking to live a metropolitan lifestyle. Atlantic Station was built to attract young professionals looking for a live-work-play environment that is closer to Downtown and cheaper than Buckhead.
The mall itself hosts a collection of upscale and mid-range shops including Dillard's, Target, and IKEA to name a few. Restaurants range from your popular chains to boutique local favorites. Perhaps the most popular amenity is the 16-screen movie theatre and bowling alley.
One of Atlantic Station's major perks is that it's a highly walkable area. Residents save a ton on gas because everything from groceries to entertainment is within a brief walk. If you do decide to drive someone, you're a few minutes from Downtown, Midtown, and Old Fourth Ward. Housing options include high rise apartments/condos, townhomes, and bungalows.
Atlantic Station can prove to be a polarizing neighborhood in Atlanta: you either love it or hate it. It takes a certain person to truly thrive; someone who likes being around crowds, doesn't mind late night noise, and loves upscale shopping. It's a highly urban environment, so any prospective resident should realize that traffic and parking could be a challenge at times.
You'll like Atlantic Station if you…
Are an urban shopaholic
Love being where things are happening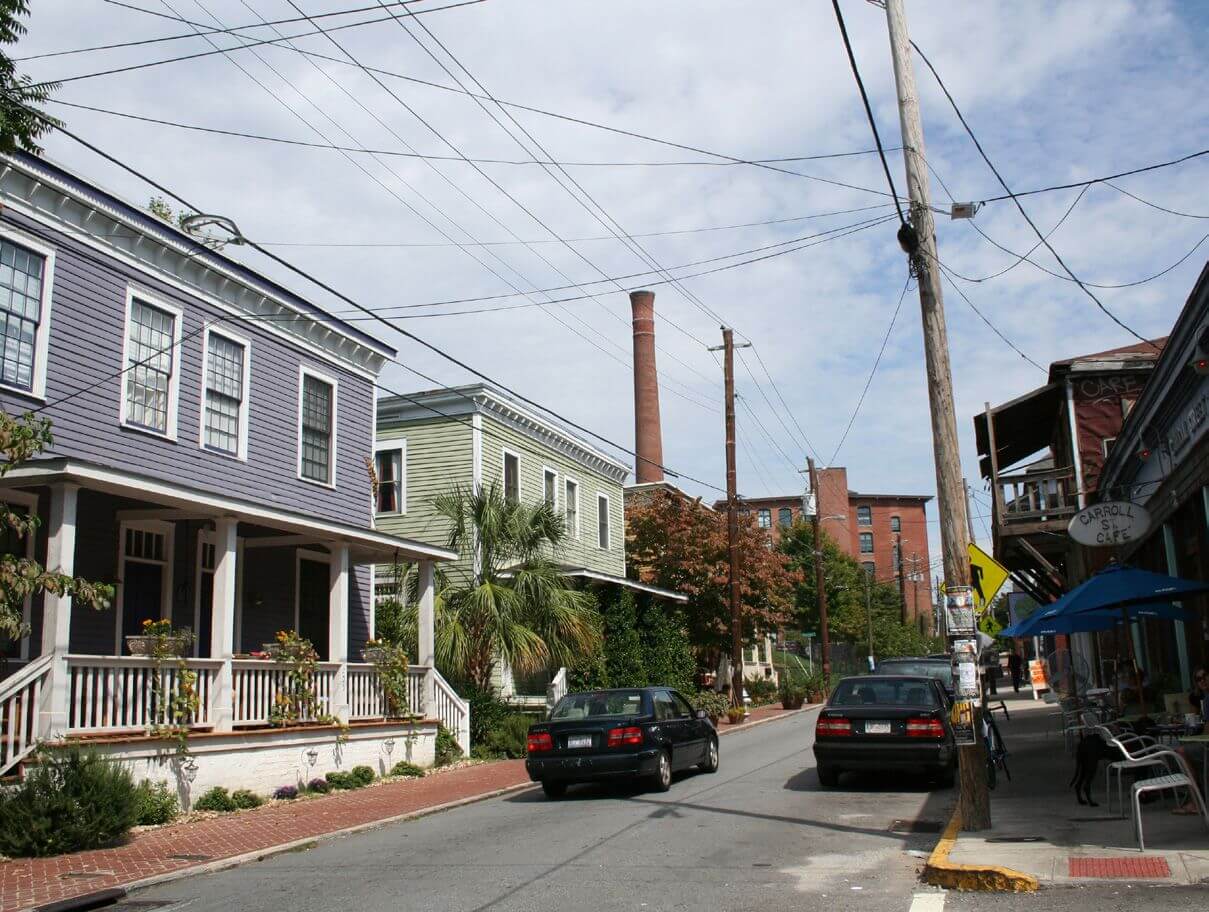 Cabbagetown
Average home price: $376,000 (homes for sale)
Cabbagetown is a small but quirky neighborhood located in intown Atlanta. Formerly a mill town, young professionals helped revitalize this neighborhood in the 1980s. The neighborhood's most noticeable feature is the former site of the Fulton Bag and Cotton Mill, which has since been turned into residential lofts.
Cabbagetown is a hidden gem within Atlanta, it's not as widely known as some nearby neighborhoods like Inman Park. However, you'll find a lot of charm and character in a town absolutely rich with history.
Narrow and deep homes (called "shot-gun style") are popular in Cabbagetown and are relics of its 19th-century history. These homes have since been painted all different colors and are protected from being demolished due to Cabbagetown's robust historic district protections. It's a rather remarkable sight to see such historic homes painted such playful colors.
The main strip in Cabbagetown is Carroll Street, where you'll find the famous Carroll Street Caf and Milltown Arms Tavern. A few blocks away you'll find the decently sized Cabbagetown Park and Community Center. An incredibly popular attraction is Krog Street Tunnel, a tunnel where local artists paint on its walls.
Cabbagetown is a rather tight-knit community with only around a couple of thousand residents. Those who live in the community are deeply supportive of one another and are highly involved. Cabbagetown is a truly unique place that deserves more attention.
You'll like Cabbagetown if you…
Enjoy historic neighborhoods
Support locally owned businesses
Have eclectic tastes
Conclusion
So, which neighborhood is best for you? That largely depends on your lifestyle and budget. The good news is that Atlanta has plenty to offer and you'll never tire of exploring our wonderful neighborhoods. I hope that you found this review useful in your neighborhood search! Disagree with our list or want to chime in with your own favorite? Feel free to leave a comment below!