Things to Know BEFORE moving to Atlanta [2021 Guide]
Posted by Trey Van Tuyl on Sunday, May 12, 2019 at 12:05 PM
By Trey Van Tuyl / May 12, 2019
Comment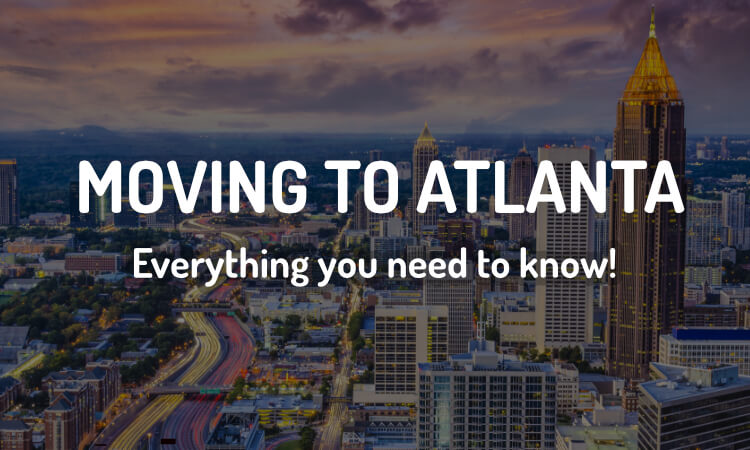 Thinking of moving to Atlanta? That's fantastic news because Atlanta has a TON to offer. We have a rich culture, beautiful scenery, delicious food, plenty of sports teams. You'll enjoy a high quality of life in Atlanta and meet plenty of incredibly friendly people. Atlanta could best be described as a "big city with a small town feel"
Let's delve into some of what you'll need to know before moving to Atlanta.
Atlanta's Culture
Southern hospitality is alive and well in Atlanta. We're definitely an extroverted city with a lot of laid back and friendly people. In Atlanta, people will go out of their way to make others feel welcome. This is one of many reasons why I love Atlanta, but it may take some getting used to if you're moving from a less friendly city.
In Atlanta, it's perfectly fine to talk with strangers. People won't judge you for holding up the grocery line to chat with the cashier, in fact, they'll probably join the conversation with you.
Atlanta is also a place that defies expectations that people have about the South. Politically, Metro Atlanta is solidly liberal while the state of Georgia leans conservative. Many pundits anticipate that Georgia will soon become a "purple state" - or an even ideological split due to Metro Atlanta's population growth.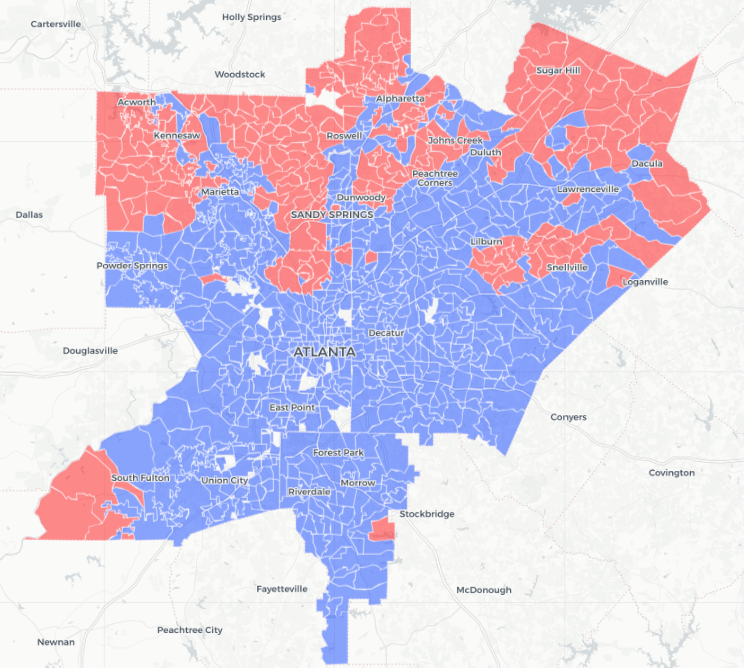 I think the biggest misconception people have about Atlanta is that it's a stereotypically Southern city. This isn't at all true, it's more like a unique blend of various cultures that combine into a unique product. We aren't your typical "Deep South" city, even though we are technically located in the Deep South.
Atlanta is additionally a diverse place with a community for anyone. For example, Atlanta has a very sizable Mexican, Central American, Korean, Chinese, Indian, and Vietnamese population. With near six million people throughout the metro area, you will certainly be able to find a crowd that you fit in with.
Atlanta, much like Los Angeles, is a city known as having quite a few transplants, meaning that it will be easy to find lots of people who have also moved here.
Here are what the demographics look like for the City of Atlanta:
51.4% Black or African American
41.3% White
4.7% Hispanic or Latino
3.7% Asian
Atlanta is known as a "black mecca" within the United States, primarily due to due to the abundant economic and political power held by African Americans. Atlanta is also rich in black history, particularly because we're the birthplace of Martin Luther King Jr.
The Atlanta Lifestyle
ITP vs OTP
Atlanta can be divided into two distinct regions: inside the perimeter (ITP) and outside the perimeter (OTP), with the perimeter being defined as the I-285 freeway that circles the city. The difference between ITP and OTP transcends mere geography, as your lifestyle will vary significantly depending on where you decide to live. In fact, choosing where to live will likely be the most important decision you make when moving to Atlanta. No pressure!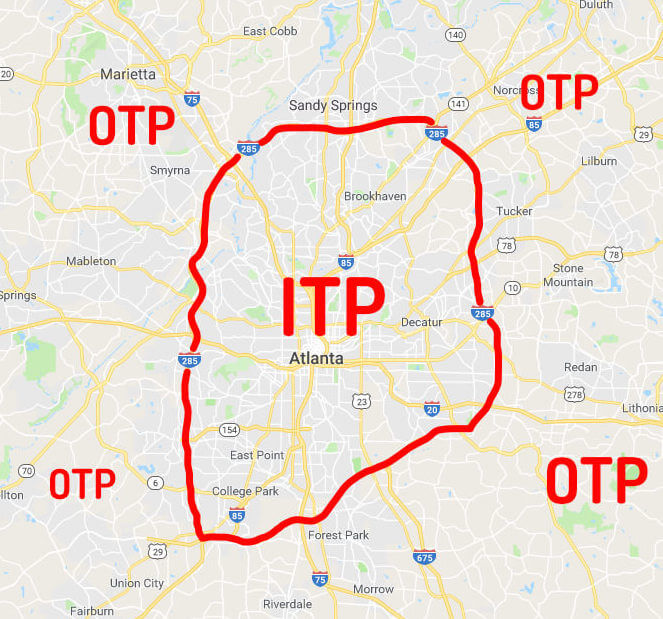 The OTP lifestyle is more suburban and family-friendly than the ITP lifestyle. Real estate is much cheaper outside of the perimeter and you'll find plenty of homes with large yards in great school districts. However, you will encounter a rather grueling commute if you decide to work within the perimeter. Culturally, those who live outside of the perimeter tend to be more conservative and religious.
Examples of OTP suburbs include Marietta, East Cobb, Roswell, Cumming, and Smyrna.
ITP is where you'll find big-city amenities and a vibrant city with plenty of diversity. Most of the top dining, entertainment, and recreation destinations are located within the perimeter. As you might expect, real estate tends to be much more expensive inside the perimeter and home ownership may be difficult to achieve. Over a third of Atlanta residents rent their homes rather than buy.
Examples of ITP (also called intown) neighborhoods include Buckhead, Midtown, Decatur, Old Fourth Ward, and Brookhaven.
Ultimately, your choice will come down to the type of lifestyle you desire. Are you willing to accept a higher cost of living in exchange for a big-city lifestyle? Chances are, you'll want to live ITP. Alternatively, those who seek a lower cost of living with a suburban lifestyle would prefer to live OTP.
To put this all in perspective, many of the lifelong Atlanta residents tend to live closer intown during their 20s and then gradually move further out as their priorities change with age. This isn't to say that raising children is impossible inside the perimeter, but it certainly adds plenty of unique challenges.
Traffic
Let's be honest: traffic is pretty bad in Atlanta. According to Business Insider, Atlanta is the fourth most congested city in the United States. Why is this? Well, Atlanta is a sprawling city with inadequate public transportation infrastructure. We have a rail and bus system called MARTA, but it desperately needs to be expanded if it has any hope of fixing our traffic issue. Chances are, MARTA will not be a viable option for your daily commute.
Here's what our rush hour traffic looks like: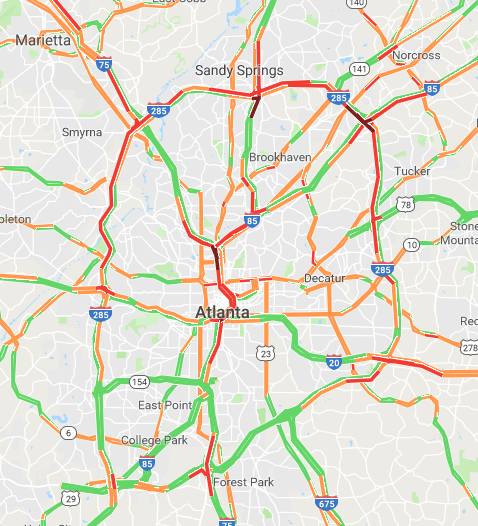 Yeah, not great. The bottom line is that Atlanta will remain a car-centric city for the foreseeable future. This means that someone considering a move to Atlanta should live as close to where they work as possible. Atlantans tend to underestimate the soul-crushing impact of traffic on their psyche, so don't make this mistake!
In fact, Atlanta's traffic creates a situation where people tend not to venture too far beyond their neighborhood. This means that you will find people who are extremely opinionated about where they live because most of their life is centered around their neighborhood. This dynamic also creates tight-knit neighborhoods with culturally distinct residents. Needless to say, you should choose your neighborhood wisely!
Neighborhood Rundown
There are dozens of different boroughs and neighborhoods within Atlanta, but let me provide you with a rundown of some of the best known intown neighborhoods.
Buckhead: You'll find the most expensive single-family homes and shops in the city here, however, there still remains a variety of affordable condo and apartment options. Buckhead hosts some of Atlanta's top restaurants and nightlife as well as schools.
Brookhaven: Considered a more affordable (and family-friendly) version of Buckhead with fewer amenities and almost no walkability. Comprises of mostly single family homes with fewer condos and apartments.\
Midtown: Loads of skyscrapers, restaurants, and historic homes. In many ways feels like a miniature version of New York City due to its high population density. Also, Midtown is known as an extremely LGBT-friendly neighborhood.
Virginia Highlands & Morningside: Extremely residential area with plenty of gorgeous historic homes, high walkability, and quaint shops. These areas have gentrified considerably over the past few decades and housing has become increasingly expensive.
Reynoldstown / Cabbagetown / Little Five Points: You'll find some of the most interesting personalities that Atlanta has to offer here. Very bohemian areas with an active "alternative" scene.
Old Fourth Ward: Eclectic neighborhood that has gentrified due to the Beltline and Ponce City Market. Old Fourth Ward is being increasingly dominated by apartments and condos
If you're interested in learning more, check out our article about the best neighborhoods in Atlanta.
Weather & Geography of Atlanta
Atlanta is known for its hot and humid summers, and mild winters. It's a city where you'll be able to experience all four seasons while staying spared from a brutally cold winter. Many people from the New England area actually move down to Atlanta because of our favorable weather.
You may find that your sweat glands are quickly activated soon after stepping out of the Atlanta Airport. In the summer months, the daily humidity in Atlanta can exceed 80 percent! You will be very thankful that the vast majority of housing options in Atlanta provide air conditioning. We aren't nicknamed HOTLANTA solely because of our beautiful people!
Every few years we'll get some snow, which is an exciting treat considering we're a state that borders Florida. But this usually creates a frenzy where the entire city shuts down due to a plethora of traffic accidents. A local piece of wisdom is to "stock up on your bread and milk" when it snows because you won't be able to leave home for a few days!
One of the very first things you'll notice after moving to Atlanta is the ocean of trees throughout the city. Atlanta is commonly referred to as a "city in a forest". Our tree canopy is unlike any other American city of its size and makes our sprawling city seem picturesque.

Our trees also tend to make the summer temperatures a little bit more pleasant. However, you may find yourself in some discomfort during spring if you suffer from pollen allergies.
We do unfortunately lack a beach or a major body of water, however, there are plenty of options for hiking and mountain biking. If you're absolutely craving the open water, the nearest body of water would be Lake Lanier, located around 50 miles northeast of Atlanta. The Georgia coast is also an option for beachgoers but will take a four-hour drive.
Cost of Living in Atlanta
When moving to a new city, it's important to keep in mind your quality of life. Since a city's quality of life is often closely tied its affordability, let's delve into how affordable Atlanta really is.
Atlanta is incredibly affordable when you compare it to cities of a similar size, particularly in regard to housing. In the data table below, I've compiled data from Wolfram Alpha's cost of living index on major cities in comparison to Atlanta. Keep in mind that a value of "100" is the national average.
| | | | | |
| --- | --- | --- | --- | --- |
| | Atlanta | Boston | Miami | Wash. DC |
| Housing | 108 | 219 | 150 | 268 |
| Healthcare | 109 | 133 | 98 | 99 |
| Grocery | 100 | 100 | 110 | 127 |
| Transportation | 101 | 115 | 104 | 95 |
| Utilities | 87 | 121 | 100 | 114 |
| Overall | 103 | 150 | 116 | 161 |
As you can see, your dollars will go farther in Atlanta than in any of these other cities. Our low housing costs are primarily due to Atlanta's urban sprawl. People who live in Atlanta love how they can eat out and enjoy a wide variety of entertainment options without feeling fleeced. Ordinary people aren't priced out of fun experiences, as is commonly the case in other large cities.
The Atlanta Food Scene
We are known for more than just peaches! Atlanta has a fantastic food scene. You'll find pretty much any type of cuisine you desire in Atlanta, and we have a very active (and opinionated) foodie community.
Don't miss out on our food scene and be sure to try things out of your comfort zone. I'd recommend starting by exploring Buford Highway (Atlanta's version of Chinatown) where there are various hole-in-the-wall eateries just begging to be explored. Check out Ponce City Market or Edgewood Ave for some of the trendier spots.
If you have to try one restaurant, check out The Varsity. It's a local fast food chain that has been around since 1928! The Varsity has become such a cornerstone of Atlanta that practically every US president that visits our city tries it out!
Outdoor Recreation in Atlanta
One thing you should know about Atlanta is that we're a pretty active city. We consistently rank as one of the fittest cities in the United States and we have an assortment of unique recreation options. Let's touch on a few of the top recreation options.
The Beltline
The Beltline has been generating a ton of buzz in Atlanta, and those moving to Atlanta are sure to hear a lot about it. It's a mixed-use trail that is designed to (eventually) circle the entire City of Atlanta. The trail is frequently used by bikers, runners, and by those just looking for a casual stroll.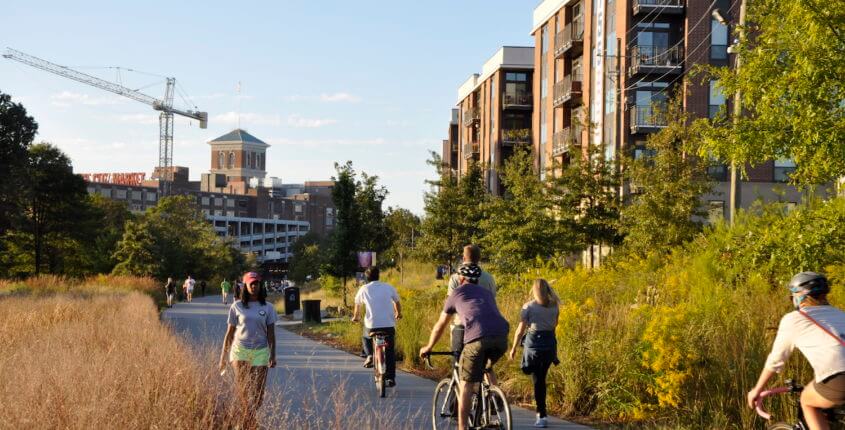 As of now, the City has completed stretches named the Eastside and Westside trails. It may look like just a "glorified sidewalk" but its impact has been undoubtedly profound. The Eastside Trail has attracted the lion share of economic development and attention thus far. The trail connects several hip neighborhoods like Reynoldstown, Inman Park, and Old Fourth Ward.
Many different shops and eateries have opened along the Beltline and it has quickly become a local favorite. Property values certainly reflect this; expect to pay a premium if you are house or apartment hunting in the area. If you're a somewhat "hip" and active person, chances are you'll find yourself strolling the Beltline frequently.
Piedmont Park
Piedmont Park is a 186-acre urban park located between the neighborhoods of Midtown and Virginia Highland. Widely considered one of Atlanta's top attractions, this green space is perfect for picnics or exercising. There are trails for biking or walking in addition to tennis courts and swimming pools. If you like the outdoors even just a little bit, there will be something for you at Piedmont Park.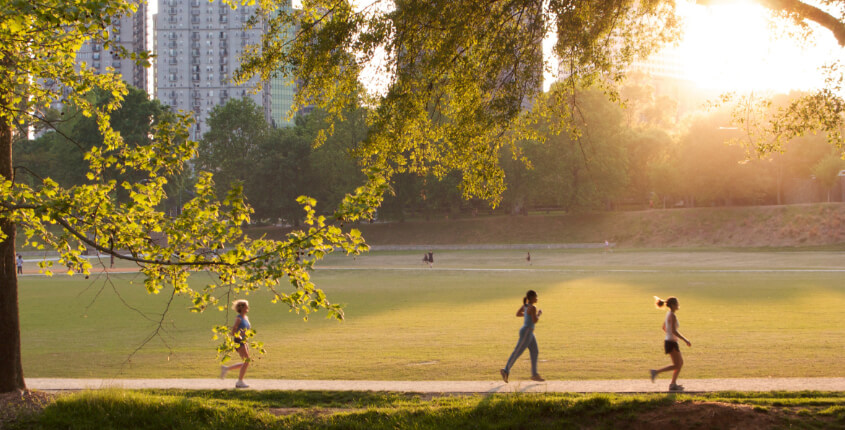 Stone Mountain
Stone Mountain is a giant natural dome located around 45 minutes east of Atlanta. There are hiking trails you can take up the mountain where you'll see all of the carvings that people have made in the rock over the years, some of them well over a century old. At the top of the mountain, you'll be treated to panoramic views of Metro Atlanta, a blissful reward for having put in the effort!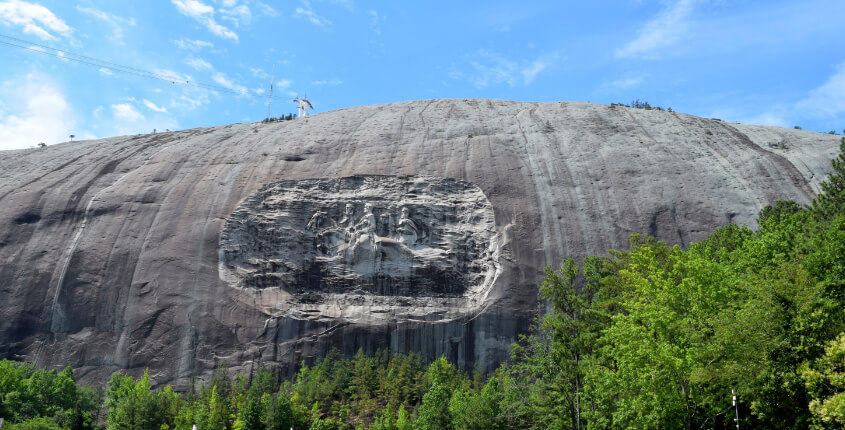 Nightlife
Prefer to unwind in a bar or club? That's good news because Atlanta is known as the "party capital of the South". We have something for everyone: trendy bars, gastropubs, breweries, nightclubs, and even an active EDM scene. Every weekend you can find plenty of fun and interesting events.
Sports Teams in Atlanta
Atlanta isn't short on professional sports teams nor sports fans. Being in the South, there is a very active sports scene with plenty of diehard fans. Atlanta has also seen several new stadiums built over the past few years, including the Mercedes-Benz Stadium and SunTrust Park.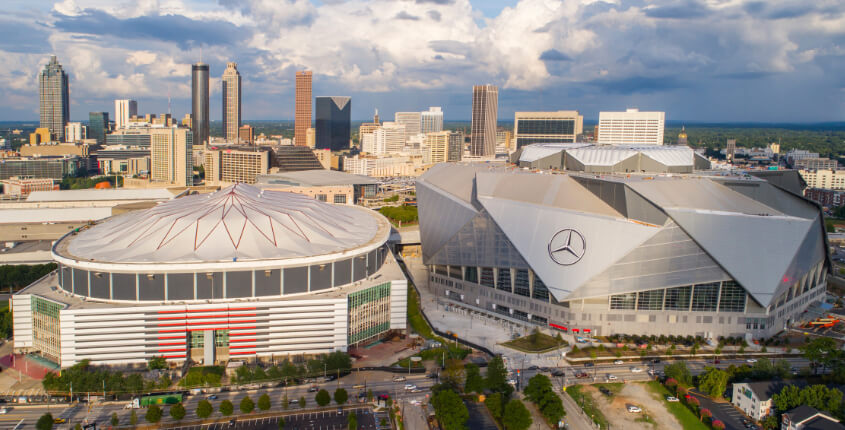 Football - The Atlanta Falcons are perhaps our best-known professional sports team. The Falcons have been in Atlanta for over 53 years and are an integral part of our city. In fact, the Falcons consistently rank as one of the most-attended teams in the entire NFL. They compete at the newly constructed Mercedes-Benz Stadium along with Atlanta United. One of the coolest aspects of this new stadium is the "fan first" pricing, where you can snag extremely affordable bites.
Soccer - Founded in 2014, the Atlanta United soccer club is a member of the MLS Eastern Conference. Despite being a relatively new team, they have shown their prowess as a top-tier team and are the most recent winners of the MLS Cup.
Baseball - The Atlanta Braves are a professional baseball team within the MLB's East division. Braves games have become a popular destination for Atlantans seeking to relax and unwind. It's also rather inexpensive to attend a Braves game, with tickets often as low as $5.
Basketball - We have two basketball teams, the NBA's Atlanta Hawks and the WNBA's Atlanta Dream. Both teams compete at the State Farm Arena, which is located just adjacent to the Mercedes-Benz Stadium in Downtown Atlanta.
Working in Atlanta
Atlanta is known as having both a bountiful number of corporate jobs in addition to being an entrepreneurial hub. We have the third-most Fortune 100 companies, including Delta Air Lines, The Home Depot, UPS, and The Coca-Cola Company.
Entertainment
Atlanta is becoming what many are dubbing the "Hollywood of the South". Some of the top blockbusters and television shows are filmed here, such as The Avengers and The Walking Dead. We attract a lot of production due to the strong tax incentives we offer to production companies. Lastly, Turner Broadcasting and CNN are also headquartered in Atlanta.
Let's not forget about the music industry! Atlanta is considered the "hip hop center of gravity" with dozens of top-selling artists starting their careers in Atlanta. Much like Hollywood, plenty of aspiring musicians venture out to Atlanta to "make it big" in the music industry. This means that any music lovers will find no shortage of up-and-coming artists in Atlanta!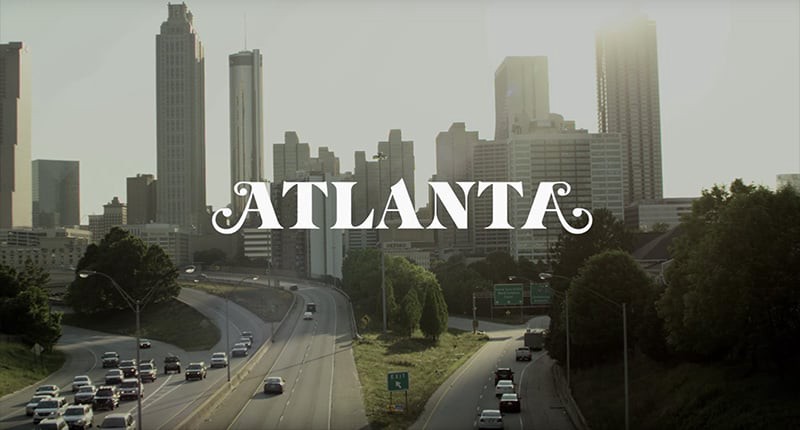 Healthcare
Believe it or not, but hospitals remain the largest employers in Atlanta. The Emory Healthcare system (which is a part of Emory University) employs tens of thousands of people in Atlanta. Large hospitals in the area include Northside Hospital, Piedmont Hospital, and Children's Healthcare of Atlanta.
Airline
The Atlanta Hartsfield-Jackson Atlanta International Airport is the largest airport within the United States and Delta Airlines' headquarters. Accordingly, the airport and Delta are some of the largest employers in Atlanta. It also means that flights are pretty cheap!

Entrepreneurship
Aside from just corporate jobs, Atlanta is known as the entrepreneurial hub of the southeast. For example, Tech Square located in Midtown boasts the "highest density of startups, corporate innovators, and academic researchers in the entire southeastern United States".
Atlanta's relatively low cost of living entices entrepreneurs from Los Angeles and New York City to relocate here. Our culture is also very entrepreneurial, with the idea of a "side hustle" being widely prevalent and encouraged.
Fun Facts
There are 71 street names in Atlanta that include the word "Peachtree".
We have a television show named after us! Donald Glover's hit comedy "Atlanta" offers a gritty depiction of Atlanta's hip hop scene.
Most Atlantans do not have a Southern drawl. However, it's a different story once you venture outside of Atlanta…
We hosted the 1996 Olympics! We beat out Athens, Toronto, Melbourne, and Manchester in the selection process.
Atlanta is one of two cities in the world to be the birthplace of two Nobel Peace Prize winners.
Conclusion
Atlanta is a place that is perfectly comfortable with itself. This may sound a bit strange, but it's true. We aren't hurried and frantic like other cities of our size, nor are we fiercely competitive with each other. While we recognize some of the prejudices that other cities hold against us, at the end of the day we simply do not care. We are determined to grow into something great, not because we have anything to prove to the world but instead because we like it that way
I do hope you decide to move to this incredibly vibrant and welcoming city. Let me know if there are any questions I can answer in the comments.