Living in Milton, GA: 2021 Community Guide
Posted by Trey Van Tuyl on Friday, February 12, 2021 at 10:43 AM
By Trey Van Tuyl / February 12, 2021
Comment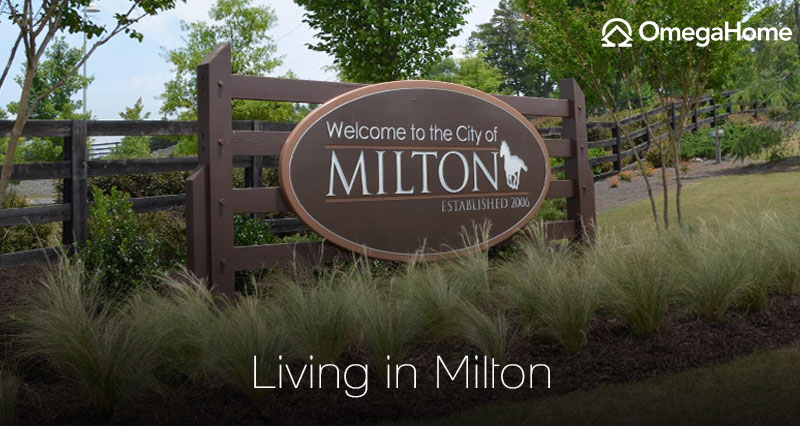 Located at the northern tip of Fulton County, Milton is a city and suburb of Atlanta, with a population of almost 40,000. Although Atlanta is only 30 miles to the south, Milton couldn't feel further removed from big city life.
Milton has a long and rich history, and though it wasn't incorporated until 2006, the city has always maintained a strong identity, separate from the adjacent communities of Roswell and Alpharetta. Milton has exploded with development in recent years but has still managed to retain an intimate, rural atmosphere and is now home to some of the most expensive and sought-after real estate in Georgia.
Anchored by the historic Crabapple district, with its boutique shops, restaurants, and exclusive condos and townhomes, Milton appeals to those looking for a laid-back country living with amenities. Residents enjoy being able to ride horses through picturesque countryside while still having access to upscale shopping and dining.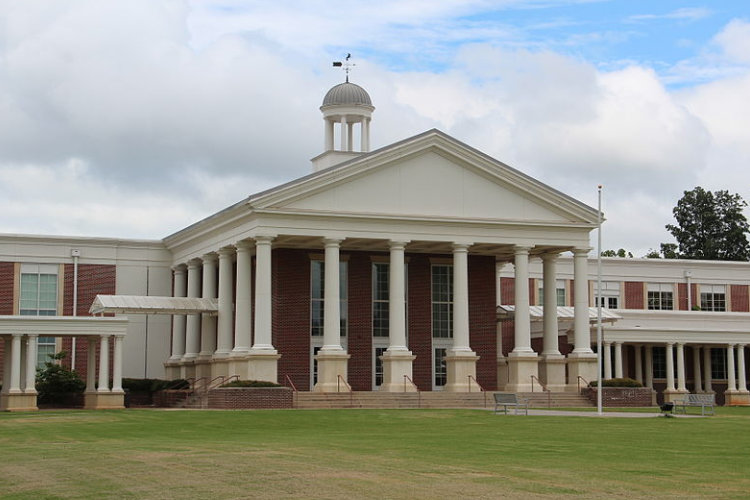 Milton High School
Another reason that many people are attracted to Milton is the high quality of education in the city. Milton High School students' ACT scores always exceed the state average in all subjects, and Milton's schools are consistently ranked among the best schools in Georgia.
With its gently rolling hills, green pastures, and stunning homes on acreage, Milton oozes both affluence and rustic Southern charm. Let's take a look at what makes this one of the most desirable places to live in the state.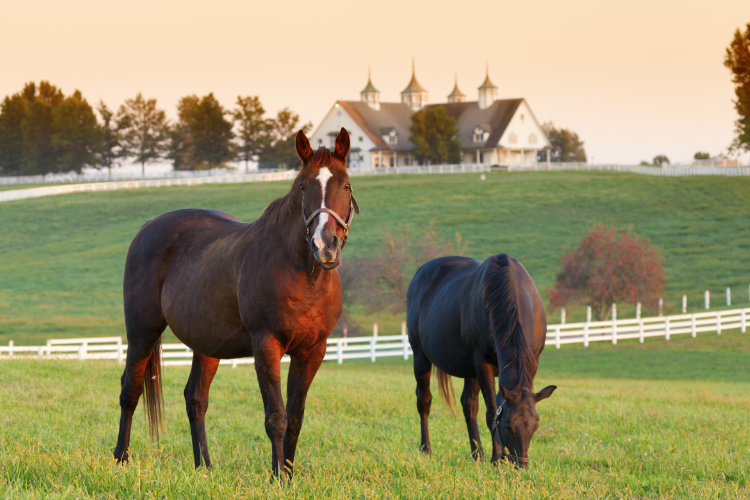 Horse farm in Milton, GA
Milton's Equestrian Roots
Horses have been an important part of life in Milton since the early days of Milton County, in the late 19th century. In those days, the area was an important stopover for pioneers traveling on horseback between the mountains and the railway terminus that would eventually become known as Atlanta. Local farmers on horseback would drive livestock and local produce to the big city, returning with much-needed income.
Later, Milton County suffered several hardships, including a smallpox outbreak, the Civil War, and the Great Depression, and was forced to merge with neighboring Fulton County to prevent economic collapse. Life soon improved after the merger, and after WWII, manufacturing plants like Ford and General Motors opened in the area, providing more employment opportunities.
With the increase in the local population's affluence, horseback riding quickly evolved into a recreational activity and competitive sport. Local farmers began to host one-day shows, which grew in popularity and were replaced by multi-day events featuring dressage, show jumping, and hunting. The Wills Park Equestrian Center grew to become a haven for horse lovers and made Fulton County a regional horse capital.
Today, Wills Park Equestrian Center hosts over 50 shows and competitions each year, and equestrian culture is as much a part of life in Milton as it's ever been. Residents are used to sharing the roads with riders on horseback, and no one bats an eyelid if you show up to lunch in riding boots and britches!
Lifestyle and Culture in Milton
Milton's convenient location at the crossroads of Highways 140 and 372, and just a few miles north of GA400, makes it easy to access nearby suburbs such as Alpharetta and Roswell. Many Milton residents work remotely from home, but those who commute to central Atlanta don't usually have to sit in traffic for more than 35 minutes.
As in any suburb, Milton's streets can sometimes become congested, but the progressive city government has promoted a walkable infrastructure, requiring design reviews of all new buildings. These reviews are to maintain architectural styles and heights that are compatible with the area's history and encourage walkable neighborhoods.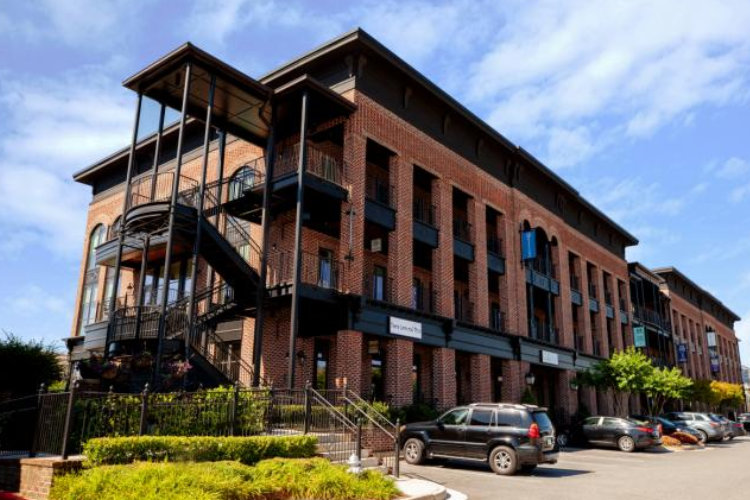 Crabapple Market, one of the most popular shopping centers in Milton
The historic Crabapple district is the thriving center of Milton's shopping and dining scene. Its charming streets are lined with upscale boutiques and local institutions like Milton's Cuisine and Cocktails and The Olde Blind Dog Irish Pub. The 5 corners intersection of Crabapple is also known by locals as "the crossroads" and is home to newer mixed-use developments like Crabapple Market and Market District Crabapple.
Crabapple is also home to the fantastic Milton branch library that opened in 2015. This 25,000 sq ft library, housed in a beautiful and relaxing space, has quickly become an integral part of Milton's local community life and hosts events and activities for all ages, including Yoga classes and book clubs.
More shopping and dining options are available in nearby Alpharetta. Avalon is a super-popular outdoor mall, and historic downtown Alpharetta is a bustling area full of boutiques, high-end retail outlets, and a large assortment of restaurants and bars.
As you might expect from a city located in the South, Milton's summers are hot and muggy. Winters are cool and wet, while spring and fall are both long seasons with glorious weather! During spring and fall, Milton residents take full advantage of the parks and green spaces dotting their city. The city and its residents fiercely protect wooded areas and green spaces, and locals enjoy nothing more than running, cycling, or riding on horseback along Milton's numerous trails.
Milton residents come together as a community at numerous events and festivals that take place throughout the year. Many of these events occur at the Crabapple Market Green, which has quickly become the center of Milton's community life. October brings Crabapple Fest, which is the event of the year but is closely followed in popularity by Christmas in Crabapple. This seasonal extravaganza features a tree-lighting ceremony, a local choir, and photo ops with Santa!
Things to Do in Milton
Painted Horse Winery/Pamelot Farm
Since 1991, family-owned Pamelot Farm has been an integral part of the equestrian culture in Milton for decades. More recently, the operation has branched out to include Painted Horse Winery, which has become a trendy local destination.
The winery produces many local wines and features an intimate tasting room that hosts live music on weekend evenings. There's a constant calendar of events, including tours, food and wine pairings, and parties, and the in-the-know can't get enough!
Pamelot Farm is a must-visit for those who want riding lessons, and the farm also offers summer camps for kids and can be rented for birthday parties.
Crabapple Fest
Milton's Crabapple Fest takes place on the first Saturday of October. This awesome festival is organized by the Crabapple Community Association in conjunction with the City of Milton and draws tens of thousands of visitors every year.
Crabapple Road is transformed into a bustling market with over 100 local antique, art, and craft vendors selling unique, handmade goods. There's always an incredible atmosphere at Crabapple Fest, and there are plenty of food and drink options to keep the good times rolling, along with activities to keep the kids happy and a big screen TV showing football!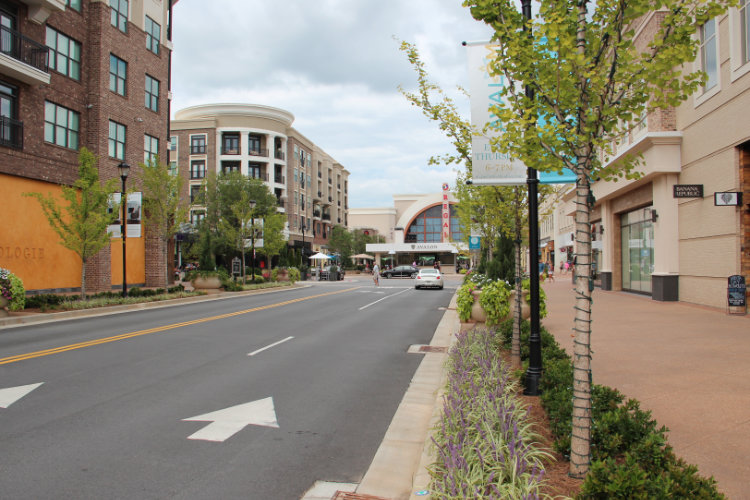 Avalon
Located in the heart of nearby Alpharetta, Avalon is a sustainably-designed community that features 500,000 sq ft of retail, a 12-screen movie theater, and an upscale hotel. Avalon is a mixed-use development and also encompasses luxury residences.
Avalon Boulevard is a shopping heaven, and this is a popular destination for Milton locals, who come to enjoy the pleasant, walkable atmosphere and the upscale shopping options. There are also over a dozen chef-centric restaurants that cater to all tastes. Events like Avalon Mardi Gras and the popular Cornhole League keep Avalon entertaining and exciting, and there's always a reason to come back.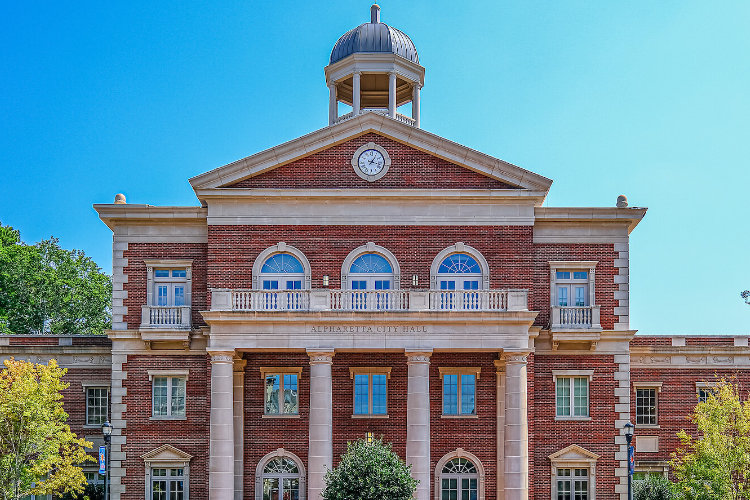 Downtown Alpharetta
The charming, historic downtown Alpharetta features an eclectic mix of restaurants, shops, and art galleries. This downtown has a quaint, small-town feel, but the offerings are most definitely on the more cosmopolitan side.
Restaurants here feature patio dining, craft cocktails, and farm-to-fork cuisine, and live music is always on the menu. Downtown Alpharetta is home to music, art, and street festivals throughout the year, and events like Taste of Alpharetta and the Summer Concert Series are highlights of the local calendar.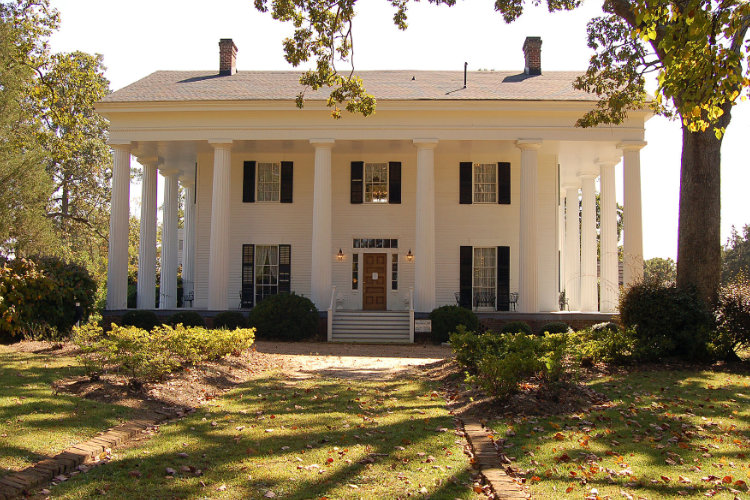 Barrington Hall
For a taste of the region's rich history, Barrington Hall in nearby Roswell delivers. This magnificent Greek-Revival structure was originally home to Roswell's founding father, Roswell King, and has been meticulously restored to its former glory.
Visitors can tour the gorgeous gardens or peruse the family belongings and furniture that have been inside for over 150 years. This is no stuffy museum, though. Barrington Hall is used in many ways and is a vital part of Roswell's community life. The hall plays host to cooking classes, cocktail parties, a famous Lavender Festival, and a Beatrix Potter-themed tea party for kids.
Barrington Hall is about 20 minutes drive from Milton and is definitely well worth a visit.
Parks and Recreation in Milton
Bell Memorial Park
Located in Milton's northern half, Bell Memorial Park is a friendly place with a real neighborhood feel. This Milton park is a favorite with local dog walkers, who take advantage of the forested trails to give their pup somewhere to exercise.
The other part of the park has soccer fields, softball fields, other sports facilities, and a kid's playground. The wonderful Mark Law Arboretum is also here and has a wonderful collection of trees.
Families gather in Bell Memorial Park to connect and play, and it has become one of Milton's most popular green spaces.
Providence Park
Providence Park is a nature lover's dream, right in the heart of Milton. Encompassing 42 heavily-wooded acres, Providence Park is a favorite destination for runners, walkers, and dog-walkers, who come to enjoy the quiet and the shade.
Providence Park's well-maintained walking trails pass through flourishing deciduous trees and pass by Providence Lake, which is a popular spot for local fishermen.
Milton City Pool
Located on Dinsmore Road, Milton City Pool was part of the former Milton Country Club that the city purchased in 2018.
Now home to the Milton Mustang Swim Team, Milton Pool is also open to the public and offers seasonal memberships and day passes.
With both a large main pool and a great little kid pool with a sprayer, Milton Pool has a friendly, community vibe and is the place to be on a long, hot summer afternoon, even if you have your own pool at home!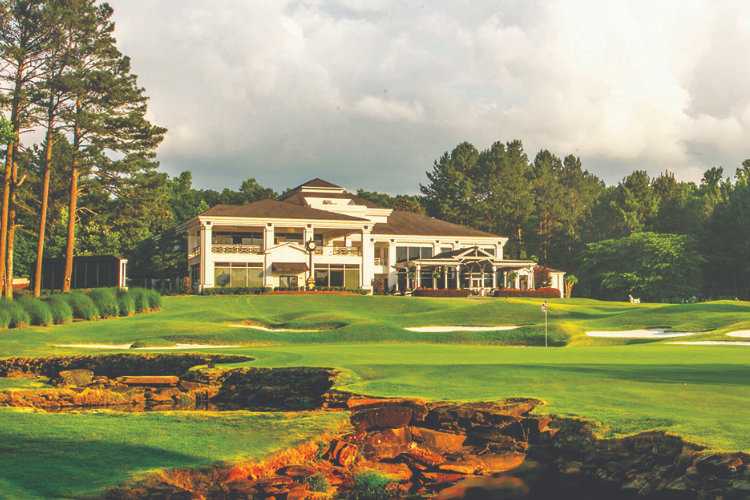 Atlanta National Golf Club
Atlanta National Golf Club
It's generally accepted among area locals that Milton is one of the best places to live if you're a golfer! There are several exclusive golf clubs in Milton, and Atlanta National is among the very best.
This is a 6,966-yard, par-72 course set on 240 acres of natural hardwood trees, rushing streams, and rolling hills, and the local consensus is that it's a pleasure to play golf here.
Atlanta National has a massive, beautiful clubhouse with a large locker room that all golfers will appreciate. There's also a fantastic bar and restaurant, as well as a fully-stocked Pro Shop with friendly and down-to-earth staff.
Practice facilities at Atlanta National are second-to-none and feature a double-sided driving range, multiple putting greens, and chipping areas to hone your game before hitting the links. Elegant homes surround the course, which only enhances its luxurious aesthetic.
Sawnee Mountain Preserve
Sawnee Mountain Preserve is in Cummings, approximately 30 minutes northeast of Milton, and encompasses 963 acres. This fantastic natural area includes hiking trails, a tree canopy classroom, a rock climbing area, an amphitheater, and an excellent visitor center.
No visit to Sawnee Mountain is complete without a hike to the Indian Seats. These majestic natural rock formations offer up incredible views of the North Georgia mountains, and the trail passes by ruins of old gold mines.
The visitor center is another highlight and features educational material that focuses on local flora and fauna and its people's history. The visitor center also offers classes and advanced programs, including rock climbing education.
Haw Creek Park
Located near Cumming, about 20 minutes from Milton, this beautiful 85-acre park features hiking and mountain biking trails that pass through shady woodland. Come at the right time of year, and you'll have pretty wildflowers for company as you enjoy this relaxing park.
Haw Creek Park is a real hit with families, and kids love the woodlands-themed playground. There are also pavilions which make ideal places to enjoy a summertime picnic.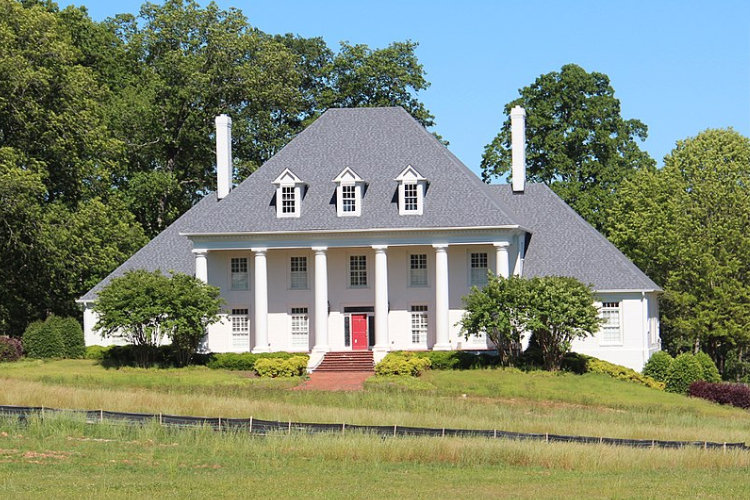 15815 Freemanville Rd, Milton, GA
Real Estate in Milton
As you'd expect from the most affluent suburb in Georgia, real estate in Milton is among the most expensive not only in the state but also in the entire country.
Milton offers an abundance of real estate choices, ranging from large, single-family homes on multi-acre lots, to those in gated communities, with swim and tennis facilities.
Homes with equestrian facilities are a popular option in Milton, and many newer homes feature not only wine cellars and gym rooms but horse stables and paddocks. More established equestrian properties range from more modern houses, surrounded by rolling pasture, to older houses with outbuildings and barns, sitting on acres of established land, with a mix of fields and woodland.
The Crabapple district is where you'll find the most sought-after and expensive real estate in Milton. There are beautiful old historic properties in Crabapple and new developments like Crossroads Braeburn, an upscale townhome complex, and Market District Crabapple, which offers luxury condos. This newer Crabapple real estate caters to those who want high-end living in a walkable community that blends country living with upscale amenities.
Milton Information
Population: 39,957
Median household income: $125,096
Size: 39.11 sq mi
Demographics: 69% White, 11.5% Asian, 8.75% Black, 6.25% Hispanic, 2% Two or more races