The 17 Best Places To Live in Georgia in 2021
Posted by Trey Van Tuyl on Saturday, February 13, 2021 at 12:05 PM
By Trey Van Tuyl / February 13, 2021
Comment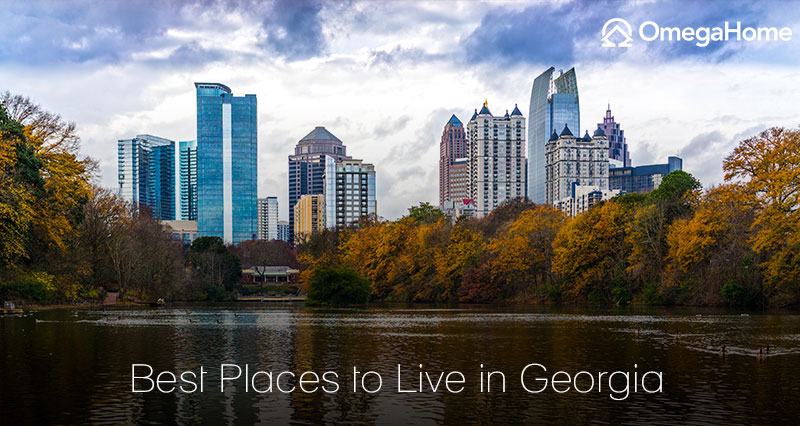 Many of Georgia's cities continue to rank as some of the best places to live in the country. From rural living to quiet suburbs to posh, luxury communities, Georgia has something for every desired lifestyle. Here is a roundup of some of the best places to live in Georgia.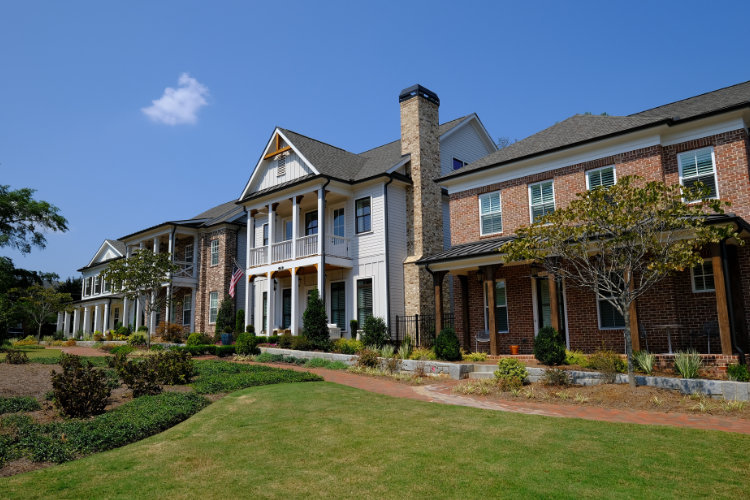 Alpharetta
Located in North Fulton County, just over twenty miles outside Atlanta, Alpharetta has fast become a popular place to live due to its high quality of life.
With the city's rapid growth, new multi-use developments have sprung up, filled with unique retailers, locally-owned restaurants, and community events. Downtown Alpharetta exudes an upscale yet approachable vibe with eclectic eateries and shops. Here residents and visitors will find one of a kind, locally-driven experiences such as outdoor yoga classes, live music under the stars, and food truck festivals.
Low crime rates and top-rated schools are also a massive draw. New home communities are conveniently located near stores and restaurants. Many are close to exceptional amenities, including golf clubs, swim and tennis clubs, parks, and recreational centers.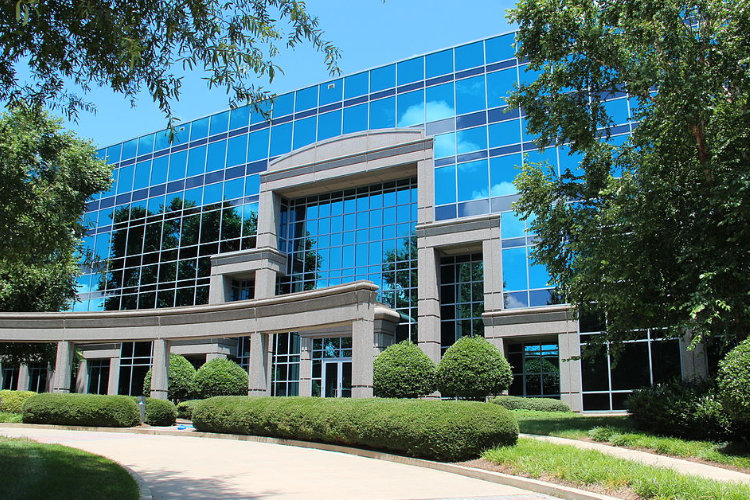 Johns Creek
Johns Creek is located in Fulton County, 25 miles northeast of Atlanta. Since the city's incorporation in 2006, it has grown rapidly, attracting Georgians who desire top-rated schools, beautiful homes, and luxurious amenities.
The city's Technology Park is an award-winning office and industrial hub for Fortune 500 companies and provides thousands of jobs in the area. Johns Creeks' population is well-educated, with 65% of residents having a bachelor's degree or higher.
Johns Creek has nationally ranked schools with stellar graduation and testing rates. Schools also offer the best in athletic programs, with some of the schools having state championship golf and tennis teams.
The city has a family-oriented, suburban atmosphere offering plentiful entertainment options, including movie theatres, restaurants, and nature trails for jogging and hiking. Much of social life centers around golf, swim, and tennis, as John Creek features world-renowned golf courses and country clubs.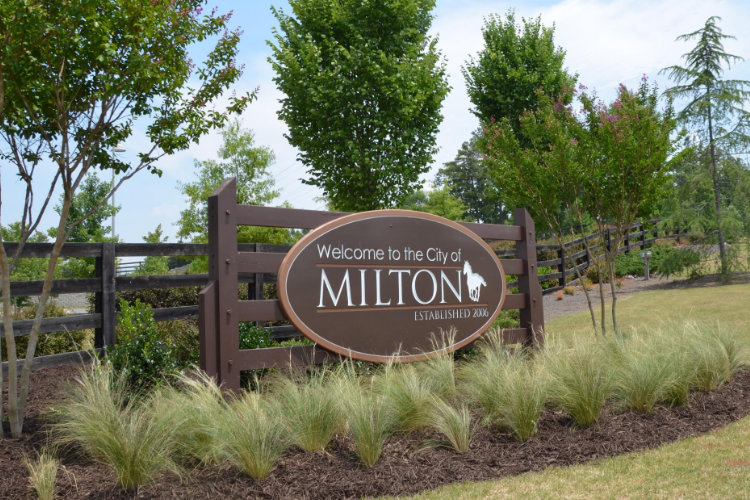 Milton
Milton is a rural, equestrian community located in Fulton County, just 27 miles north of Atlanta. This peaceful community is known for its rolling green hills dotted with equestrian properties, horse trails, and beautiful custom estates.
Despite its rural setting, Milton offers unique shopping and dining experiences, including Crabapple Market, a vibrant center filled with boutiques, salons, and eateries. Residents can visit the weekly farmer's market here and even participate in weekend outdoor yoga classes.
The schools in Milton are top-rated with numerous public and private options. Many scholastic, athletic, and extracurricular clubs and activities are available to students. Average test scores are much higher than the state average in Milton, as are graduation rates.
As an affluent community, many residents beyond to local country clubs. As an equestrian community, Wills Park offers outstanding equestrian facilities and other amenities such as pickleball courts, disc golf, a pool, a recreation center, and a dog park.
It is not uncommon to spot horses and their owners out on a ride along Milton's many trails. This lovely city offers upscale rural living without having to sacrifice the conveniences of big city life.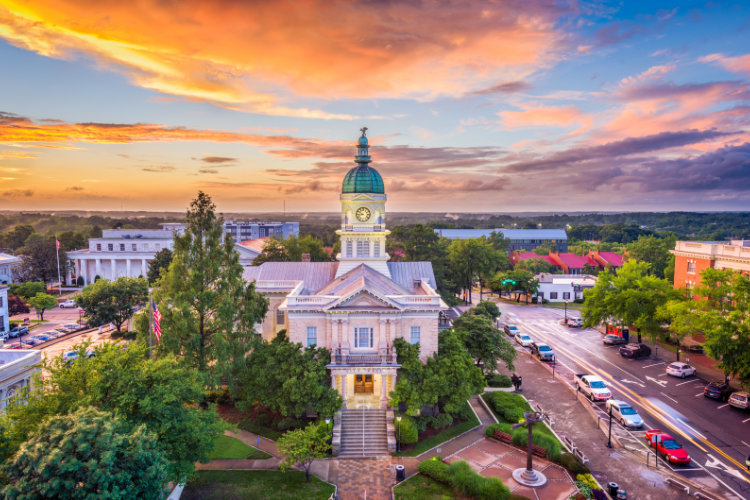 Athens
Athens is the quintessential college town, home to the University of Georgia and located sixty miles east of Atlanta. The city has a vibrant, diverse downtown area coupled with unique neighborhoods offering something for everyone. Additionally, historic buildings and districts give a small-town feeling to Athens.
The downtown area of Athens is full of restored Victorian-era buildings and is highly walkable and bicyclist friendly. The city has long been known for its thriving live music scene and features intimate jazz venues and a concert hall for the symphony.
Athens is a foodie's paradise, with award-winning restaurants, hipster coffee shops and coffee roasters, and the local farmer's market. In Athens, nightlife does not disappoint with lively bars offering craft cocktails, microbrews, and curated wine lists.
Athens has 21 public schools and 11 private schools to choose from. Public school student to teacher ratios is lower than the state average, giving students more access to their teachers.
Athens demographics skew to younger adults due to hosting the University of Georgia. The cost of living in Athens is lower than the national average, making it a rather affordable place to live.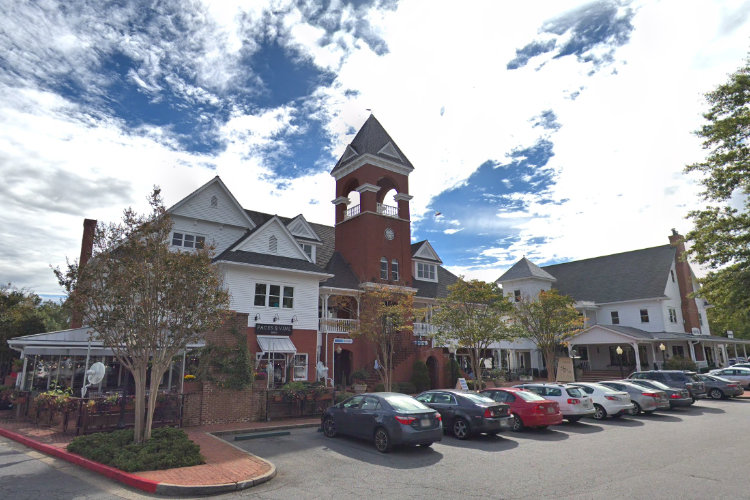 Vinings
Vinings is an unincorporated town in Cobb County located ten miles northwest of Atlanta. It is a quaint town with just under 10,000 residents, close to the Chattahoochee River and surrounded by natural beauty. Vinings is a charming community whose residents value the town's history and work to preserve its small-town, hospitable atmosphere.
Historic buildings, including the Pace House and the Old Pavilion, are at the heart of the historical community. Numerous annual events such as a golf tournament raise funds for the buildings' preservation.
Despite being a smaller town, Vinings offers outstanding shopping experiences at the outdoor center, Vinings Jubilee. The town's Cobb Energy Performing Arts Center is a top rate venue to catch nationally acclaimed performances from ballet to the opera.
A low crime rate and low taxes are just a few other reasons why Vinings is a sought-out place to live. Young professionals and families are attracted to the area by its promise of minimal traffic and quiet, peaceful ambiance.
Vining is part of the Cobb County School District, which boasts top-rated schools with graduation rates and testing scores on par with the national average.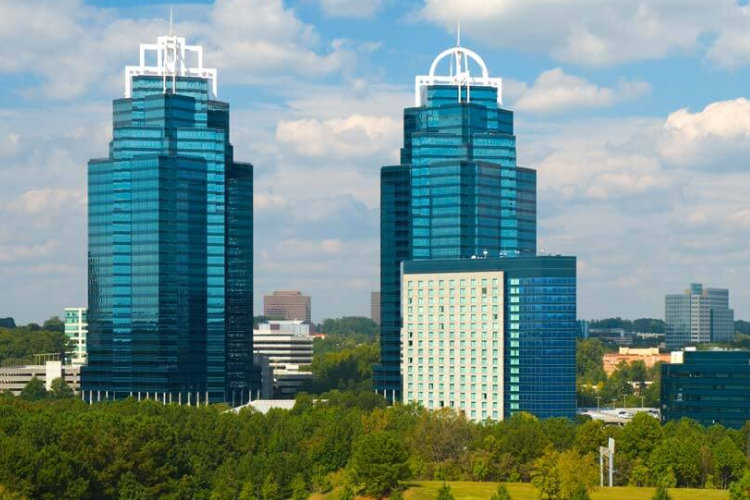 Sandy Springs
Sandy Springs offers the best of both worlds, with a lively urban downtown center that contrasts with the quiet and calm found in its residential sections. Located just twenty minutes outside of Atlanta in Fulton County, Sandy Springs offers easy access to the big city by car or the MARTA train system.
The downtown area of Sandy Springs is the home to numerous Fortune 500 companies, providing a strong economy and high-paying jobs. Downtown Sandy Springs is highly walkable and features unique shops and restaurants.
The Chattahoochee River provides over twenty miles of river shoreline winding through the city, giving residents easy access to kayaking, canoeing, and fishing. Ample parks, trails, and greenspace are available throughout Sandy Springs, creating a welcoming environment for runners, bikers, and walkers. It's an active community as residents have so many options for enjoying the outdoors. Outdoor concerts and festivals are common in the community at various parks and amphitheaters.
Sandy Springs has the highest concentration of medical centers in Georgia, with top-ranked hospitals and doctors. The city also has award-winning public and private schools and is part of the highly-rated Fulton County School District.
Sandy Springs does have an affluent demographic of wealthy families and professionals. Real estate options include something for everyone from beautiful custom estates lining the Chattahoochee River, high-rise urban living downtown, and traditional planned communities chock full of amenities.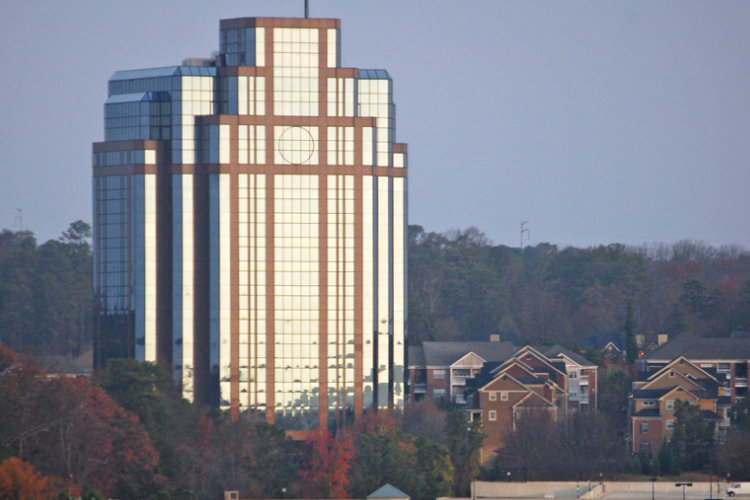 Credit: James Willamor
Dunwoody
Dunwoody is part of Dekalb County and is located fifteen miles north of Atlanta. Dunwoody is popular because of its small hometown feel while still close to some of Atlanta's endless amenities and conveniences.
Plentiful shopping and dining options are available at the luxury shopping locale, Perimeter Mall. The Dunwoody Nature Center offers kids science and nature camps and is the perfect spot for walking, jogging, and biking.
Dunwoody residents enjoy top-rated schools with higher than average graduation rates and test scores compared to the national average. There are numerous kids' sports leagues available to join with impeccable facilities at Murphey Candler Park.
Despite Dunwoody being a populous city, it exudes a small-town vibe with a close-knit community. Events including Apple Cider Days, the Butterfly Festival, and the Caffeine and Octane car shows are just a few of the places residents come together. Dunwoody offers affluent living and amenities with an unpretentious and welcoming air.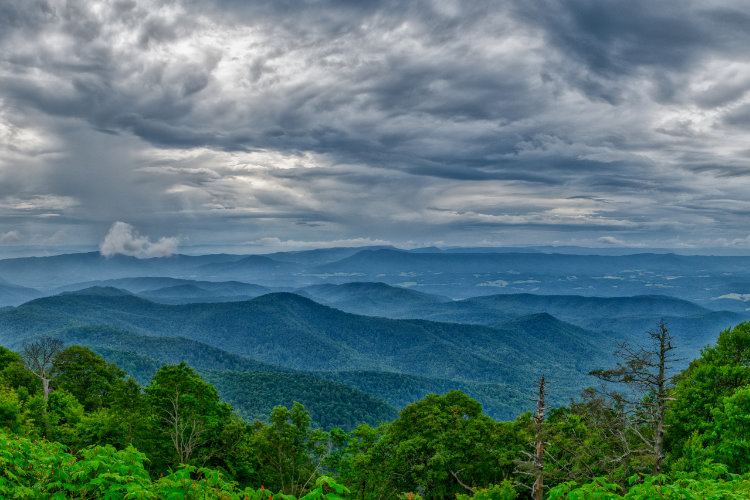 Blue Ridge
The picturesque town of Blue Ridge is 90 minutes north of Atlanta and sits in the rolling hills leading to the Blue Ridge Mountains. As a remote mountain town, Blue Ridge offers a peaceful haven surrounded by nature for tourists and residents alike.
Despite its quaint, storybook feel, Blue Ridge is anything but boring and old fashioned. Blue Ridge is full of eclectic boutiques, art studios, antique galleries, candy factories, wine shops, microbreweries, and hip restaurants. The historic, 100-year-old train depot is a focal point of the downtown. Various community events take place, including chili cook-offs and the annual Adventure Race.
Nature abounds in Blue Ridge due to its proximity to Lake Blue Ridge and the Toccoa River's sparkling waters. Trout fishing is a year-round activity in Blue Ridge, as well as hiking, mountain biking, canoeing, and kayaking.
Homes in the Blue Ridge area vary, with many Georgians having vacation homes in the area. There are affluent gated neighborhoods, lakeside resort-style properties, and even cozy cabins nestled throughout the wooded areas.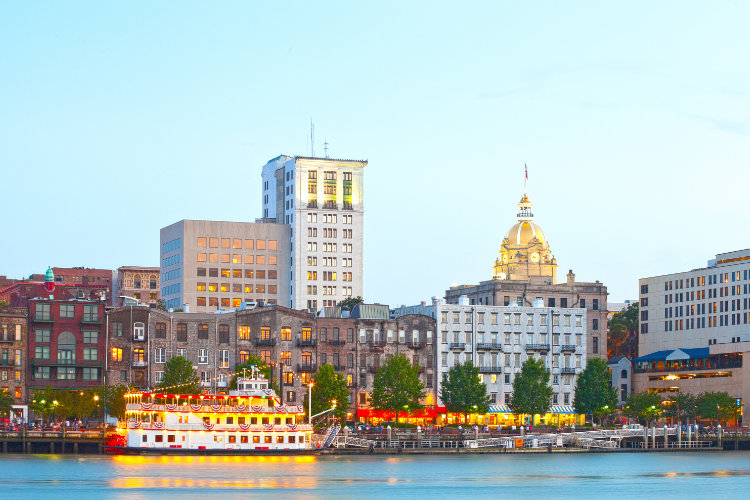 Savannah
Savannah is a magical city steeped in rich history, natural beauty, and Southern charm. It's perfectly situated on the Atlantic coast with beach access just 20 minutes outside its downtown area.
Savannah is renowned for its cobblestone parks, historical antebellum and Victorian homes, and winsome oak trees covered in Spanish moss. As a port city, it is a melting pot of diverse cultures with a lively community that appreciates and preserves the city's history and beauty.
With an up and coming restaurant scene and lively downtown nightlife, including piano bars, pubs, and dance clubs, there is something for everyone. The historic City Market district features over four blocks of unique shopping and dining, all surrounded by beautiful old restored buildings.
Savannah's River Street is the perfect place to take a stroll down cobblestone paths along the river. Enjoy locally sourced seafood, support a small boutique, or take a river cruise along the Savannah River.
There are numerous school choices in the Savannah area within the Savannah-Chatham School District. There are various education choices, including public schools, private schools, and charter and Montessori schools.
Many of the homes in Savannah have been restored and feature gorgeous wrap-around porches, stately pillars, large lots, all lining friendly neighborhood sidewalks. For those seeking a perfect location close to the beach and waterways with vibrant culture and history, Savannah is where it's at.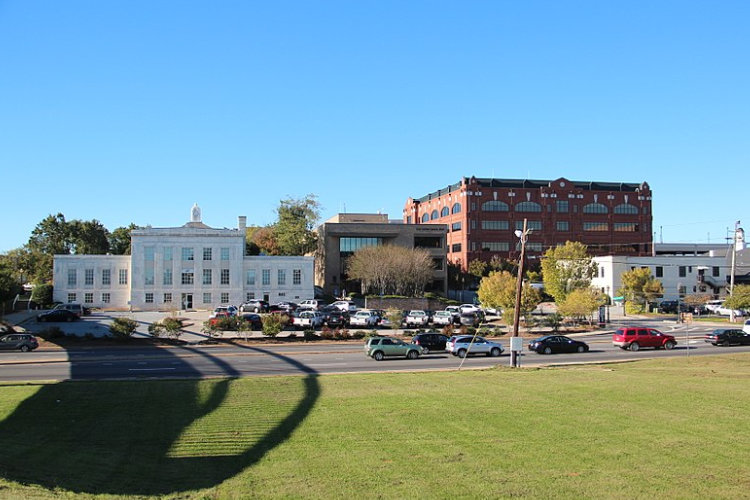 Gainesville
Gainesville is a rapidly growing city located in Hall County located just 30 minutes outside of Atlanta. This city is bordered by the shores of beautiful Lake Lanier and is set in the foothills of the Blue Ridge Mountains. Gainesville has a booming economy offering plentiful job opportunities with several companies and medical centers in the area.
The city's downtown area serves as the city square and is the hub for events such as the annual Mule Camp Festival. The downtown area is highly walkable, with the shopping and eatery options of a big city without the bustle of big city life.
Gainesville is home to highly rated Brenau University, which was established in 1878, and while Gainesville is a college town, it has more of a quiet suburban vibe. Schools in the area are highly diverse, with very tenured teachers.
Gainesville's city is a popular choice amongst families because of its proximity to Lake Lanier, the Blue Ridge Mountains, and Atlanta. It offers affordable housing, stable job growth, and endless amenities in the calm and convenience of suburbia.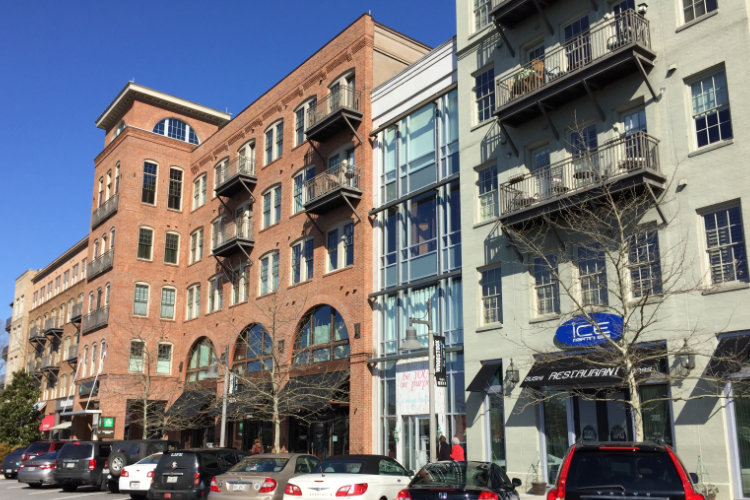 Woodstock
The City of Woodstock is recognized as one of the best places to live because of its compelling amenities, thriving economy, and top-rated schools. Woodstock sits 30 miles northwest of Atlanta in Cherokee County, offering a convenient commute into the big city.
Woodstock's historic downtown was revitalized in the early 2000s and has since become a hopping spot for people of all ages. The downtown area is buzzing with diverse, independently owned restaurants, art galleries, and unique shops to explore. Residents also still enjoy the comforts and convenience of nearby big box stores.
Woodstock boasts relatively low crime rates and schools with high graduation metrics and test scores. Outdoor activities abound in this active community, including hiking and picnicking in Olde Rope Park and kayaking down the nearby river.
Outstanding planned communities such as The Woodlands and Eagle Watch feature friendly suburban neighborhoods, nature trails, pools, and tennis courts. Golf is also a popular hobby in Woodstock, with two pristine golf courses to choose from.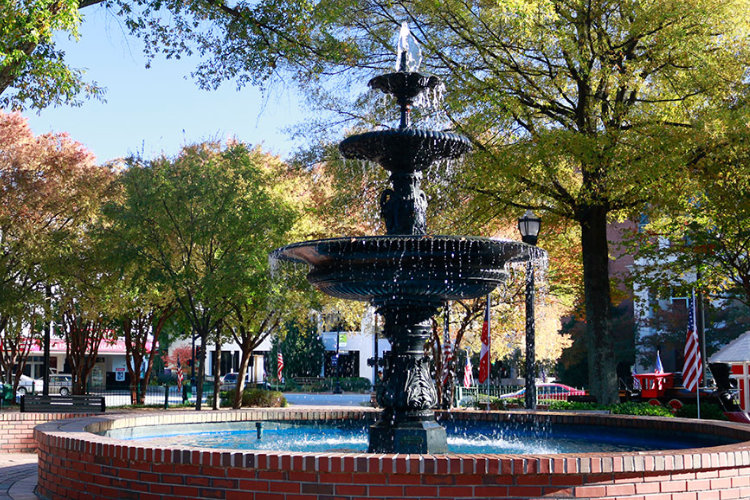 East Cobb
Just outside the Marietta city proper is the unincorporated area of East Cobb. While East Cobb features a Marietta address, it is a community distinctly its own and was recognized as Money Magazine's Best Place To Live in Georgia. The East Cobb area is in Cobb County and sits just 25 minutes northwest of Atlanta, near Sandy Springs and Roswell.
East Cobb has historically low crime and low tax rates. East Cobb contains recognized schools in Georgia. The high schools offer verbose academic and athletic programs with stellar graduation rates. Elementary and middle schools include STEM-focused learning and exceptional language programs.
East Cobb is an active community filled with young families taking part in youth and adult sports leagues and taking advantage of the area's ample parks and playgrounds. The Paper Mill Village is the community center for shopping, dining, and events such as Food Truck Mondays. East Cobb offers all sorts of dining options, from fine dining to Southern-style BBQ.
The neighborhoods throughout East Cobb are affluent suburbs filled with families. Many feature swim and tennis amenities for residents to enjoy.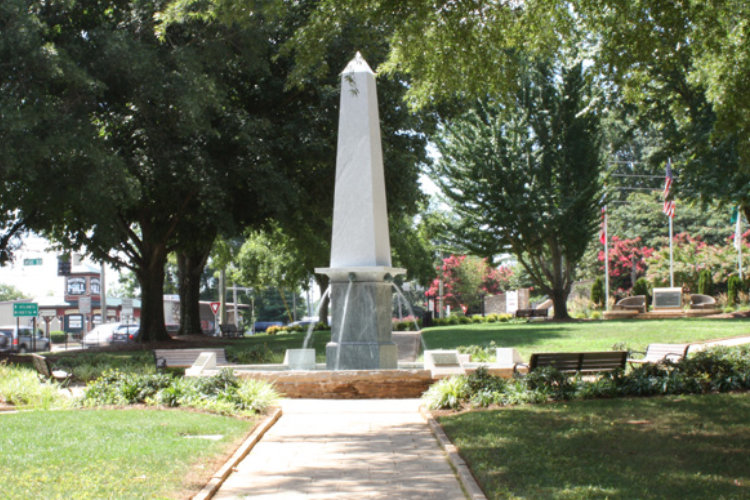 Roswell
Although Roswell is just 20 miles north of downtown Atlanta, it still feels like a charming small town tucked away from the chaos of the big city. The city has a welcoming, hospitable atmosphere with wide, tree-lined streets, a bustling historic downtown square, and exceptional schools.
Teacher to student ratios are higher than the national average, and numerous school programs focus on experiential learning opportunities such as internships, gardening experiences, and science lab work.
Community events abound in Roswell, including the monthly live music and food festival, Alive After Five, on lively Canton Street. Roswell has much to offer regarding outdoor entertainment, with 18 parks comprising of 800 gorgeous acres of green space. Sports leagues for youth and adults are available, including tennis, soccer, swimming, and even running groups.
Roswell has a mix of upscale and affordable neighborhoods. Beautiful mansions, luxury horse properties, and attractive single-family homes in planned communities make up Roswell neighborhoods.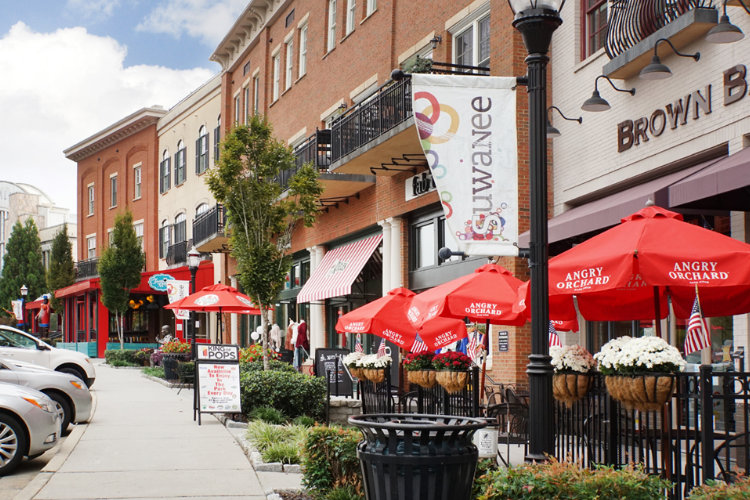 Suwanee
Over the years, Suwanee has consistently been recognized as one of Georgia's best places to live and best places to raise a family by national publications. Suwanee features a convenient commute of just 35 minutes to Atlanta and is a part of Gwinnett County.
Suwanee has experienced rapid growth over the past few years, keeping up with the influx of young families and empty nesters moving into the area. Much of the community is new construction, providing a modern, clean and safe atmosphere for residents.
Two main areas in Suwanee are the popular hot spots for shopping, dining, and community events, Old Town Suwanee and The Town Center. Old Town Suwanee is a historic district with charming and well-preserved homes and shops. The Town Center serves as the heart of community events with an amphitheater for concerts, winding walkways, plentiful green space, and attractive mixed-use commercial and residential buildings.
Schools in Suwanee have been repeatedly recognized as some of the top institutions in Georgia. Modern programs such as the CHARGEnorth intensive STEM program are just one example of the advanced education opportunities available to Suwanee students.
Suwanee is a friendly, close-knit community filled with relatively affluent residents. There are home options for everyone, with many newly constructed townhomes and single-family home communities.
Braselton
Braselton is the epitome of small-town Southern hospitality and charm. It is just 40 minutes outside of Atlanta and sits in four different counties, Barrow, Gwinnett, Hall, and Jackson.
While Braselton's population is much smaller than neighboring cities, the area is rapidly growing, attracting many young families and retirees. The city was recognized as the Safest City in Georgia by Alarm.org, with a crime rate five times lower than the state average.
With Braselton's rapid growth, new home communities abound, centered around amenities such as golf courses, pools, and tennis courts. For retirees, there are numerous active adult communities and activities to choose from.
Residents can use the Braselton Lifepath, a meandering paved pathway that interconnects Braselton home communities to the hub of Braselton. Residents in golf carts, bicyclists, walkers, and joggers all use the Lifepath for exercise, run errands, and connect as a community.
Braselton offers its residents wide open spaces, newer home communities, and a revitalized historic downtown area. Farmers markets, antique and art festivals, and Summer movies in the park are just a few of the fun events happening in Braselton, bringing the community closer.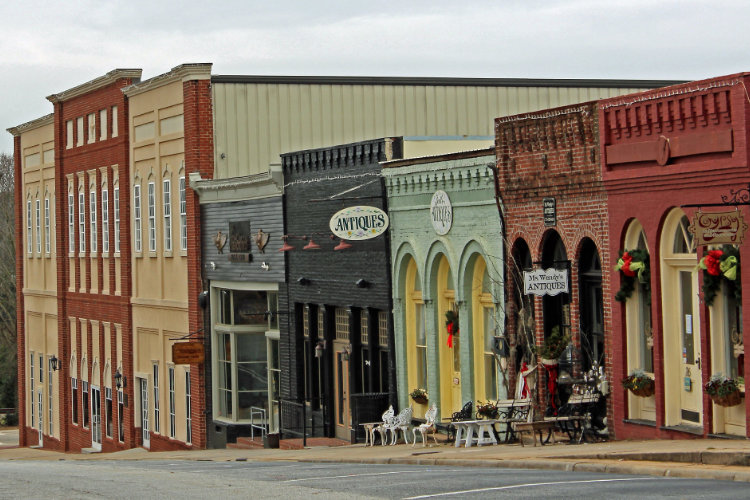 Senoia
Senoia is a quaint town just 35 minutes south of Atlanta in Coweta County. It is a picturesque small rural town surrounded by gently rolling hills. The town is famous as a filming location for movies such as Fried Green Tomatoes and Driving Miss Daisy and most recently, the television series The Walking Dead.
With The Walking Dead's popularity, Senoia has seen an influx of people moving to the area and a boom in tourism. This has prompted more locally owned businesses to pop up in the revitalized downtown area, including coffee shops, restaurants, antiques, and home decor boutiques. It's not uncommon to see locals driving through town on their golf carts rather than cars.
As a small town, Senoia boasts low crime rates with access to top-rated schools in Coweta County. There are beautiful custom farmhouse style homes in Senoia on large lots, many with front porches. With the population growing, there are also newly built home communities cropping up as well. For those seeking the country lifestyle and a welcoming, connected community, Senoia offers just that.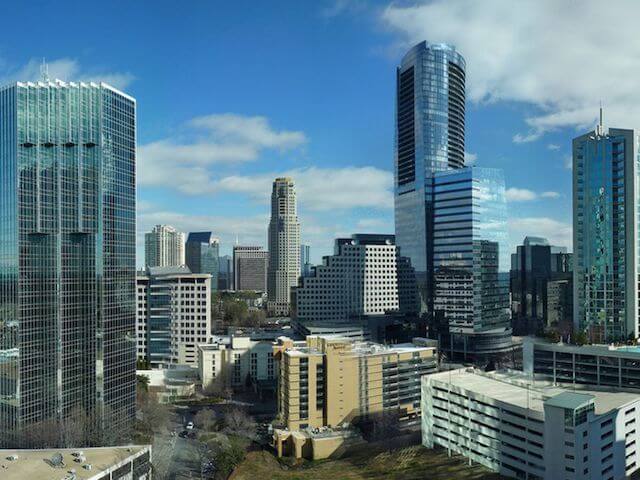 Buckhead (North Buckhead, Tuxedo Park, Historic Brookhaven)
Buckhead is a prestigious area in Atlanta made up of high rise buildings and condominiums at the city center, with over 40 exclusive neighborhoods surrounding the thriving business and financial district. Buckhead has long been known as an exceptionally wealthy area with very affluent families and opulent estates. Three communities within Buckhhead are known for their exceptionally high quality of life: North Buckhead, Tuxedo Park, and Historic Brookhaven.
The area of North Buckhead is a highly desirable neighborhood. Stately homes stand out amongst the densely forested landscape. The Blue Heron Nature Preserve and Little Nancy Creek Park are two well-maintained locations for walkers, joggers, and families to enjoy the great outdoors' natural beauty.
Tuxedo Park is a highly secluded section of Buckhead dating back to the 1800s. It is the premier luxury neighborhood, featuring historic and modern multi-million dollar mansions. The estates are extremely private, secluded behind lavish gates and watchful security. Mature trees and lush landscape line the streets, giving the area a formal feel with the highest level of sophistication and prestige.
Historic Brookhaven was established in 1910, and much of the community was developed around the focal point of the Capital City Club, a members-only country club. The club and original estates still stand today, many of which are recognized as historical properties. The luxurious homes in the area are steeped in history with enviable access to the exclusive club's amenities.
Families enjoy multiple exceptionally ranked public and private education options in Buckhead. Much of residents' social lives and activities revolve around memberships to Buckhead's public and private country clubs. For those desiring an exclusive, luxury lifestyle with proximity to high-end shopping and dining, Buckhead is everything and more.