The 7 Most Expensive Neighborhoods in Atlanta, GA
Posted by Trey Van Tuyl on Monday, December 14, 2020 at 10:58 AM
By Trey Van Tuyl / December 14, 2020
Comment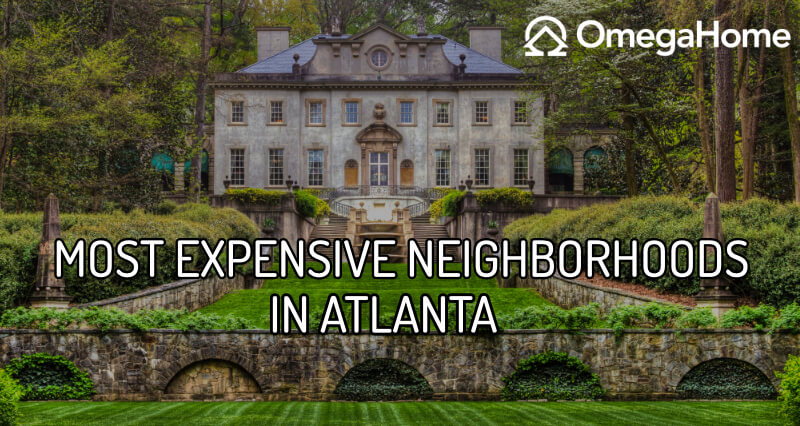 Looking for the most luxurious and expensive neighborhoods in Atlanta? We've compiled a comprehensive list of the most expensive areas in Atlanta based upon each area's median home price.
But first, a heads up: all of these neighborhoods are in Buckhead and some of these neighborhoods are small and somewhat esoteric enclaves that only contain a few hundred homes. We'll discuss why this is later on.
1. Tuxedo Park
Median home price in 2020: $3,000,000
Tuxedo Park is the most expensive neighborhood in Atlanta. It's also one of the most well-known neighborhoods in Buckhead due to it being the location of the Governor's Mansion. The neighborhood is closely associated with luxury real estate due to its sprawling estates with manicured lawns. Many of the homes within Tuxedo Park are architecturally significant and designed by some of the top architects in Atlanta.
While Tuxedo Park is a strictly residential neighborhood, it is located in a convenient central Buckhead location. Top Atlanta destinations like Lenox Square, Phipps Plaza, Buckhead Village, and Midtown are just minutes away from Tuxedo Park.
Basically, Tuxedo Park is the closest thing to Beverly Hills you'll find in the Southeast. Tourists often drive through here to gawk at homes and then shop at Atlanta's top malls.
2. Kingswood
Median home price in 2020: $2,750,000
Kingswood is a small enclave of around a hundred homes located off of the bustling West Paces Ferry Road. Despite being one of the most expensive neighborhoods in Atlanta, Kingswood is something of a secret. Many locals are far more familiar with the adjacent Tuxedo Park than they are with Kingswood.
Kingswood is a strictly residential neighborhood without any businesses within its borders. In Kingswood, you'll commonly find cul-de-sac homes on 1+ acre lots that are set back from tree-lined streets. It's also a quiet and sleepy neighborhood due to the lack of thru traffic. Nonetheless, residents pay for private security patrols throughout the neighborhood.
3. Argonne Forest
Median home price in 2020: $2,670,000
Located just to the south of the Governor's Mansion off West Paces Ferry Road lies Argonne Forest. The neighborhood is known for its mixture of older Traditional-style homes from the 1940s to newer, sprawling estates that span multiple acres. Consisting of just 180 homes, this exclusive enclave is only attainable by some of the wealthiest Atlantans.
As its name would suggest, Argonne Forest features a lush canopy of trees. The neighborhood was even named after the Forest of Argonne in France and several streets are named after battles that took place there during World War I.
4. Chastain Park
Median home price in 2020: $2,225,000
Chastain Park is a Buckhead neighborhood that is named after the sprawling 268-acre Chastain Memorial Park that is located within the neighborhood. The park serves as the neighborhood's primary attraction and contains a variety of attractions such as a golf course, playgrounds, trails, an arts center, a horse park, tennis courts, and even an outdoor amphitheater!
Real estate in Chastain Park is exactly what one expects in an affluent Buckhead neighborhood: stately homes featuring Traditional, European, or Ranch architectural influences on large lots with professional landscaping and tree-lined streets.
Chastain Park is located near the northern city limits of Atlanta and on the border of an area referred to as "ITP Sandy Springs". This location is particularly compelling if one has a need to commute to the northern suburbs of Metro Atlanta but also wants to live near the big-city amenities that Atlanta is known for.
5. Mt. Paran - Northside
Median home price in 2020: $2,100,000
Located off Exit 256 on I-75, the Mt. Paran - Northside neighborhood is one of the larger neighborhoods in Buckhead with around 1,200 homes. The neighborhood is dominated by single-family homes, many of which feature the Traditional or European architectural styles. There's just one commercial entity within the entire neighborhood, Mt. Paran Country Store.
One of the reasons why prices are so high in Mt. Paran - Northside is because of its convenient northwest Buckhead location. Mt. Paran - Northside is just minutes from Paces Ferry Plaza and The Battery. The neighborhood is also close to many of Atlanta's top private schools, such as Holy Spirit, Westminster, and Lovett.
6. Historic Brookhaven
Median home price: $1,850,000
Historic Brookhaven is a Buckhead neighborhood that was first established in the early 20th-century and is built around the Capital City Country Club. Many of the homes in the neighborhood are grandiose, pre-war estates on large lots. As its name suggests, the area is historically significant and has secured a place in the National Register of Historic Places.
One of the most compelling features of Historic Brookhaven is its location. For instance, the neighborhood is located incredibly close to Lenox Square, Phipps Plaza, and the many amenities along Peachtree Road. Despite being located near the financial and commercial heart of Buckhead, Historic Brookhaven boasts a tranquil atmosphere with tree-lined streets and minimal thru traffic.
Historic Brookhaven is sometimes referred to as just "Brookhaven", but it's not to be confused with the City of Brookhaven. For starters, Historic Brookhaven is located within the Buckhead district of Atlanta whereas Brookhaven, GA is its own distinct City. Also, average home prices are over 300% higher in Historic Brookhaven when compared to Brookhaven, GA!
7. Paces
Median home price in 2020: $1,675,000
Paces is a west Buckhead neighborhood that borders Vinings. Along its western border is the Chattahoochee River, which provides ample recreational opportunities for residents. Paces is also known for the high concentration of schools within its borders, including North Atlanta High School, Trinity School, The Lovett School, and The Westminister Schools.
Some of the most expensive homes in Atlanta can be found in Paces, such as Tyler Perry's record-breaking $15 million estate.
It's also worth mentioning that Paces is the only neighborhood on this list that features affordable condos within its borders. The River West condo complex is surprisingly attainable despite its swanky surroundings.
Conclusion
Wondering why all of the neighborhoods on this list are in Buckhead? Well, it's primarily because these enclaves are entirely composed of single-family homes and lack less expensive condos or townhomes. Larger intown neighborhoods like Virginia-Highlands had a shot at appearing on this list, but only if condo and townhome listings were excluded.
But it's also important to note that Buckhead as a whole is large and incredibly diverse. Just because someone lives in Buckhead doesn't mean they live in one of the multi-million dollar neighborhoods featured above. For example, the Peachtree Hills neighborhood of Buckhead features a large and inexpensive condo building that pushes down the neighborhoods' median list price to around $185,000!