The 12 Best Spots for Skyline Views of Atlanta [Free & Paid]
Posted by Trey Van Tuyl on Sunday, December 1, 2019 at 6:07 PM
By Trey Van Tuyl / December 1, 2019
Comment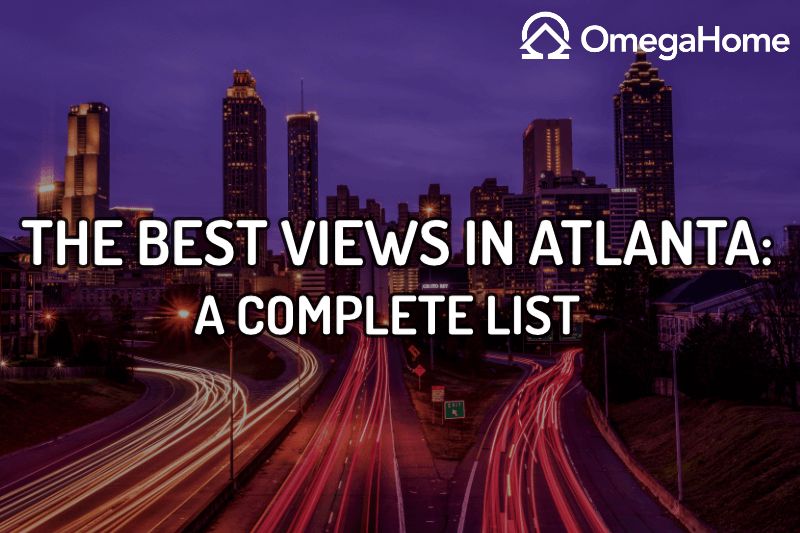 The Atlanta skyline is truly breathtaking, especially when combined with our gorgeous green canopy of trees. Accordingly, we've put together a comprehensive list of the many different locations where you can enjoy Atlanta's skyline. We've also included information on admission prices (if applicable) so that you can pick a location that's within your budget. Enjoy!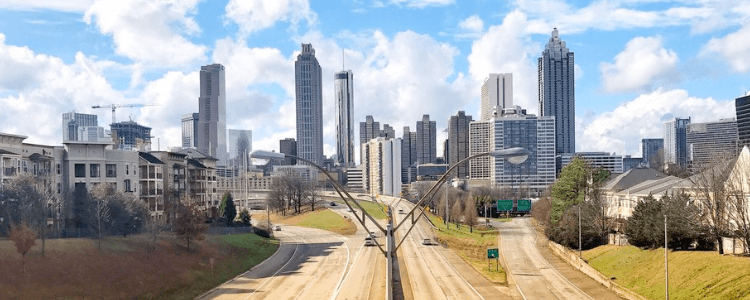 Jackson Street Bridge
170 Jackson St NE Atlanta, GA 30312
Price: Free
Without a doubt, the Jackson Street Bridge provides the most iconic view of Atlanta. The bridge is perhaps most notably known for being featured in the pilot episode of The Walking Dead when protagonist Rick Grimes was strolling down a desolate freeway on a horse. It's also been used in promos for the television show Atlanta.
The location is very Instagram-friendly and it's quite common to see the bridge packed with tourists or photographers. Also, since the bridge is located in Old Fourth Ward there are plenty of nearby eateries that you can walk to (like Krog Street Market). Free parking is available for any visitors along Jackson Street and on adjacent residential streets.
Pro tip: while the Jackson Street Bridge provides a great view day or night, consider visiting when traffic is light so you can obtain a photo without any cars in the background!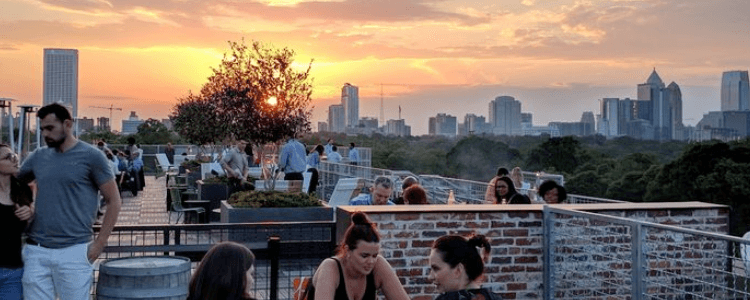 Skyline Park
675 Ponce De Leon Ave NE, Atlanta, GA 30308
Price: $10 per adult and $7 per child
Also located in Old Fourth Ward is Skyline Park on top of Ponce City Market. Visitors take a 90-second ride in a vintage elevator up to the rooftop where they'll learn about the history of Ponce City Market. On the rooftop, visitors are greeted with 360-degree views of Old Fourth Ward, Downtown, and Midtown. Additionally, there is an entire collection of upscale carnival games as well as places for food and drinks.
Skyline Park is best for someone who is looking for a great view while also open to a fun night out with kids, friends, or a date. The park has a somewhat polarizing perception among those purely seeking a nice view. If you aren't into carnival games like miniature golf, you probably won't consider the view alone to be worth the price of admission, especially if you have a large party. Also, the cover charge solely covers admission, all of the games are pay-per-play.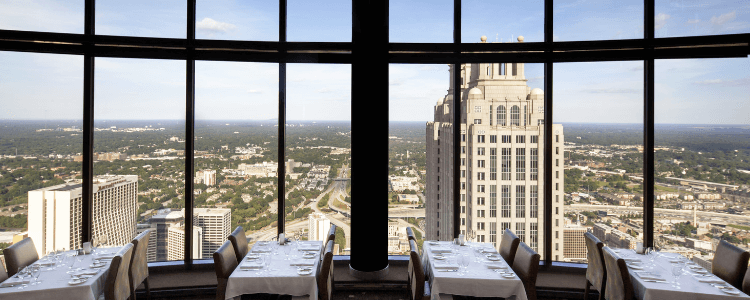 The Sun Dial Restaurant, Bar, & View
210 Peachtree St NW, Atlanta, GA 30303
Price: Varies
The Sun Dial restaurant is perched 723 feet above the city and occupies the top three floors of The Westin Peachtree Plaza. There's a full-service restaurant, bar, and observatory and all three offer 360-degree panoramic views of the Atlanta skyline including Stone Mountain, the CNN Center, and Centennial Olympic Park. The view is simply stunning and is the primary reason why people chose to dine at The Sun Dial
The restaurant used to revolve, offering patrons a continually changing view of the city. However, the feature has since been disabled since the tragic death of a child who was crushed due to the rotational feature. Patrons are still invited to walk around the restaurant to observe different views, though.
There's no charge for admission if you have a reservation at the restaurant, but access to the bar or observatory deck (named "The View") is priced at $8 per adult and $4 per child. The restaurant notably features a separate elevator from guests of The Westin is encased in glass, which offers an exhilarating experience as you ascend over 70 stories.
Pro tip: Go at sunset to experience a cinematic transition from the golden hour to the electrifying ambiance of Atlanta's nighttime skyline.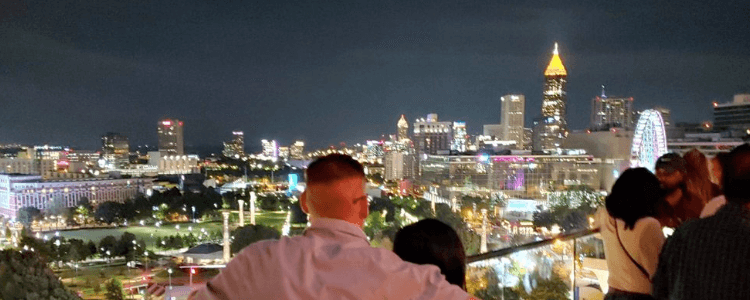 SkyLounge at Glenn Hotel
110 Marietta St NW, Atlanta, GA 30303
Price: Free admission on weekdays, $5 per person on weekends
SkyLounge is located at the very top of the Glenn Hotel in the Centennial Park district of Downtown Atlanta. It's an excellent place to enjoy alcoholic beverages while soaking in the urban views of Downtown Atlanta from 11 stories up high. There's a dedicated elevator (separate from the hotel) that takes you up to the rooftop lounge and no cover charge on weekdays. However, a $5 fee applies on weekends to non-hotel guests.
SkyLounge has an upscale yet low key ambiance, something ideal for a date night or night out with friends. It's also an ideal spot to relax after an Atlanta United or Falcons game. You can expect live music (usually acoustic guitar) played on Friday and Saturday nights.
Pro tip: SkyLounge is also an excellent New Years' Eve spot, as you can observe fireworks from their outdoor patio.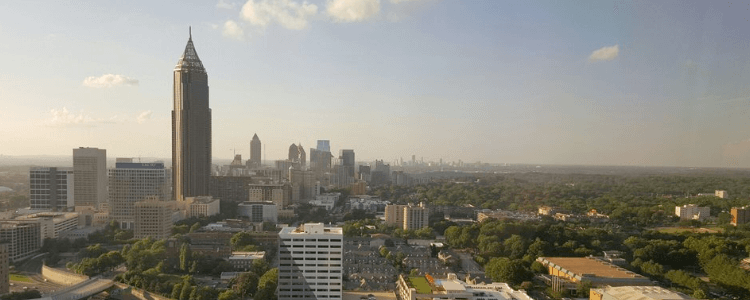 Nikolai's Roof
Price: Restaurant with free admission
255 Courtland St NE, Atlanta, GA 30303

Looking for a swanky fine dining restaurant with sweeping views of Downtown Atlanta? Check out Nikolai's Roof at the top of the Hilton Atlanta. The restaurant features multi-course Russian and French-inspired dishes are offered in addition to incredible views from 30 floors above Atlanta. It's a white tablecloth experience with an opulent and classy ambiance.
Pro tip: Nikolai's Roof holds a daily happy hour with specialty drinks.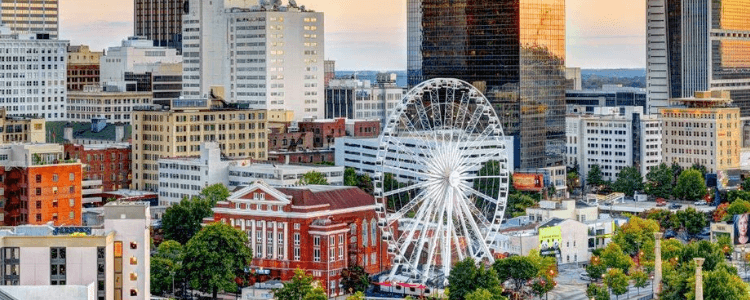 SkyView Atlanta
168 Luckie St NW, Atlanta, GA 30303
Price: ~$13 per person
Downtown Atlanta has its very own Ferris wheel called SkyView Atlanta. The duration of the ride is around 12 minutes with three rotations. The ride offers birds-eye views of Centennial Park as well as views of various other skyscrapers along the Atlanta skyline such as the CNN Center.
The gondolas are completely enclosed and air-conditioned during the summer, providing an escape from Atlanta's occasionally blistering heat. There's also a VIP gondola option with leather seats, drinks, glass floors, and extended 30-minute ride time.
Pro tip: SkyView Atlanta is open late and best experienced at night, particularly on a date night! Also, check Groupon for deals before paying sticker price.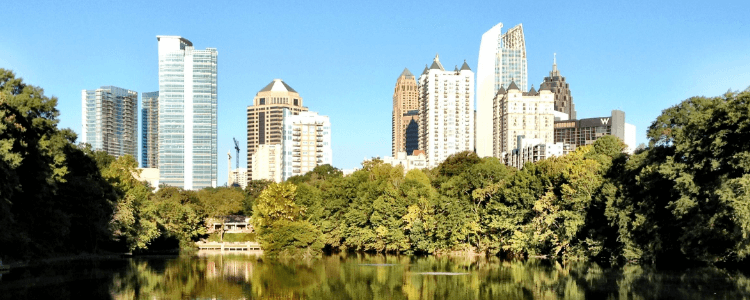 Piedmont Park
Charles Allen Dr, Atlanta, GA 30309
Price: Free
Piedmont Park is basically Atlanta's version of New York City's Central Park. Located in the hustle and bustle of Midtown, the 185-acre park has plenty of opportunities to check out the Midtown skyline. The park's rolling green hills combined with Midtown's towering skyscrapers really creates a unique aesthetic.
Pro tip: For the most breathtaking experience, check out Lake Clara Meer along Charles Allen Dr.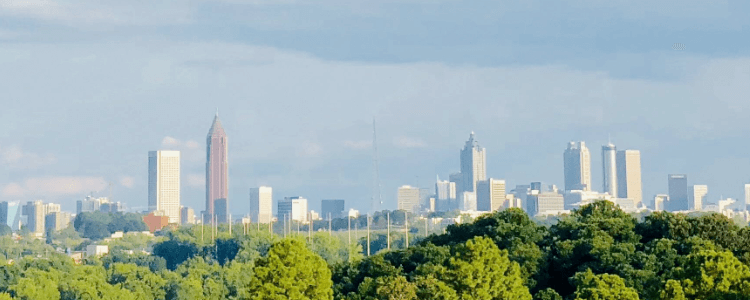 Crest Lawn Memorial Park
2000 Marietta Blvd NW, Atlanta, GA 30318
Price: Free
Crest Lawn Cemetery is a 145-acre cemetery located in an area of Atlanta called the "Upper Westside". As one of the most historically significant cemeteries in Georgia, as it was the site of a Civil War battle and it's over a century old. Most importantly, those willing to ascend some of the cemetery's steeper hills will be rewarded with sweeping views of both Midtown and Downtown. Believe it or not, but the cemetery is frequented by joggers because of the pleasing views and challenging inclines. Feel free to stroll on by any time, as you can visit for free.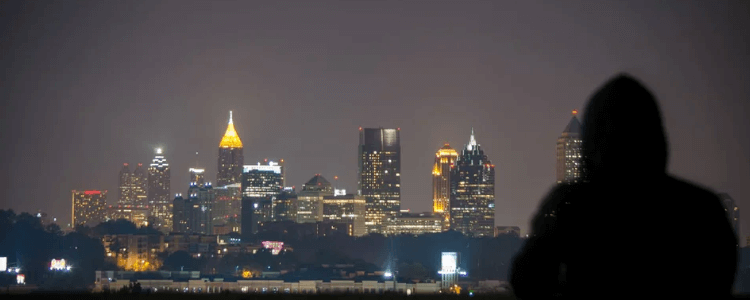 Garson Parking Deck
Garson Dr NE, Atlanta, GA 30324
Price: $2.50 - $6
For those looking for a very quiet and relaxed place to absorb skyline Atlanta views, I'd recommend the top floor of the Garson Parking Deck at the Lindbergh MARTA Station. The spot is something of an urban secret and it's unlikely that you'll find anyone else there for the view. It's the perfect spot for someone looking to take in a city view and the hums of the city without any sort of distractions. It would also be perfect for someone searching for a "lovers' lane" in Atlanta. However, it should be noted that this location is only accessible by car.
In order to secure discounted parking, simply travel into the Lindbergh Center MARTA Station and travel to the north or south ends of the station and find the validation station. You'll be able to secure discounted parking, as you only had to pay the cost for a one-way MARTA admission ($2.50). For those who would prefer to avoid the hassle, you can just pay $6 for two hours via the parking attendants.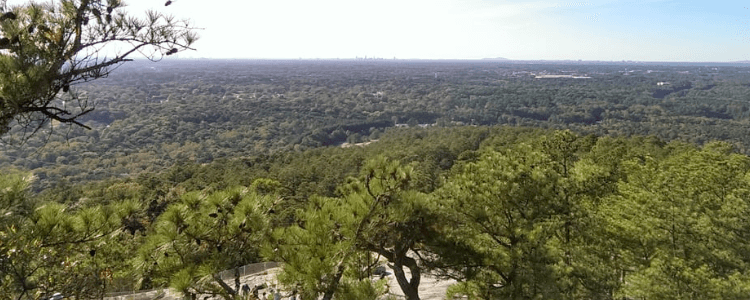 Stone Mountain Park
1000 Robert E Lee Blvd, Stone Mountain, GA 30083
Price: $15 for a daily parking pass
Looking for breathtaking views combined with a hike? Check out Stone Mountain, located just around 20 miles east of Downtown Atlanta. Stone Mountain is a giant quartz dome that features a 1.3-mile walk-up trail to the peak. Those who decide to hike up can check out all of the fascinating carvings that visitors from over a century ago carved into the stone. The hike is also friendly for people of all ages and levels of athleticism. There's also a gondola which allows a quick ride up to the peak without hiking up.
Those who reach the peak will be rewarded with cool winds and panoramic views that stretch all the way to Downtown Atlanta. You'll also notice Metro Atlanta's expansive canopy of trees.
Pro tip: There's a concession area at the peak, where you can reward yourself with a refreshing ICEE.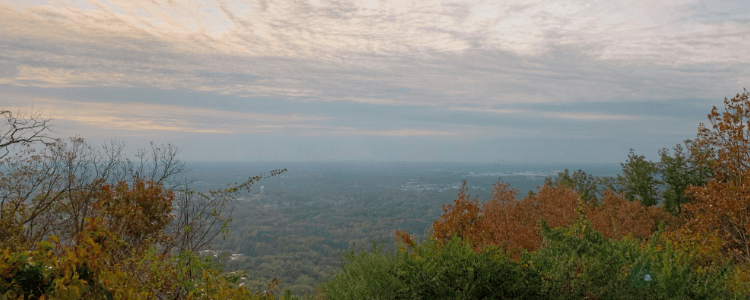 Kennesaw Mountain National Battlefield Park
900 Kennesaw Mountain Dr, Kennesaw, GA 30152
Price: $5 for parking
Kenesaw Mountain is another great option for someone looking for a hike that yields some city views. It's much more heavily wooded than Stone Mountain, which some enjoy as an escape from Atlanta's summer heat. Also, there's an option to drive up to the top of the mountain and park rather than hike.
The hike to the summit is around two miles with a moderate grade. The hike ends with sweeping skyline views of Atlanta, a well-deserved treat after the engaging climb.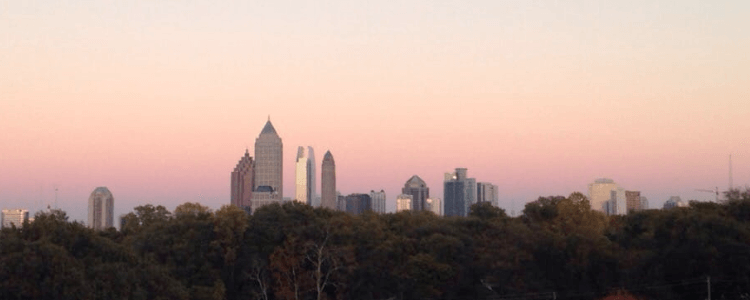 Six Feet Under Pub & Fish House
685 11th St NW, Atlanta, GA 30318
Price: Restaurant with free admission
Six Feet Under Pub & Fish House features an excellent unobstructed view of Atlanta's skyline from its rooftop patio. Specifically, there are views of both the Midtown and Downtown skylines. The menu is filled with fried foods and the restaurant is known for its selection of drinks. The ambiance is very laid back and it's a great place to enjoy. Overall, it's a great, low-key restaurant to relax with friends.
Pro tip: The West Midtown location (address noted above) has the best views, not the Grant Park location.