Living in Dunwoody, GA: 2021 Community Guide
Posted by Trey Van Tuyl on Sunday, February 14, 2021 at 10:32 AM
By Trey Van Tuyl / February 14, 2021
Comment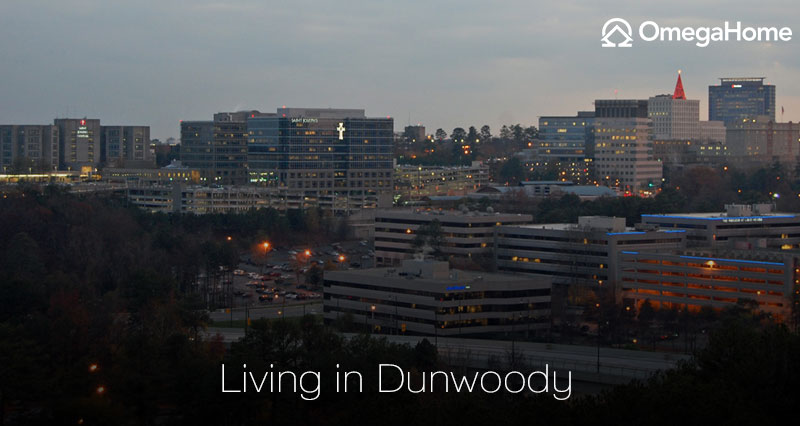 Credit: James Willamor (modified)
Lying just outside the I-285 Perimeter, in DeKalb County, Dunwoody is an affluent suburban city with a population of almost 49,000. Dunwoody is bordered by Sandy Springs, Chamblee, and Brookhaven. Although downtown Atlanta is only 17 miles to the south, Dunwoody retains a relaxed, small-town atmosphere tucked away from Atlanta's hustle and bustle.
Dunwoody was incorporated in 2008, although its history dates back to the 1830s. Today, the city is known for its ethnic and cultural diversity, eclectic shopping and dining scene, and a strong sense of community spirit. Dunwoody's southern end is dominated by the busy Perimeter area, with its mix of high-rise office buildings, shopping malls, retail complexes, and hospitals. Further north, Dunwoody is defined by quiet residential streets and country clubs, with a charming village crossing marking the center of community life.
Although Dunwoody has experienced an explosion in growth over recent years, the city government has enacted ordinances that mandate greenspace expansion, limits on high-density housing, and continued investment in pedestrian infrastructure. Thanks to these progressive moves, Dunwoody maintains a tranquil, suburban vibe, and residents enjoy a laid-back pace of life.
With its strong local economy, proximity to Atlanta and surrounding suburbs, and a wide variety of real estate options, it's no wonder Dunwoody has become one of the metro area's most desirable places to live. Let's take a closer look at what makes Dunwoody so special.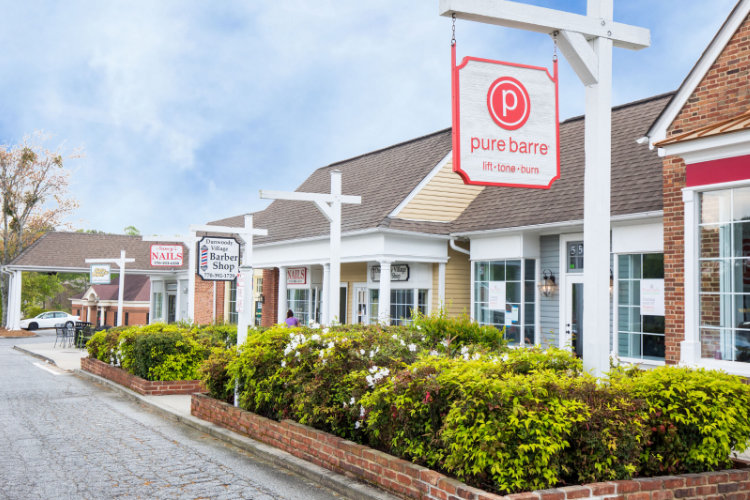 Dunwoody Village, a popular shopping destination.
Credit: Lennar
Lifestyle and Culture in Dunwoody
The I-285 Perimeter defines Dunwoody's southern border and provides easy access to all of Atlanta. Plenty of Dunwoody residents make the daily commute, with driving times averaging around 30 minutes.
Many people prefer to use public transport, and Dunwoody is well-served in that regard. Residents can choose between 2 MARTA stations: North Springs and Dunwoody. Both of these stations provide a direct link to the Atlanta Airport via the central Atlanta corridor.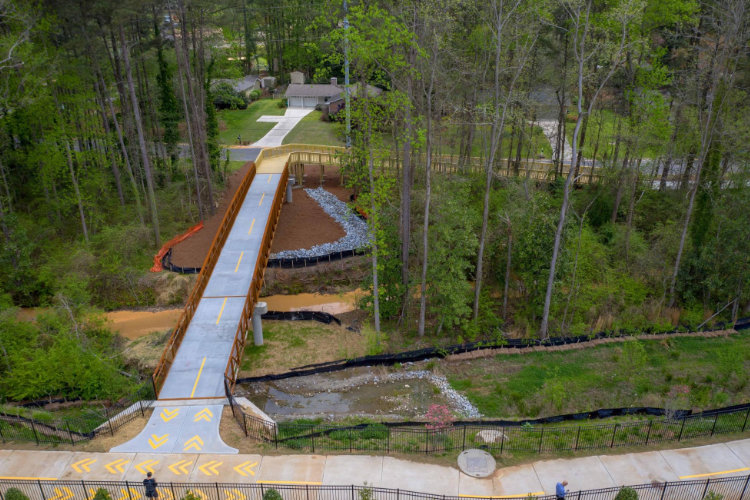 Newly constructed portion of the Dunwoody Trailway
Dunwoody is very pedestrian-friendly and features sidewalks with tree-lined residential streets. Biking is also popular in Dunwoody, and the city continues to develop a series of interconnected multi-use trails, such as the popular Dunwoody Trailway.
Dunwoody is known for its wide variety of shopping and dining options, and people flock here to visit malls, shop in unique boutiques, and dine at top-rated restaurants. Some of the best Indian, Spanish, and Mexican food in the Atlanta area can be found here, along with tried-and-tested local favorites,
Dunwoody Village is the center of everyday life in Dunwoody and home to many of its most beloved stores and restaurants. Its unique Colonial Williamsburg-style architecture began with the Dunwoody Village Shopping Center's construction, and many subsequent developments have followed suit. This area is where locals come to shop, run errands, and socialize, and it's also the setting for many of Dunwoody's community events.
The Perimeter Center, at Dunwoody's south end, is a major business and retail center. This area continues to develop live/work/play communities and draws those who enjoy its proximity to I-285 and the Dunwoody MARTA station. This area is also home to the enormous Perimeter Mall, one of Atlanta's most popular shopping destinations. This mall is a shopaholics paradise, with hundreds of stores and dozens of restaurants.
Folks in Dunwoody are rightly proud of their city's cultural and historical heritage, and there's a long tradition of preservation here. In 1994, the threatened destruction of the 1906 'Dunwoody Farmhouse' led to the formation of the Dunwoody Preservation Trust, and locals rallied to save the building. This is now the city's geographic and emotional heart, and many community events are held here.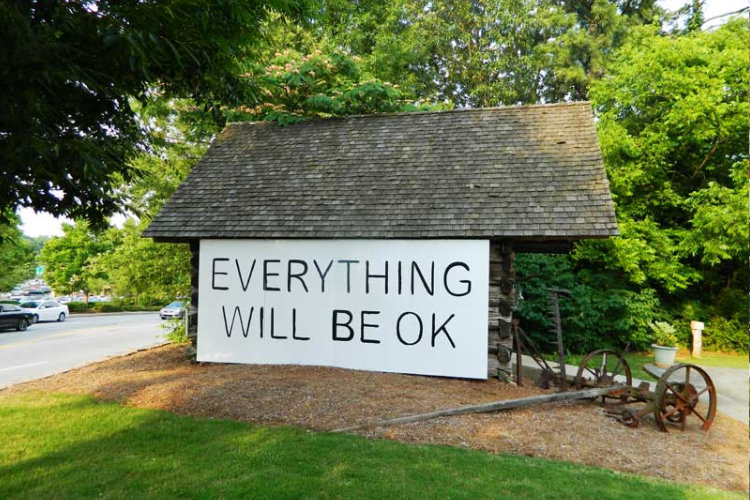 "Everything Will Be OK" sign, a famous Dunwoody landmark. Credit: Spruill Center for the Arts
The Spruill Center For The Arts and the Spruill Gallery provide the anchors for the local arts scene in Dunwoody, with local and regional artists represented. A mural outside the gallery that proclaims "Everything Will Be OK" has become a definitive feature of Dunwoody Village, and locals made sure that it became a permanent fixture.
Dunwoody residents take every opportunity to gather as a community, and events and festivals occur throughout the year. The local Farmers Market is held each Saturday in Brook Run Park and offers visitors the opportunity to sample some of the best locally-grown produce around. The Dunwoody Art Festival is a highlight of the year and draws thousands of visitors from all over the region, while summer concerts at Dunwoody Nature Center are more low-key affairs, where locals can cozy up on blankets and enjoy a picnic.
The weather in Dunwoody is defined by hot, humid summers and cool, wet winters. Whatever the season, Dunwoody residents love to get outdoors and enjoy the 170 acres of green space in their city. There are 7 major parks in Dunwoody, and there's plenty on offer for everyone. Dunwoody Park is a fabulous 35-acre park that features trails, camping, and geocaching, while Brook Run Park is the city's crowning jewel. This 110-acre park is where many of Dunwoody's events and festivals are held, and it's also home to an aerial adventure park.
Dunwoody has become an increasingly popular choice among families with children, and there are plenty of education options available. The DeKalb County School District operates top-rated schools like Austin Elementary, Dunwoody Elementary, and Dunwoody High School. For higher education, Georgia State University: Perimeter College features a Dunwoody campus, and the Art Institute of Atlanta is also located here.
Things to Do in Dunwoody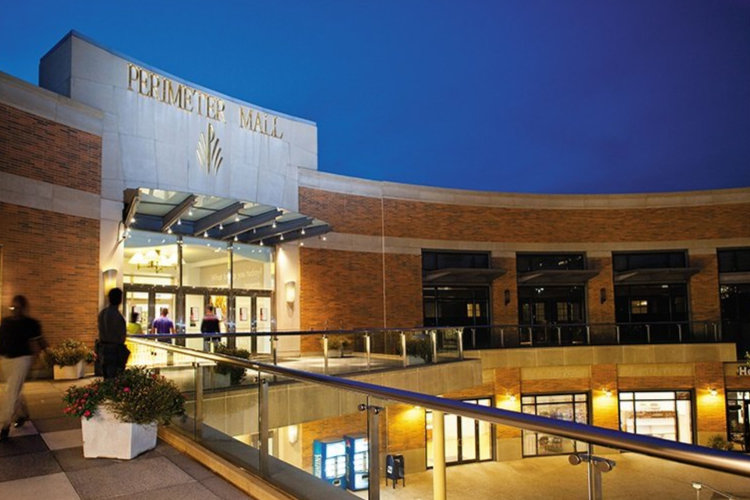 Perimeter Mall
Perimeter Mall opened in 1971 and quickly became one of the region's hottest shopping destinations. Today, Perimeter Mall is the second-largest mall in the state and continues to draw visitors from all of Metro Atlanta.
There are over 150 retailers here, and shoppers can find everything from name-brand clothing stores, electronics, and furniture to unique outlets and novelty shops. Dining options abound, and it's easy to spend a fun day here.
Perimeter Mall is a blend of indoor and outdoor shopping, with gardens and pathways providing an attractive atmosphere. There's plenty of parking and even a valet service for high-rollers! Getting to Perimeter Mall is even more effortless by public transit, and the Dunwoody MARTA station is within easy walking distance.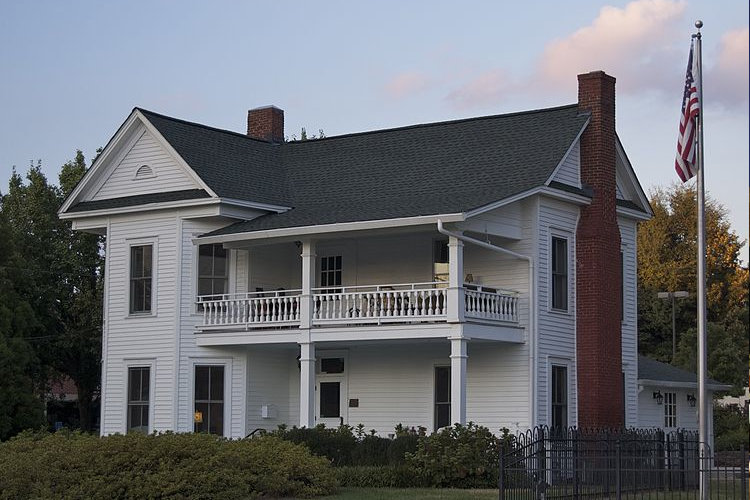 Dunwoody Farmhouse. Credit: Malsner4
Dunwoody's Historic Sites
Dunwoody is home to several historic sites, and the local community has fought hard to preserve the city's heritage. The Cheek-Spruill House, known as the 'Dunwoody Farmhouse' sits at the center of Dunwoody Village, and this simple, 2-story home dates back to 1906. Although it's now home to law offices, visitors can enter the history room for a fascinating trip back in time.
The Donaldson-Banner House is another beautiful old building, and gorgeous public gardens surround this 1870 plantation-style structure. The house is available to rent for parties and events, and the grounds are ideal for a picnic on a warm day. Other important historical sites, such as the Stephen Martin Cemetery and the New Hope Cemetery, are more hidden from view, but history buffs will love finding these relics of Dunwoody's past.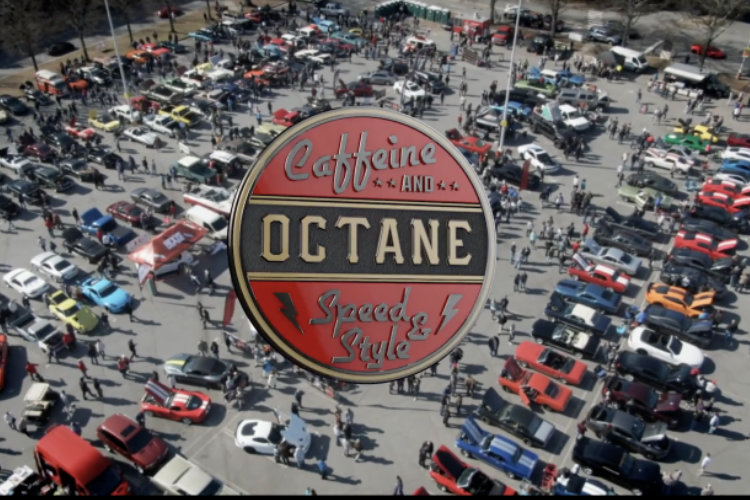 Caffeine and Octane
On the first Sunday of every month, car enthusiasts from all over the country gather at Perimeter Mall for the nation's largest monthly car show. This amazing spectacle features thousands of vintage autos, muscle-cars, high-performance vehicles, and exotics, and thousands of spectators come to admire the show.
Although there's plenty of parking, you'll want to get there early, as spots disappear pretty quickly. Look out for TV cameras, too - Caffeine and Octane is now the subject of a show on the NBC Sports Network.
Treetop Quest
Catering to adrenaline junkies and thrill-seekers of all ages, Treetop Quest is a fantastic aerial adventure park located in Brook Run Park. Treetop Quest provides obstacle courses that run through the canopy, with zip-lines connecting the trees. You'll have gloves and a harness, and the friendly staff makes sure you understand how it all works before setting you free.
Treetop Quest features various courses, ranging from the kid-friendly 'Chickpeas' course to a difficult challenge that's only for those who think they're strong enough. This adventure park is a fantastic place to visit, and you're best advised to book ahead for the 2.5-hour experience.
Dunwoody Art Festival
Dunwoody Art Festival is held on Mother's Day weekend each year and attracts top artists from all over the country, who chrome to showcase their finest work for sale. The festival is one of the most popular events in the region, and draws over 100,000 people to Dunwoody Village's streets.
Dunwoody Village Parkway is transformed into a charming arts and crafts market, with stalls lining either side of the street. Vendors sell paintings, glasswork, photography, ceramics, and much more, and there's a popular food court as well as a live music stage. Parents can rest assured that the little ones will have plenty to keep them occupied in the Kidz Zone, which offers face painting, crafting, and inflatables.
Parks and Recreation in Dunwoody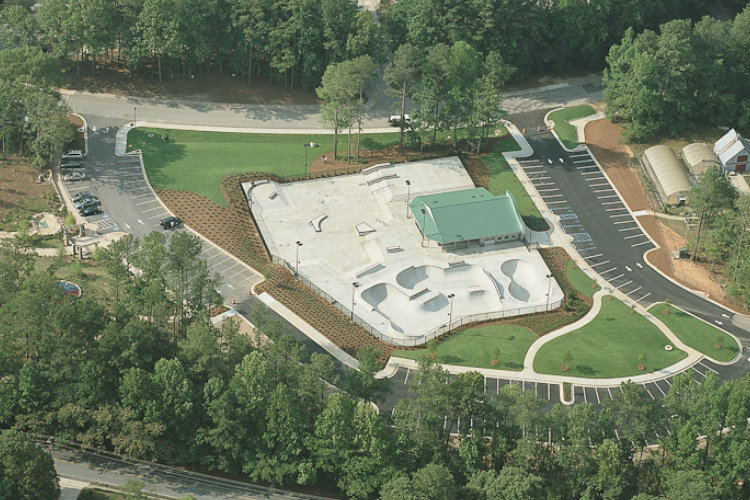 Brook Run Skatepark
Brooks Run Park
Located on North Peachtree Road, 110-acre Brooks Run Park is Dunwoody's largest and most popular. Brooks Run features a massive kids playground, a 2-mile multi-use trail, an excellent skate park, and community gardens. There's also a dog park here, which provides a great place for dogs and their owners to socialize.
Brooks Run Park hosts regular senior baseball games, and 2 artificial turf fields are meticulously maintained. As well as being home to Treetop Quest, Brooks Run Park also plays host to many of the city's most popular events and festivals, including the Farmers Market and Food Truck Thursdays, a culinary extravaganza that never fails to deliver amazing food choices.
Dunwoody Nature Center
At 35 acres, Dunwoody Park offers year-round relaxation and recreation. This beloved local park is located in the north end of Dunwoody and is also home to Dunwoody Nature Center. This gorgeous nature preserve is set among beautiful woods, and nature trails pass through the deciduous trees, past pretty Wildcat Creek.
There's plenty to do and see at the Nature Center, including a Native American teepee, a cool treehouse, and a relaxing hammock garden. Local kids love this place, and the center offers several camps and classes, with a focus on preservation and science. Dunwoody residents take environmentalism seriously, and Dunwoody Nature Center has a well-supported volunteer program.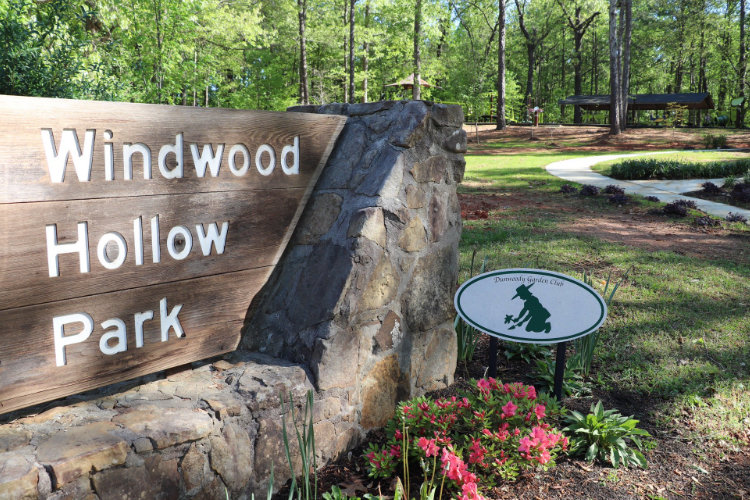 Windwood Hollow Park
Windwood Hollow Park is a low-key neighborhood green space that is ideal for spending a relaxing afternoon. The park features a playground, tennis courts, picnic pavilions, and nature trails, as well as a lovely open meadow that's perfect for a quick game of frisbee with friends.
Windwood Hollow Park is located on Peeler Road, across from the reservoir. This pretty, lake-like reservoir features a pathway that's popular with runners and dog walkers, providing a great place to let off some steam before relaxing in the park.
Morgan Falls Overlook Park
Morgan Falls Overlook Park is located in Sandy Springs, about 15 minutes drive from Dunwoody. Opened in 2010, this amazing park has quickly become one of the most popular spots in the area to bring a picnic and watch the sun go down.
The park looks out over the magnificent Chattahoochee River, and there are porch swings and shaded picnic pavilions that provide relaxing places to sit and enjoy the park's relaxing atmosphere. Trails lead to the edge of the bluff, with the Chattahoochee directly below, and the views are stunning. There are fire pits, a fishing pier, and launching points for kayaks at this wonderful park, and in the summer, you'll see locals floating the river on innertubes.
Real Estate in Dunwoody
Much of Dunwoody's real estate consists of brick ranch-style and 2-story single-family homes constructed in the 1970s and 1980s. Established neighborhoods such as Georgetown and Dunwoody Village feature single-family homes on large, beautifully landscaped lots, and quiet, tree-lined streets are friendly and walkable.
Newer construction can be found near Perimeter Center, where modern developments promote a live/work/play lifestyle. This is where you'll find luxury condos and elegant townhome communities that appeal to those who enjoy easy access to transportation, shopping, and dining.