Living in East Cobb: 2021 Community Guide
Posted by Trey Van Tuyl on Sunday, February 21, 2021 at 4:58 PM
By Trey Van Tuyl / February 21, 2021
Comment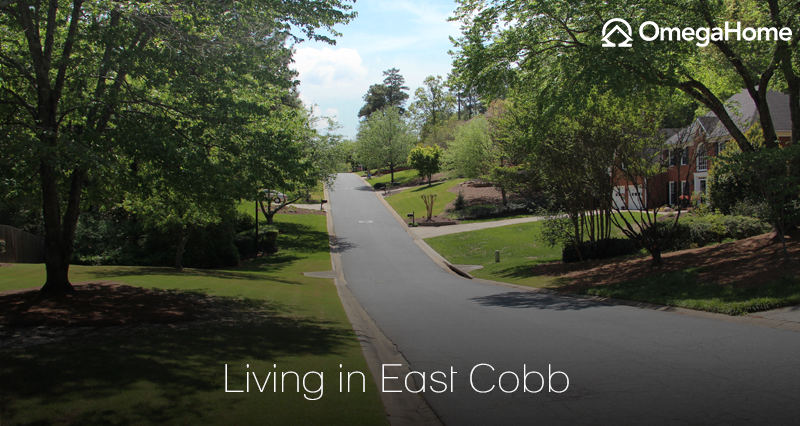 East Cobb is an unincorporated community in Cobb County, about 20 miles north of downtown Atlanta. Notably, East Cobb doesn't have any official boundaries. Still, it's generally considered the area bordered by Cherokee County to the north, I-75 to the west, the Chattahoochee River to the southeast, and Fulton County to the south.
East Cobb provides residents with a quiet, bucolic setting, and there's a close-knit community feel here, centered around events for all ages, supporting local schools, and socializing with neighbors.
East Cobb residents are quite proud of where they live. In fact, you are far more likely to find that someone describes where they live as "East Cobb" rather than Marietta.
Folks in East Cobb are proud of their community and take full advantage of the shopping, dining, and recreation opportunities on offer. There's a traditional suburban vibe here and an identity that's quite separate from neighboring (and more rural) West Cobb.
East Cobb is one of the metro area's most sought-after places to live, and the cost of real estate reflects this. Prices are much higher than in neighboring West Cobb, and properties seldom stay on the market for long. Families flock here for the highly-rated schools, friendly atmosphere, and easy access to Atlanta and the surrounding areas.
Let's take a closer look at what makes East Cobb such a desirable place to live.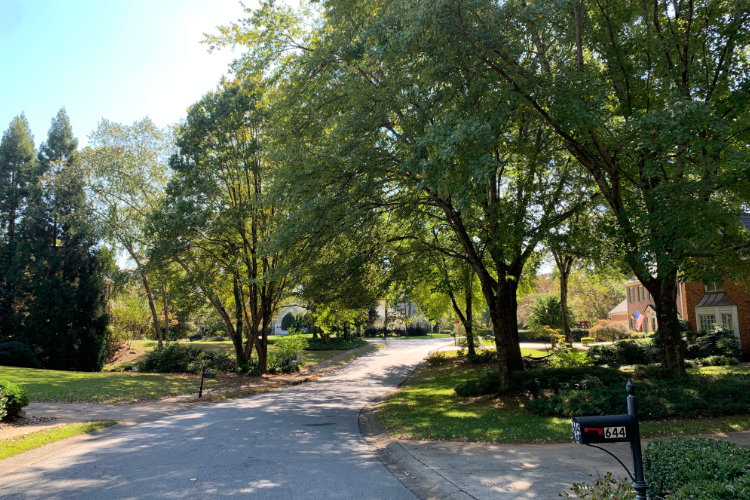 East Cobb abounds with nature, as seen from this shot of the
Sibley Forest
subdivision
Lifestyle and Culture in East Cobb
East Cobb's convenient location is one of its most attractive features, drawing those who want to live in a place with a small-town feel that also provides easy access to the big city.
Commuting to downtown Atlanta via I-75 is much easier from East Cobb than West Cobb, and driving times range from 30 - 40 minutes, depending on traffic. The surrounding communities of Roswell, Sandy Springs, and Marietta are mere minutes away, and East Cobb residents can reach the stunning North Georgia Mountains in an hour or so.
East Cobb is well-served by public transit, and the excellent CobbLinc buses provide local routes and express routes to downtown Atlanta. The closest MARTA station is in neighboring Sandy Springs, and many East Cobb residents use MARTA trains for a quick and easy commute to Atlanta.
When it comes to shopping and dining, East Cobb residents are spoiled for choice. Located at the intersection of Johnson Ferry and Roswell roads, Merchant's Walk is at East Cobb's heart. This huge open-air shopping center is a vibrant mix of shops, restaurants, and businesses and is also home to an awesome movie theater. Paper Mill Village is another open-air shopping area that offers a quaint, "main street" feel. This is where locals come to shop at independent boutiques and socialize at laid-back restaurants.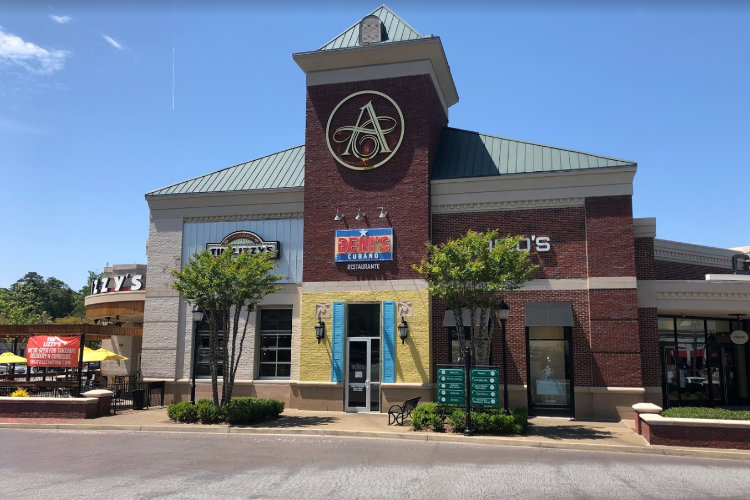 The Avenue At East Cobb, one of East Cobb's premier shopping destinations
Although East Cobb residents tend to do most of their shopping and dining locally, the surrounding communities offer plenty of reasons to venture further afield. Historic Downtown Roswell is a popular place to visit art galleries and boutiques and has an amazing dining scene centered around Canton Street. There's plenty of good-natured rivalry between East and West Cobb, but that doesn't prevent the so-called "Cobb snobs" from shopping for fresh produce at Marietta's award-winning Farmers Market and fraternizing with the "Corn cobs"!
East Cobb residents are devoted to their close-knit community, and there are events and festivals throughout the year. Local restaurants are celebrated at the popular Taste of East Cobb festival, and the entire community comes together for the East Cobber Parade and Festival. Smaller neighborhood events cram the local calendar, ranging from craft bazaars and fundraisers to auto shows.
With its parks, wooded green spaces, and proximity to the Chattahoochee River, East Cobbs is a nature-lovers paradise, and it's easy to immerse yourself in the area's beauty. During the spring and summer, locals can be found picnicking, playing sports, and all-out relaxing at any of East Cobb parks, with Fullers Park, Terrell Mill Park, and Sandy Plains Park among the more popular options. East Cobb has 5 recreation areas along the magnificent Chattahoochee River, providing access to hiking, fishing, biking, and rafting in a setting that feels a million miles away from the big city.
The arts are well funded and supported by the East Cobb community. The Art Place is a fantastic County-funded facility that provides a rotating schedule of classes for budding local artists of all ages. Instruction in pottery, painting, dance, and drama are all available here, and classes are always full. The East Cobb School of Rock is another awesome place for locals of all ages to express themselves, and many a local band has been formed here.
East Cobb is known for the quality of its schools, and many families are drawn here for the educational opportunities on offer. Walton, Pope, and Lassiter High Schools are nationally ranked year after year in the US News Best High Schools report and have been awarded medals for college readiness. Middle schools like Dickerson and Dodgen have been recognized for their high-quality education, too, and committed involvement with schooling is a source of great pride for local parents.
Things to Do in East Cobb
Monster Mini Golf
Monster Mini Golf provides one of the more popular ways to have a good time in East Cobb and offers a hilariously good time for visitors of all ages. Games of mini-golf take place in an outrageous glow-in-the-dark environment, replete with pumping music, animated monsters, and walls covered in wacky artwork.
There's also a fun-filled arcade here, with a vast array of games, including skee ball, glowing air hockey, and basketball hoops. This is a great place to have a birthday party, and the kids will be happy with all the prizes they can win!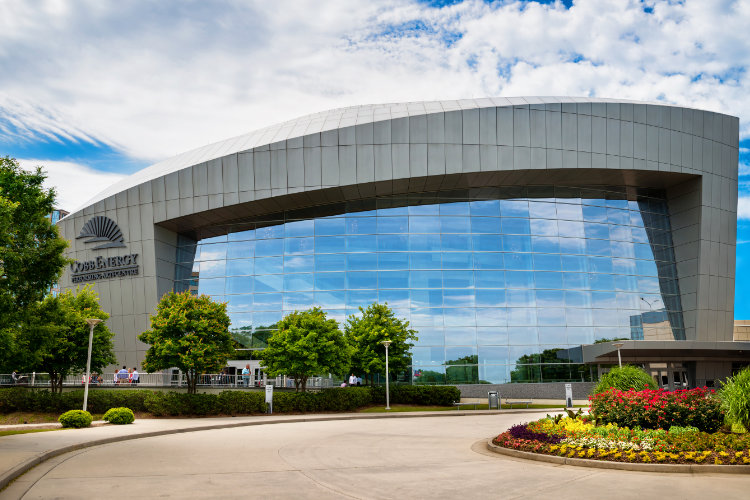 Cobb Energy Performing Arts Center
This multi-million dollar facility opened its doors in 2007 and has quickly become one of the region's outstanding performing arts centers. Located near the Cumberland Mall, at the intersection of I-75 and I-285, the arts center is housed in a fantastic modern building and contains a huge ballroom and the main theater.
The 2,750-seat main theater has been designed with world-class acoustics that enhances natural or amplified sound. The room hosts opera, ballet, and live music of all kinds and plays host to some of the biggest-name touring acts in the business.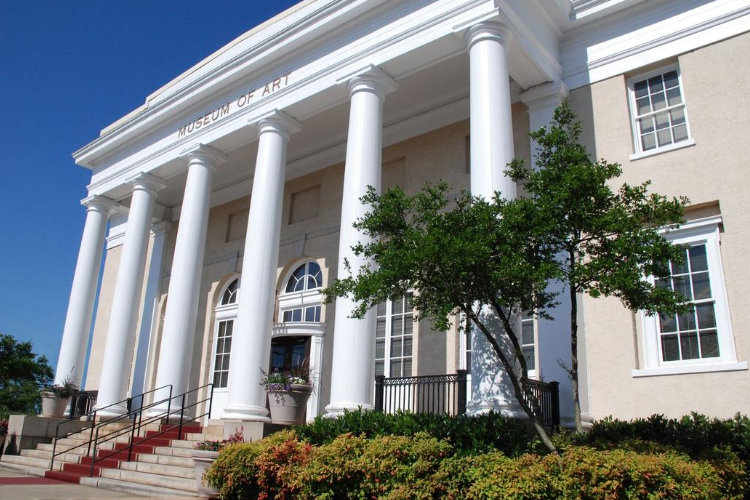 Source: Marietta Cobb Museum of Art
Marietta/Cobb Museum of Art
Located near historic Marietta Square, just a few miles from East Cobb, the Marietta/Cobb Museum of Art is housed in a beautifully renovated structure that dates back to 1910 and was once the County Post Office building.
This fine arts museum and visual arts center was founded by visionary local art patrons. It is the only facility in the Atlanta metro area specializing in 19th and 20th-century American art. Although small, this awesome space hosts various events, activities, and educational opportunities throughout the year, and the friendly, knowledgeable staff are always on hand to guide visitors and answer questions.
Xdrenaline
Winters in East Cobb can bring plenty of rainy days, and Xdrenaline provides a valuable indoor space for parents who need their kids to expend some energy.
Xdrenaline is a kid paradise, and there are plenty of activities for all ages, including "Toddler Takeover" and "Cosmic Nights" parties. Xdrenaline offers a trampoline park, rock climbing walls, a ninja course, and a super-cool virtual reality booth.
Parents who aren't tempted to join the little ones on the trampolines can rest-assured that the awesome staff will keep an eye on the proceedings, and there's plenty of grown-ups space available for relaxing or working while the kids run riot elsewhere.
East Cobber Parade and Festival
East Cobb's only community-wide event, the East Cobber Parade, and Festival has been a local tradition for over 25 years and draws thousands of visitors every September.
The parade features floats that aim to promote and celebrate the East Cobb community and give thanks to those who make it what it is, including civic leaders and school teachers. Candy is thrown into the crowd, making this the highlight of the day for local kids.
The afternoon festival occurs at the Johnson Creek Baptist Church and features arts and crafts booths, local businesses, games, and plenty of food. There's also a stage for live entertainment at this not-to-be-missed highlight of East Cobb's annual calendar.
Parks and Recreation in East Cobb

Chattahoochee River National Recreation Area
Residents of East Cobb know how fortunate they are to have the Chattahoochee River so close and take full advantage of this wonderful urban oasis year-round.
There are 5 units of the Chattahoochee River National Recreation Area in East Cobb, including Gold Branch, Cochran Shoals, and Johnson Ferry. In the summer, kayaking and rafting are popular activities, but hiking and fishing are options at any time of year. The 2-mile Johnson Ferry trail is a stunning hiking option, providing a kid-friendly trail through dense forest and along a little creek that's ideal for exploring.

East Cobb Park entrance. Source: Cobb County Government
East Cobb Park
Opened in 2003, East Cobb Park is the most heavily used in the community and provides a super-popular gathering place for friends and neighbors. Residents and the county government worked together to raise funds for this 13-acre park, and the project has been an ongoing success.
The park features a combination of slate and natural surface walking trails, pavilions, open grass areas, creek overlooks, and one of the best kids' playgrounds in the area. There's also an outdoor stage here, and the park hosts community events regularly.
Indian Hills Country Club
Golf is a big deal in East Cobb, and one of the best and most popular places to play a round is Indian Hills Country Club. This is a private yet affordable country club that strives to provide a family-friendly atmosphere. Local golfers love the course and the extensive practice facilities, while 8 tennis courts and 3 swimming pools appeal to everyone.
Indian Hills Country Club has a beautiful clubhouse that offers excellent dining and year-round events. The bar is always lively, the vibe is relaxed and friendly, and the staff always keeps things running smoothly. Many local weddings are held at Indian Hills, with the beautiful setting and great atmosphere always making for the perfect day!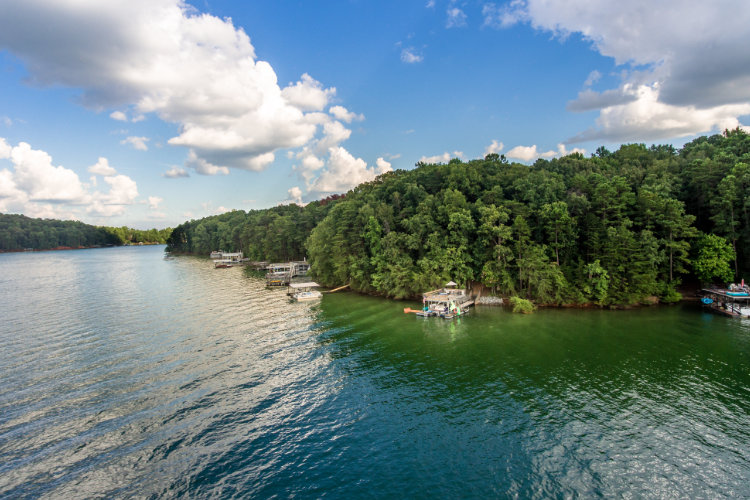 Lake Lanier
Lake Lanier is only about an hour's drive from East Cobb, so this enormous body of water provides a super-popular weekend getaway for East Cobb residents. Lake Lanier was created in 1956 when the Chattahoochee and Chestatee Rivers were dammed, and there are 45 parks and 10 campgrounds along its 700 miles of shoreline.
During the hot, humid summer months, Lake Lanier is a great place to cool off, with swimming, kayaking, and water skiing options all around the lake. More peaceful activities like boating and fishing are also popular here, and the miles of hiking trails provide an ideal way to get away from the hustle and bustle.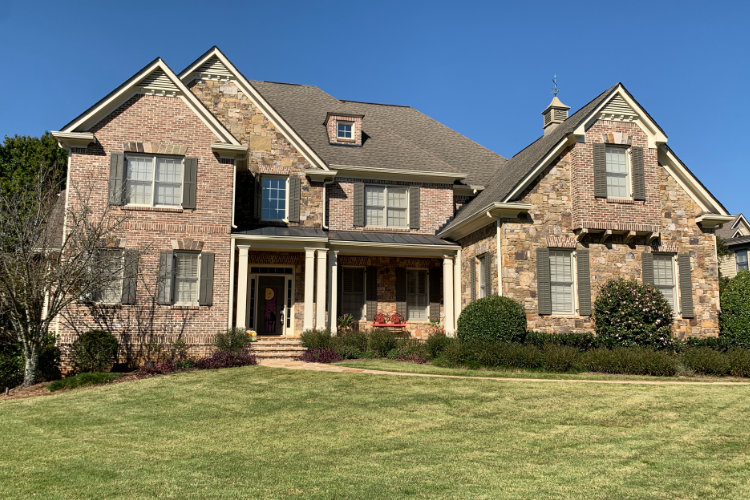 Traditional architecture is very common in East Cobb, as seen here in the Sibley on Paper Mill subdivision
Real Estate in East Cobb
In East Cobb, real estate consists of cozy brick-built ranch-style homes in beautiful established neighborhoods, newer swim and tennis communities, and estate properties in gated communities. Large lots are common in East Cobb, and residents take pride in their manicured front lawns and expansive back yards.
Located off Paper Mill Road, Atlanta Country Club is one of the most sought-after communities in the area. You'll find large, beautiful homes here, as well as a spectacular 7018-yard championship golf course, a clubhouse, a swimming pool, and tennis courts.
Unique East Cobb neighborhoods include East Park, featuring quaint, old-fashioned Colonial Williamsburg architecture, Princeton Mill, a highly social community that hosts regular events, and Somerset, a beautiful neighborhood that offers wooded lots surrounding a lake.
Some of the more desirable neighborhoods in East Cobb, including Camden Place and Brookshyre Manor, are in the sought-after Walton school district.