Living in Marietta, Atlanta, GA: 2021 Neighborhood Guide
Posted by Trey Van Tuyl on Friday, January 1, 2021 at 2:41 PM
By Trey Van Tuyl / January 1, 2021
Comment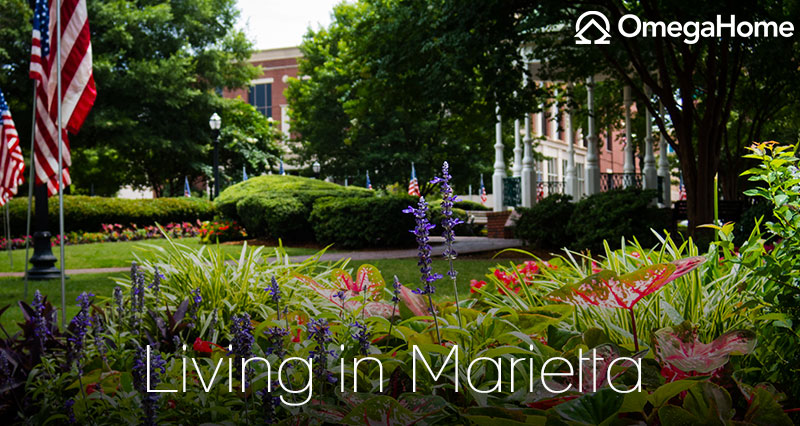 Marietta is a suburb of Atlanta and a city in Cobb County with a population of around 60,000. Although Marietta lies just 20 miles northwest of Atlanta, it feels a world away from the hustle and bustle of big city life.
Marietta is a town steeped in history, and one of the great pleasures of living here is taking a leisurely stroll through leafy streets lined with beautiful antebellum and Victorian homes. There are plenty of Marietta families who've lived here for generations, and the sense of tradition and community is palpable in the historic city center.
Although Marietta's rich past is ever-present, this is far from a community stuck in time. Marietta Square, the heart of the city, is home to dozens of restaurants serving cuisine from all around the globe. You'll find great shopping here, too, with an array of boutiques, vintage stores, and art galleries to choose from.
Marietta has become a popular choice for those who want an intimate, small-town feel, while still being within close reach of all that a big city has to offer. Let's take a look at what makes Marietta such a great place to live.
History
It's thought that Marietta was named after Mary Cobb, wife of US Senator and superior court judge, Thomas Willis Cobb.
Although early settlers built homes near the Cherokee town of Big Shanty prior to 1824, it wasn't until 1833 that Marietta's first plot was laid out. The town was planned around the main square with a courthouse, and in December of the following year, Marietta was legally recognized by the Georgia General Assembly.
Marietta was selected as the hub for the new Western and Atlantic Railroad, and construction began in 1838. However, politics got in the way, and by 1842 the hub had been moved to what was soon to become Atlanta. Even so, Marietta benefitted from the prosperity that the new railroad brought to the area.
In the 1850s, Marietta suffered 3 major fires that destroyed much of the city but had managed to recover and rebuild by the time the Civil War broke out, in 1861.
Marietta saw plenty of action during the Civil War. In 1862, the Andrews Raiders, a band of Unionists led by James Andrews, stole a train with the intention of destroying the railroad and isolating Chattanooga. Their efforts ended in failure, and all the men were caught and hanged. In 1864, General Hugh Kilpatrick set the town on fire as part of the first strike in General Sherman's march to the sea.
Today, Marietta is a welcoming Atlanta suburb with a strong sense of community that celebrates its turbulent past while continuing to create an exciting and progressive future.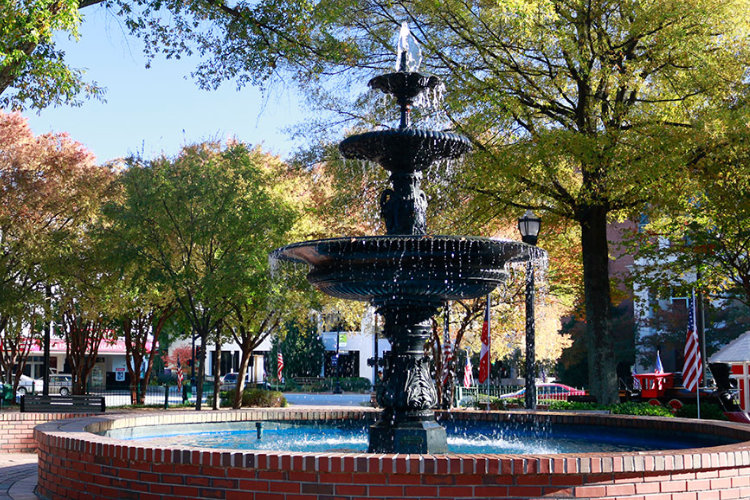 Lifestyle
Marietta is located just outside the loop created by Interstate 285 (also called "The Perimeter"). Many residents commute to the big city for work, and driving times range from 20 to 40 minutes, depending on traffic conditions. For those who'd rather sit back and let someone else do the driving, the local CobbLinc bus provides transfers to the MARTA system.
Marietta doesn't offer a plethora of upscale shopping options and residents will often travel into Atlanta for their upscale shopping. However, there are a few shopping avenues like The Avenues East Cobb and The Avenue West Cobb. Plus, the Historic Marietta section contains some quaint boutiques.
Marietta City Schools operates separately from the Cobb County school system and features an award-winning charter school system. Parents are offered a choice of schools that focus on different areas of academics, including science, technology, engineering, and mathematics.
The climate in Marietta is perfect for getting the most out of all of the outdoor activities on offer. Summers are hot and humid, and locals like to cool off at Sewell Park pool. Warm, sultry evenings are ideal for enjoying the numerous concerts and events held at Glover Park.
Marietta enjoys mild winters, and temperatures rarely drop below freezing, so this is the time of year to explore the awesome hiking opportunities in the surrounding area.
Aside from the extensive dining options around historic Marietta Square, there are numerous cultural activities to choose from in Marietta. You can catch a Broadway-style show at The Theatre in the Square, and peruse the impressive collection at The Marietta Cobb Museum of Art.
East Cobb vs West Cobb
Marietta is colloquially split into two regions: East Cobb and West Cobb. Despite being located within the same city, there are significant differences between the two regions in terms of real estate, lifestyle, culture, and commute times.
East Cobb is located east of the I-75 freeway, making it closer to Fulton County. Residents of East Cobb generally have briefer commutes into Atlanta and more options for luxurious shopping. Real estate prices in East Cobb are significantly higher than in West Cobb.
People in East Cobb are quite prideful about where they live. For example, if you ask a resident where they live they are much more likely to say "East Cobb" rather than Marietta.
West Cobb is located west of I-75, making it further from Fulton County and more rural. There's an abundant amount of outdoor opportunities near West Cobb, like Kennesaw Mountain and Lake Allatoona.
But given the location of West Cobb in reference to major Atlanta freeways, it can take a while to get inside of the Perimeter.
Basically, if you want to live in a more affluent area that is closer to Atlanta, go for East Cobb. If you prefer to be closer to nature and don't mind a potentially longer commute, go for West Cobb. Ultimately, one's desired lifestyle
Residents of both East and West Cobb do share an advantage: significantly lower property taxes than their Fulton County neighbors! Both areas also have access to top-rated schools, parks, and abundant shopping.
Locals have funny nicknames for both regions with East Cobb as "Snobb Cobb" due to its more affluent population and West Cobb as "Corn Cobb" due to its more rural origins.
Things To Do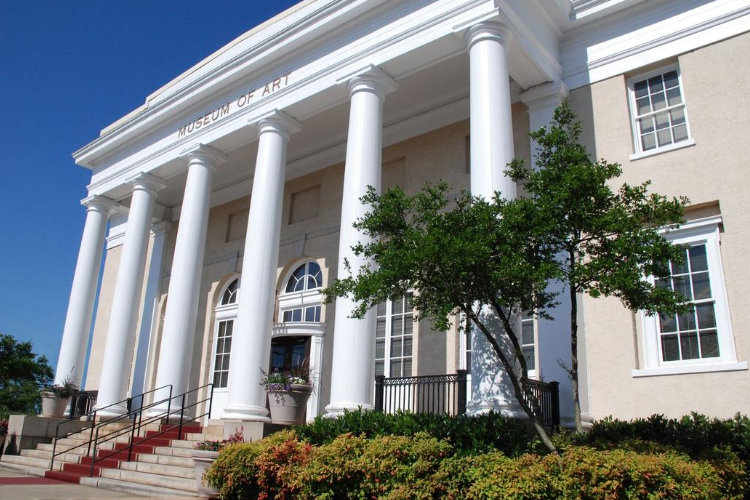 Marietta Cobb Museum of Art
Since the 1990s, the Marietta Cobb Museum of Art has been housed in an impressive Greek Revival style building that was the original home of the city's main post office.
The museum's collection focuses on American artwork ranging from 18th Century pieces, all the way to modern paintings and sculpture.
The space is warm and inviting, and it's easy to while away the hours here, enjoying the largest collection of American art in the region.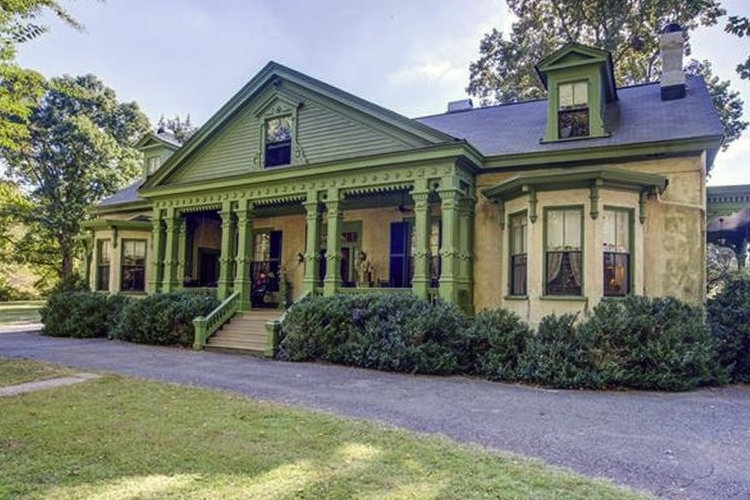 Oakton House
This beautiful old house was built in 1838 and is the oldest house continuously occupied home in Marietta.
One of Marietta's first buildings, Oakton House has become part of the fabric of the city. During the Civil War, Oakton House was used as a Confederacy headquarters, and plans were laid here for the battle of Kennesaw Mountain in 1864, in which Confederate troops failed to stop Sherman from reaching Atlanta.
Oakton House is well worth a visit, and the gorgeous gardens, featuring the original barn, smokehouse, and well, are a pleasure to walk in.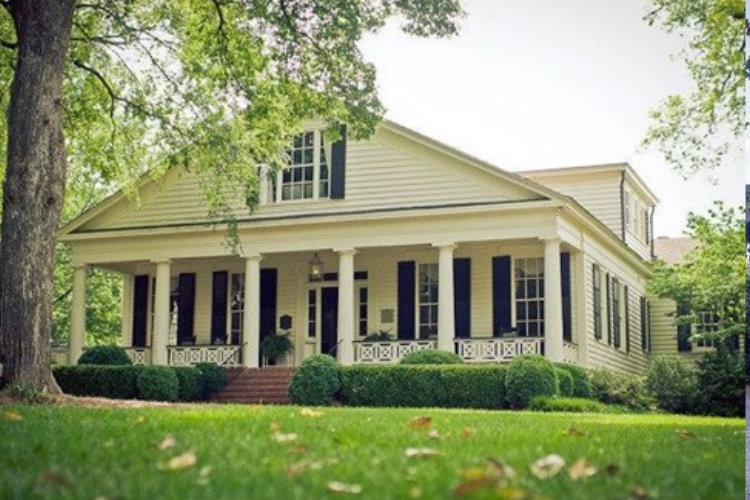 Gone with the Wind Museum
Brumby Hall, built in 1851, houses a fascinating collection of memorabilia relating to the book by Atlanta-born Margaret Mitchell, and the 1939 film, starring Clark Gable and Vivienne Leigh.
This museum is a real treat for movie buffs, and what started out as a small private collection has grown into a treasure trove of artifacts, including costumes worn on set, and rare copies of the book.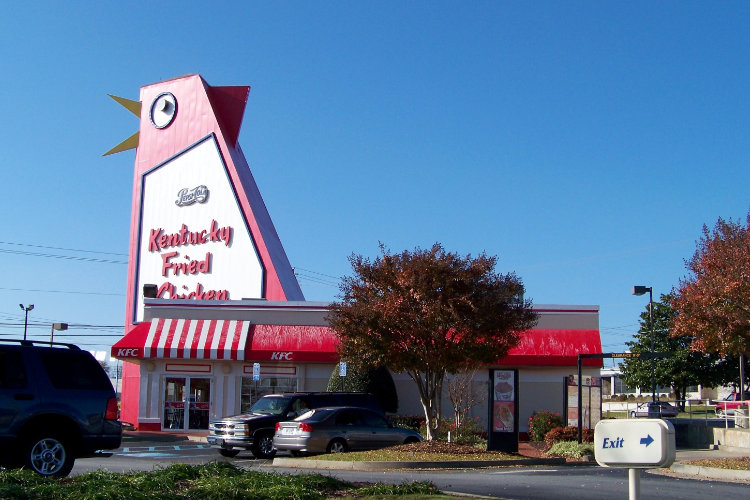 The Big Chicken
This well-known local landmark is a hilarious 55-foot tall chicken that towers over the KFC restaurant it has advertised since 1956.
If you spend much time in Marietta, you'll soon start getting directions from locals, based on the Big Chicken. There's also a gift shop if you want to represent with a T-shirt!
Farmers' Market
The Marietta Farmers' Market operates year-round and is located right in the heart of the city, in a parking lot on Mill Street.
This is the place to come to support small-time producers and buy their locally grown fruit and vegetables. There are around 50 stalls in operation on any given Saturday, and aside from produce, there's a variety of locally made artisanal products, including soap, honey, and bread.
Ghosts of Marietta Tour
To really soak up the history of Marietta, and maybe get a fright, the Ghosts of Marietta tour is a must.
This atmospheric tour of the city's most historic streets and cemeteries takes place after dark, and the knowledgeable guides tell spooky stories about the ghosts of Civil War soldiers that are said to haunt the area.
Parks and Recreation
East Cobb Park
One of several parks within the city limits, 13 acre East Cobb Park features a picnic pavilion, amphitheater, playground, and walking trails.
East Cobb Park is a prime example of Marietta's community spirit. The idea for a communal gathering space was hatched by the non-profit Friends for the East Cobb Park in 1998. In partnership with the local government, the park has become a popular gathering place for locals.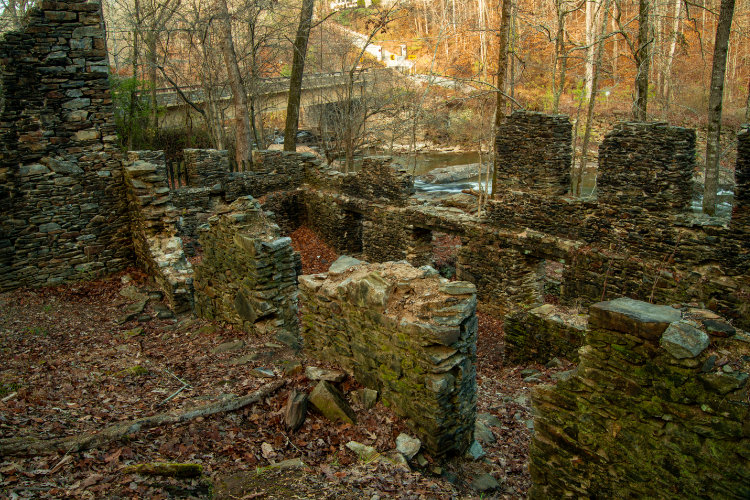 Sope Creek Trail
A short drive from central Marietta, and part of the Chattahoochee River National Recreation Area, this hiking trail follows the tumbling creek through gorgeous hardwood forest.
Along the way, you'll encounter the ruins of a paper mill that was destroyed during the Civil War. Keep an eye out for wildlife too, as it isn't uncommon to see beaver, deer, and other critters around here!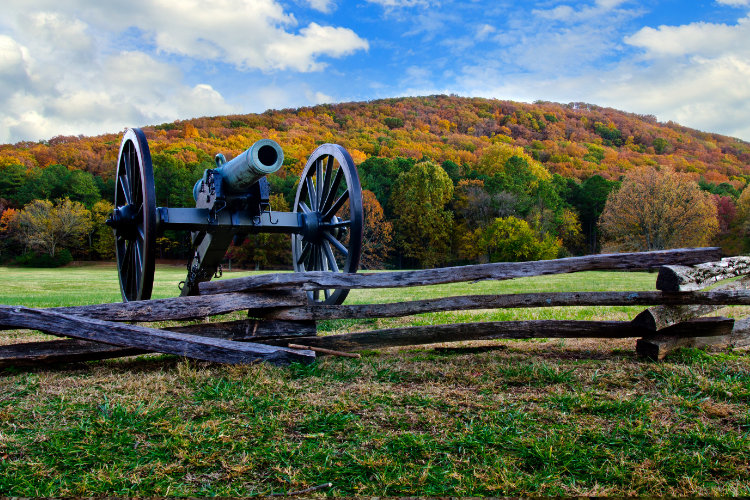 Kennesaw Mountain
A little further afield, but still only 20 minutes from Marietta, Kennesaw Mountain offers 15 miles of hiking trails that pass through forests and grassy meadows.
At 1650 feet, Kennesaw Mountain is the highest point in the Atlanta metro area, and impressive views of the region await if you can reach the top!
Marietta Real Estate
Marietta is mostly dominated by single-family homes, although there is an increasing number of luxury townhomes and condos being built for those who desire low-maintenance living.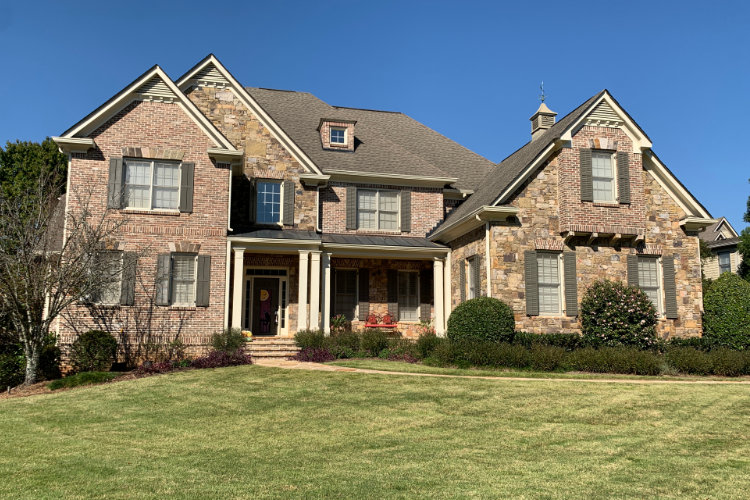 A beautiful Traditional home found in the East Cobb subdivision Sibley on Paper Mill
Marietta saw a development boom starting in the 1980s which produced dozens of sprawling residential subdivisions. Many of the subdivisions in East Cobb are swim and tennis communities, and some of these subdivisions even feature award-running golf courses like Atlanta Country Club.
As mentioned previously, proximity to the I-75 freeway (and the City of Atlanta) influences the price of real estate in Marietta; expect to pay more if you want to live closer to Atlanta. Homes in or near Historic Marietta are also priced at a premium. Lastly, prices are generally higher for homes located in the Sope Creek/Walton school district.
There are a wide variety of architectural styles present in Marietta, ranging from smaller, Craftsman-style bungalows, to huge, Colonial-style mansions dating from the 1800s. West Cobb even features some equestrian estates.
Marietta Information
Population: 60,754
Median household income: $54,983
Size: 23.48 sq mi
Demographics: 57% White, 31% Black, 5% Other, 3.5% Two or more races, 2.5% Asian, and 1% Native American, Hawaiian, or Pacific Islander
Additional Resources