Living in Midtown, Atlanta, GA: 2021 Neighborhood Guide
Posted by Trey Van Tuyl on Thursday, December 24, 2020 at 12:14 PM
By Trey Van Tuyl / December 24, 2020
Comment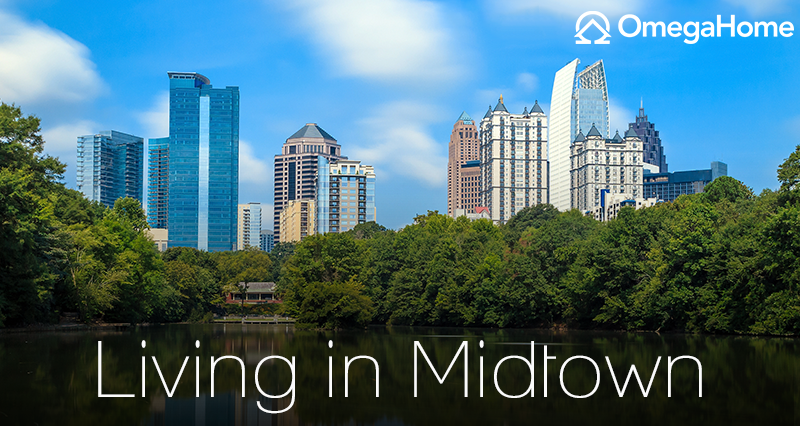 Midtown rises out of Atlanta's shadow with a unique personality and breadth of culture. The local love of art and entertainment has given birth to unique art galleries, museums, and theatres, earning the neighborhood the nickname the "Heart of the Arts."
Additionally, Midtown is a neighborhood chock full of restaurants, shopping, parks, and pedestrian-friendly streets. It's a unique, vibrant, and diverse neighborhood that offers residents a compelling assortment of amenities. Let's dive into what makes Midtown so special!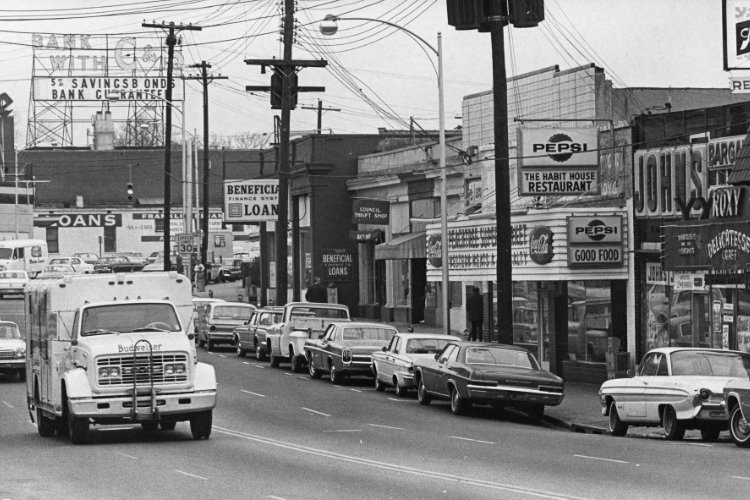 Midtown's bustling 10th Street in 1966, courtesy of Georgia State University Library
History of Midtown
Midtown's roots date back to 1848 when businessman Richard Peters purchased a majority of the land for its pine to fuel his downtown flour mill. Peters cleared and subdivided the land, thus creating residential enclaves over the following 40 years.
It's likely the name Midtown arose from inhabitants who discovered the area was an ideal median point between Downtown Atlanta to the south and Buckhead to the north.
Parts of Midtown became shantytowns after the Civil War, but the region quickly rebounded as Atlanta continued to spread further outwards. Mansions replaced these once lawless areas, and new electric streetcars only added to the area's prosperity at the turn of the century.
Streets such as Tenth and Peachtree rapidly became residential and commercial hotspots. Plus, the addition of MARTA rail lines made it even easier to get to and from the area.
Today, Midtown is known as a commercial, cultural, and residential hub within Atlanta. The region remains an ideal option for those seeking an exciting and culturally diverse lifestyle in the heart of Atlanta.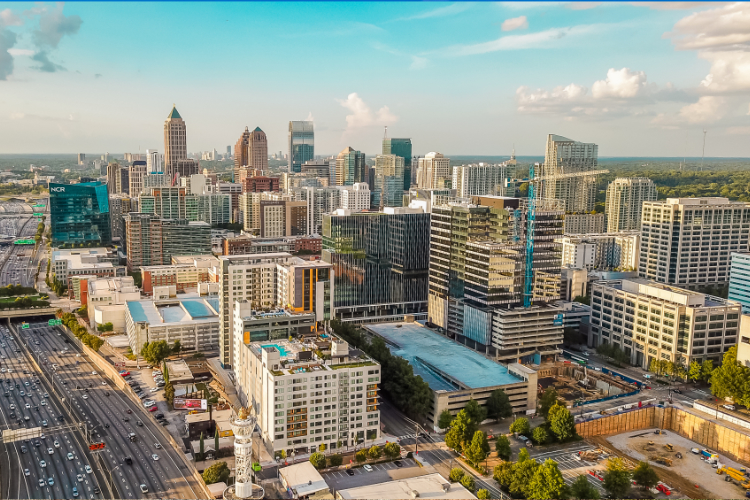 A view of Midtown from above, with the Downtown Connector to the left.
Lifestyle in Midtown
Midtown is Atlanta's best example of a cosmopolitan metropolis. The community is rife with towering skyscrapers, cultural attractions, and eclectic eateries. Put simply; it's one of the few areas in the South that feels like New York City.
Midtown is also one of the few areas in Atlanta where it is possible to live without owning a car. Thanks to Midtown's density, there are dozens of shops and restaurants within just a few blocks of wherever one decides to live. Public transportation is also incredibly accessible, as residents have easy access to MARTA Stations and bus stops.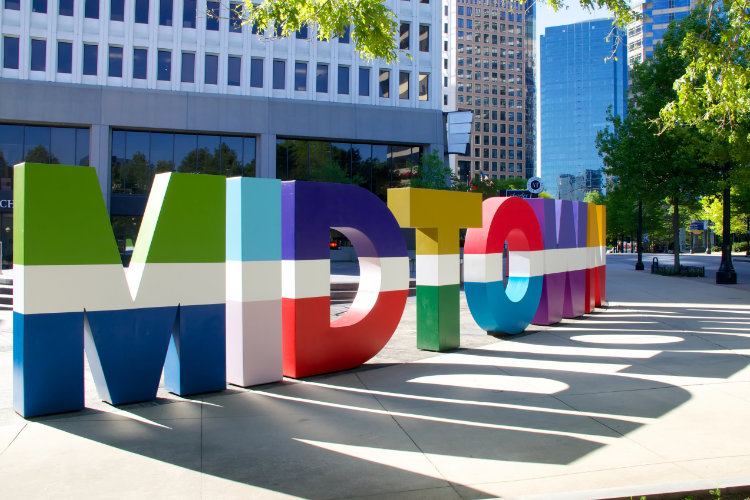 These iconic colorful letters were installed by the Midtown Alliance in 2016
The arts and entertainment scene is top-notch and attracts a wide audience. People from all over Metro Atlanta descend upon Midtown to enjoy performances at the Fox Theater or check out new installations at the High Museum of Art.
Georgia Tech sits right on its doorstep, and many college students venture into Midtown for its attractive nightlife and culinary offerings. Additionally, the Savannah College of Art and Design has a campus in Midtown.
Midtown, being in the Southern United States, is no stranger to humid summers. The rest of the year has pleasantly mild temperatures, and the yearly average temperature sits comfortably at 70 degrees Fahrenheit. Expect to see some rain in spring and fall, with the occasional light snowfall in winter.
These enjoyable temperatures make Midtown a great place for outdoor festivals, sports, and enjoying time at one of the parks. It's not uncommon to see locals take advantage of this weather to grow their own gardens.
Midtown is in an incredibly convenient intown Atlanta location. Just minutes from Buckhead and Downtown, residents can easily travel throughout Atlanta by car or MARTA. Plus, Hartsfield-Jackson Atlanta International Airport is only a 30-minute train ride away.
Things to Do in Midtown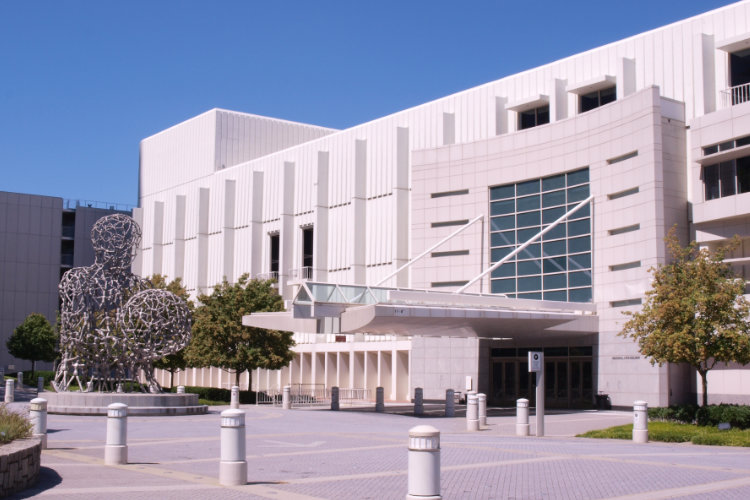 The Woodruff Arts Center, courtesy of Will Folsom.

The Woodruff Arts Center
The Woodruff Arts Center was established as the neighborhood came together after the devastating loss of local art leaders in a plane crash in 1962. Over the next 50 years, the Woodruff would rise up to become one of the only arts venues in the United States to offer visual and performing arts on a single campus. It is currently home to the Alliance Theater, Atlanta Symphony Orchestra, and the High Museum of Art, all of which are worth visiting.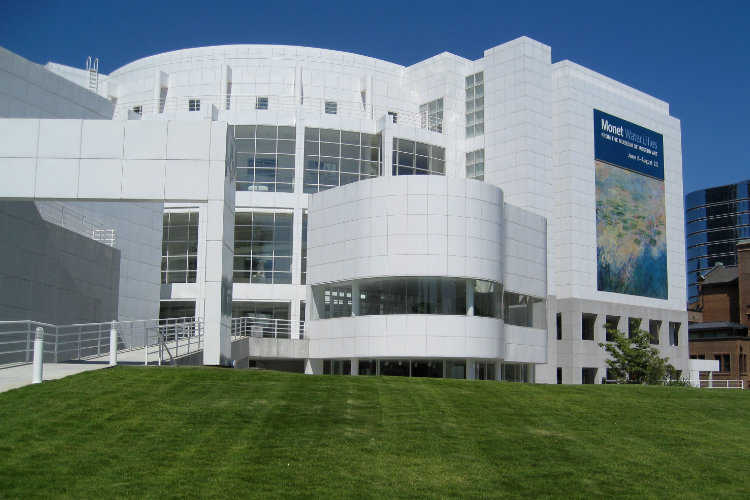 The High Museum of Art, courtesy of Chris Yunker.
The High Museum of Art
Now a part of the Woodruff Arts Center, the High Museum of Art dates back over 100 years, and many of its early exhibits were showcased from a home on Peachtree Street before moving to its current location.
Today the museum houses over 15,000 works of art in its permanent collection. Featured galleries include nineteenth and twentieth-century American and decorative art, European paintings, a growing collection of African-American art, and expanding collections of topics such as contemporary art, photography, and African art. Be sure to go early to avoid the crowds.
Alliance Theater
A journey through Midtown's arts would not be complete without a visit to the Alliance Theater. As the national theater of Atlanta, it is the leading producing theater in the Southeast. It is well known for high-quality plays, musicals, and concerts as well as the big-name actors who have graced its stage.
Museum of Design Atlanta
The Museum of Design Atlanta, or MODA as it is known to the locals, is the only museum in the Southeast to be devoted solely to design. Constructed in 1989, the museum has showcased topics from jazz to guitars to modern clothing to wearable technology. With a number of revolving exhibits, it's a good idea to check in often!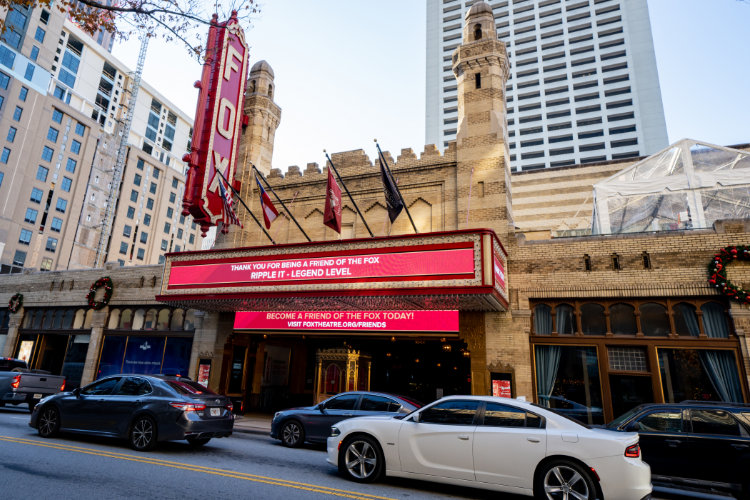 The Fox Theatre Atlanta
Fox Theatre
The historic Fox Theatre was built in the 1920s and served as a place to view popular movies of the time. It has since been converted into a popular performing arts venue but still appears much as it did when it originally opened.
Offerings on their spectacular main stage include well-known plays, concerts, and artists. It's also possible to take a 60-minute tour of the theatre, where you may catch a glimpse of Mighty Mo, the second-largest theater organ in the country!
The Green Market at Piedmont Park
Outside of the winter months, on Saturday mornings, be sure to head down to this iconic farmer's market. Located just outside of Piedmont Park, it is well within walking distance of the neighborhood center.
Grab a cup of coffee or a breakfast treat as you peruse the various types of produce. Run by local farmers and stores, you're getting the best Georgia has to offer, all while supporting your neighbors!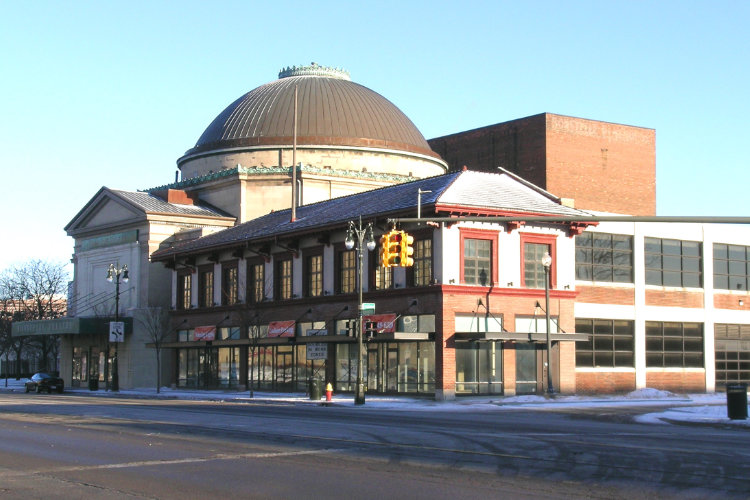 The east side of Woodward, courtesy of Andrew Jameson
Midtown Historic District
If a stroll through history tickles your fancy, be sure to mosey on over to the Midtown Historic District. The area became a National Historic District in 1999 and covered over 360 acres. This residential neighborhood dates back to 1885 and features homes from that era through the mid-20th century. Who knows, you may end being the one making a purchase on one of these homes!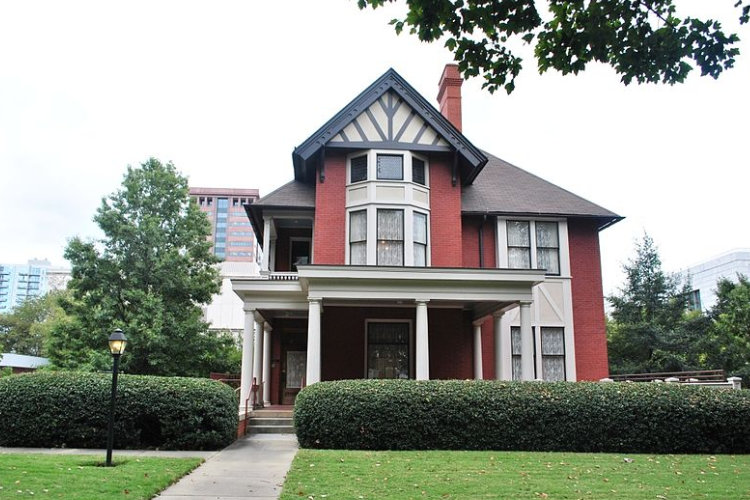 Margaret Mitchell House & Museum, courtesy of Elisa Rolle
Margaret Mitchell House
Book fanatics and aspiring novelists will want to pay a visit to the Margaret Mitchell House. It was here in 1936 that Mitchell wrote a majority of her Pulitzer-prize winning novel Gone with the Wind. The house dates from 1899 and now serves as a museum. Guided tours allow guests a view of Mitchell's life and explore the meaning behind her famous book.\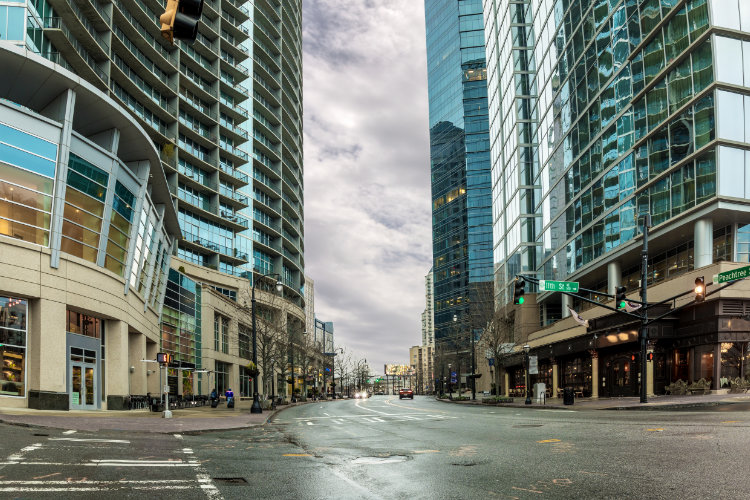 Ground-level retail and shopping at 11th & Piedmont with condo units above
Dining and Shopping in Midtown
Aside from the arts, Midtown is best known for its shopping and dining. The west side of Midtown boasts Atlantic Station, a massive mall complex with a plethora of shops and restaurants. Heading over to Central Midtown, you need not look further than Peachtree Street to take a stroll and shop your heart out. Frank Sinatra enjoyed it so much he wrote a song about it!
While in Midtown's thriving center, you'd be hard-pressed to throw a stone and not hit a restaurant. Whatever you might be in the mood for on a particular evening, there's a very good chance you'll find what you're looking for. You may find yourself spoilt for choice! There are cafés aplenty to sit back and watch the world go by. Perhaps best of all is that many of these eateries simply can't be found anywhere else!
As if all the dining and activities during the day weren't enough, Midtown shines even brighter at night. It's here you'll find some of the best nightlife in the Atlanta area. With nightclubs, dancing, comedy, live music, art, and theatre – there's something for everyone. The nightclubs and venues are well-concentrated in the neighborhood's center and walking between them is a breeze. While you're out and about, don't forget to take in the view of the breathtaking Atlanta skyline.
Parks and Recreation in Midtown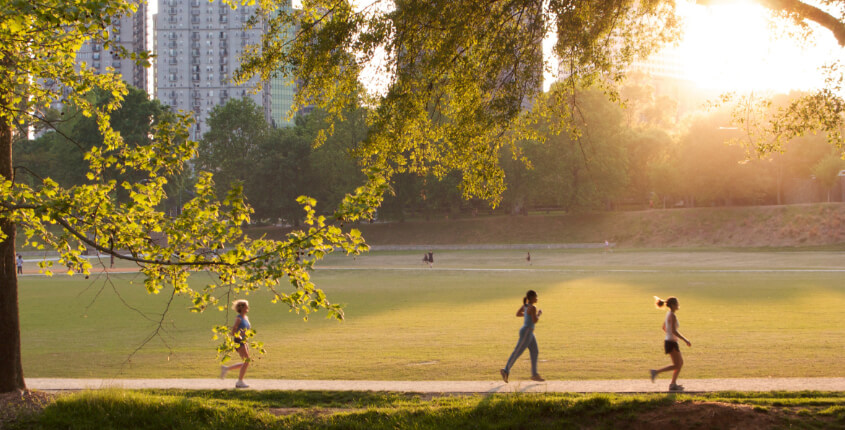 Early morning runners at Piedmont Park
Piedmont Park
Piedmont Park is a massive green space right in the heart of Midtown and one of Atlanta's largest parks. There is something for everyone, with paved roads throughout the park to walk, run, bike, or check out on a rentable electric scooter! You'll also find large open fields for picnics or playing with pets, as well as tennis courts, volleyball nets, soccer and baseball fields, and more.
The park houses a botanical garden, lakes, and a not-to-be-missed view of Midtown's commercial center – just be prepared to dodge all the wedding couples getting photos taken! Don't worry if you didn't pack a lunch – with so many restaurants a short distance away, it's easy to spend an entire day here.
Year-round festivals are held at Piedmont Park, like Shaky Knees
Other Midtown Parks
Not to be overshadowed by their big brother, there are at least a few other notable parks in Midtown. Winn Park is a secret local wooded hotspot with trails and a small kid's area. Ansley Park is a quiet hideaway in one of Midtown's residential areas. McClatchy Park has some sports facilities and is a nice spot for a picnic.
Midtown Crime
Crime has no address in Atlanta and can occur anywhere. However, we can look at heat maps compiled by third parties to determine which areas of Midtown may have higher incident rates of crime: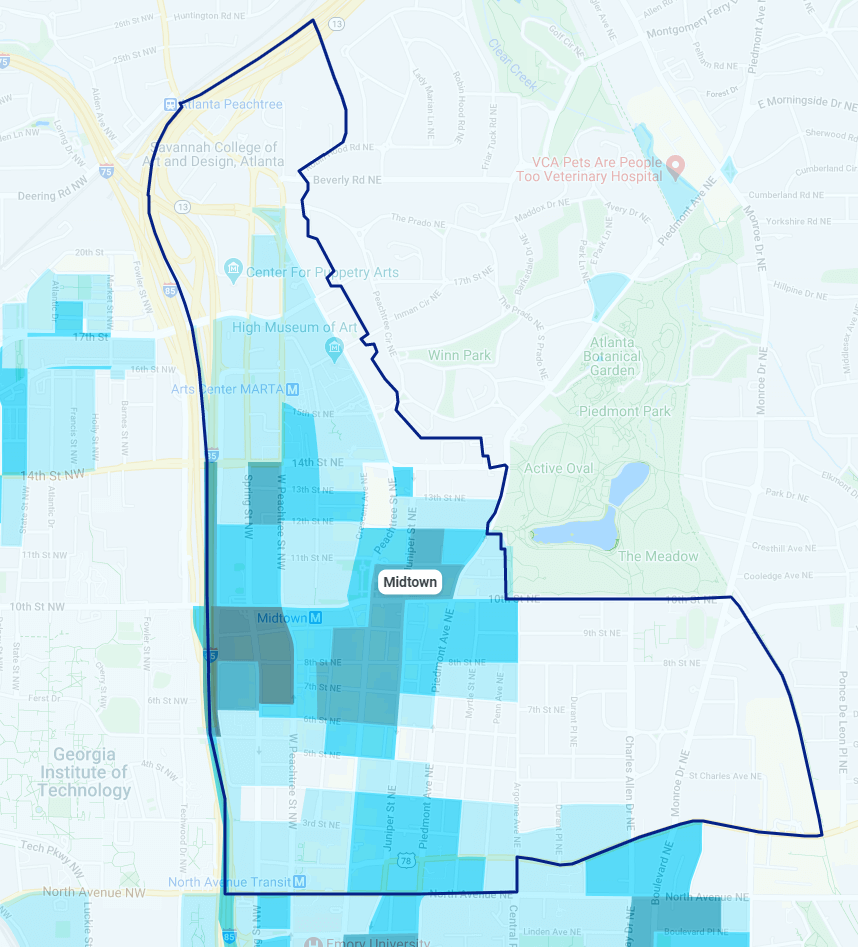 Midtown crime map where the darker blue areas indicate higher rates of criminal activity. Data provided by Trulia.
The map suggests that there are higher rates of crime in the areas close to the Midtown MARTA Station and Georgia Tech. The mostly residential portion south of Piedmont Park seemingly features lower rates of crime.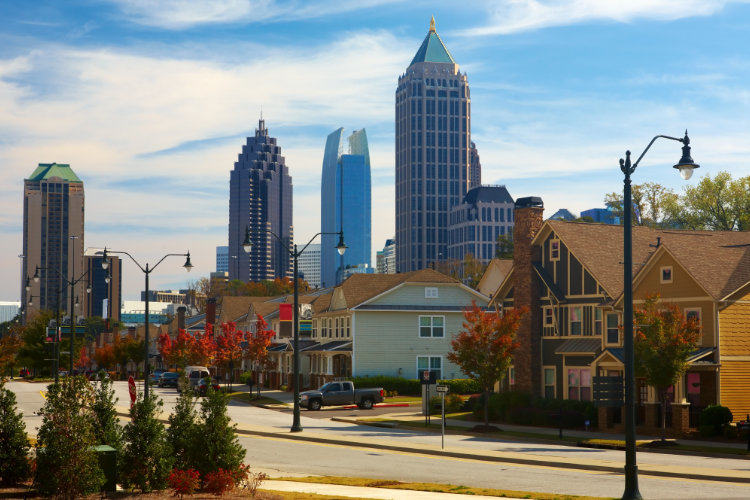 Single-family homes in Midtown with high-rise condos in the background.
Midtown Real Estate
Midtown is a fast-growing community that features everything from single-family homes to high-rise condos and apartments. But most people live in condos or lofts, as they make up around 85% of the real estate inventory in Midtown.
Single-family homes in Midtown date back to the 1890s and feature Craftsman and Bungalow influences. High-rise condos were built out starting in the 1980s and mostly feature Contemporary influences with floor-to-ceiling windows and sharp lines.
Thanks to its abundant supply of condos, Midtown is a surprisingly affordable neighborhood given its compelling amenities.
Some of the most popular high-rise condo buildings in Midtown include 1010 Midtown, Spire, Plaza Midtown, and Viewpoint.
Real estate prices in Midtown have steadily increased almost every year since 2012. Specifically, the median price of a home sold has doubled between 2011 and 2020: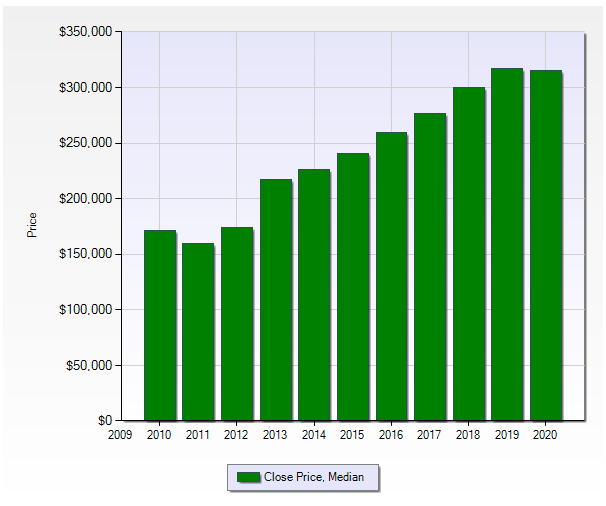 Prices have increased in Midtown far quicker than the Atlanta average. The area is a favorite for property investors who purchase condos and use them as a vacation rental.
Midtown Information
Population: 41,681
Median household income: $89,201
Size: 3.8 square miles (or approximately 120 blocks)
Demographics: 67% White, 15% Black, 8% Asian, 10% Other
Nearby Neighborhoods: Downtown, Old Fourth Ward, Virginia-Highland, Ansley Park
Midtown offers a compelling assortment of amenities that makes it one of the most popular and well-known neighborhoods in Atlanta. Midtown is small enough to keep its strong sense of community without sacrificing its unique identity and compelling offerings. With all it has to offer, Midtown is a great place to live, work, relax, and play with all it has to offer!